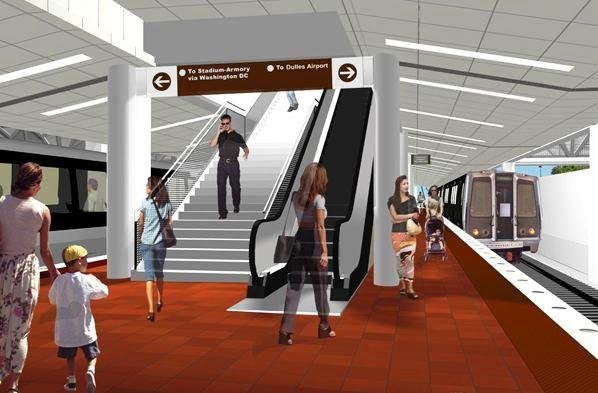 The Fairfax County Board of Supervisors voted unanimously Tuesday, April 10, to approve the county's participation in Phase 2 of the $2.7 billion Dulles Metrorail Project.
Chairman Sharon Bulova (D-At-large) said she hopes Phase 2 will move forward as planned, and the county "will all be able to take advantage of the enormous economic development opportunities the Silver Line extension will present."
Board members said completion of the project will bolster the economy, relieve traffic congestion and ensure the viability of Tysons Corner redevelopment.
"This is our biggest transportation improvement for decades to come. Tysons will not work without the rail line going all the way to Loudoun," said Linda Smyth (D-Providence). "This needs to get finished."
"Dulles Rail will be a great economic development tool for the county," said John Cook (R-Braddock). "It will generate millions in tax revenue for schools, public safety, parks and libraries and reduce pressure on homeowners' property taxes."


THE PROJECT was faltering last summer when U.S. Transportation Secretary Ray LaHood stepped in and brokered a funding deal between stakeholders - Metro, the Metropolitan Washington Airports Authority (MWAA), Virginia, and Fairfax and Loudoun counties - that cut costs from $3.8 billion to $2.7 billion.
According to county officials, significant savings were achieved by eliminating the underground station at Dulles Airport as well as project scope changes agreed to by all the funding partners.
The county's cost of Phase 2 is expected to be about $330 million to build the extension past Wiehle Avenue in Reston to Washington Dulles International Airport. When complete, the Silver Line will provide a one-seat, no-transfer ride from the airport to downtown Washington
The county's share for the entire Dulles Rail project is estimated to be $900 to $965 million. Of this amount, $730 million—or approximately 80 percent—will be paid for by voluntary, special tax districts. In the Phase 1 Tax District, landowners agreed to pay up to 29 cents per $100 of the assessed value of commercial and industrial properties, up to a total of $400 million. In Phase 2, landowners agreed to pay up to 25 cents per $100, up to a total of $330 million.
As part of the financial deal, Fairfax County agreed to make its "best efforts" to pay for building the Route 28 Station, along with the parking garage at this station and at Herndon Monroe, outside of the project.
County officials said they are looking at several options that include using a public-private partnership, developer contributions, parking revenue, and/or federal or state grants. If the county is not successful in funding the two garages and station outside of the project, Fairfax will only pay for 16.1 percent of the cost for these facilities.
"We need to continue to be vigilant in overseeing management of the project by the Airport Authority to continue to drive down costs," Cook said.
The rail project's second phase includes six stations along its 11.4 mile run, stretching from Wiehle Avenue in Fairfax County to Route 772 in Loudoun County. Construction is expected to begin in early 2013, and the project is estimated to be completed in 2017. The first phase of the project is currently under construction, and is expected to be completed in late 2013.


ALL EYES are now on the Loudoun County Board of Supervisors, who are currently debating pulling out of their share - $260 million of the second phase of the project. They have until July to decide whether to commit to the project.
Prior to Tuesday's board action, the county sought public input on the cost and financing for the project's second phase. County officials conducted four public meetings and an online chat, and the board held a public hearing on March 20.
During a March 19 online public hearing on the project, one resident asked if Fairfax County could reconsider its vote if Loudoun opted out.
"It would require everyone to restart and renegotiate. The project may still go forward but we would have some challenges. For example, how do we reconfigure Wiehle Avenue to be the end of the line? The tax districts, contributions, etc. would change. You can't just cut off the Loudoun stations. You have to redo the PE, environmental documents. It would be a dramatic shift," county officials responded during the chat.
For more information on the Dulles Corridor Metrorail Project, go to www.dullesmetro.com or call 703-572-0506.