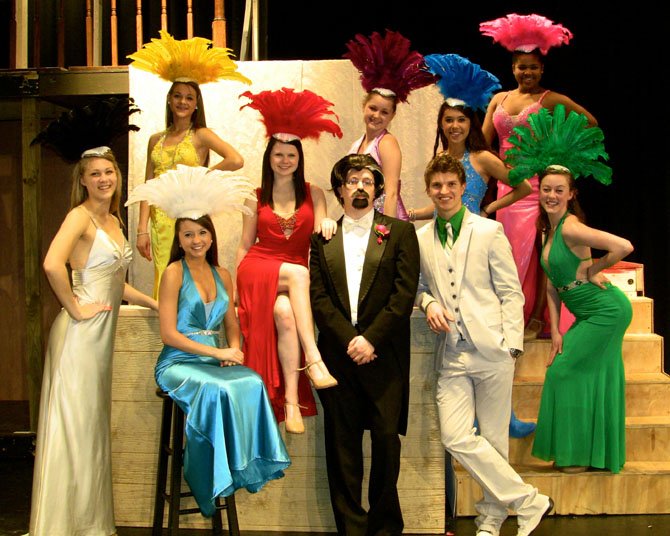 Featuring a cast and crew of 50, Westfield High presents its Cappies entry, the George Gershwin musical, "Crazy for You."
Show times are Friday, April 20, at 7:30 p.m.; Saturday, April 21, at 2 and 7:30 p.m.; and Sunday, April 22, at 2 p.m. at the school. Tickets are $10 in advance, $12 at the door, for the general public, and $10 for students with a valid student ID.†Seating is reserved and tickets are available at www.westfieldtheatreboosters.com.
It's the story of a stage-struck, New York City playboy in a Nevada mining town chocked full of romance, mistaken identities and dazzling dances. It won three Tony Awards on Broadway, including Best Musical.
"This is more of a vaudeville-type production than any of our past musicals," said Director Susie Pike. "It's full of one-liners and silly humor and highlights the talents we have in this department."
Senior Colby Dezelick choreographed the show and plays the lead role of Bobby Child who loves dancing and wants to be in theater. But his mother wants him to work in a bank with her, so she sends him to Dead Rock, Nev., to foreclose on a property. He doesn't fit in there, but falls in love with Polly Baker, the only woman in town.
The property is an old theater, and Child decides to save it by putting on a show. Polly falls in love with him, too; but once she learns who he is, she thinks he's just tricking her. He then disguises himself and pretends to be a New York producer. There are also other love involvements and mix-ups in this romantic-comedy musical, but things eventually work out.
"Bobby's in his late 20s and all he wants to do is be on stage and dance," said Dezelick. "So it's funny to put the city boy into a small town in Nevada. He's friendly, energized and likes to have fun. He's never seen anyone like Polly before — full of gusto, instead of being prim and proper. I love this role and have always loved this show; it fits my personality because he wants to dance, sing, perform, help people and put on a show."
Dezelick's favorite number is "Slap that Bass" because "It's a really cool jazz piece that was a blast to choreograph. At one point, the girls become the bass that's being played." This show has some 10, big production numbers, and he's been choreographing them since last summer. Said Dezelick: "The closing song of Act I, 'I Got Rhythm,' has a seven-minute dance break that's high-energy and very entertaining, and the audience will love it."
He said the whole show is funny and all ages will enjoy it. "Younger people will like the dancing, costumes and sets," said Dezelick. "And older ones will like the classic, Gershwin music and will be humming the tunes when they leave."
Playing Polly Baker is junior Allie Koenigsberg. "She's tomboyish, growing up around men all her life," said Koenigsberg. "Her mom, a former stage performer, died when she was young, so she's very close with her dad. She's outgoing and treats the people in town like they're part of her family. And then along comes Bobby, someone new and different."
Koenigsberg's also enjoying her role because she sees a similarity between her and Polly. "She presents herself as having a hard exterior; but in reality, she's soft on the inside," said Koenigsberg. "She's such a fun, charismatic, lively character to play. She marches to her own drum and is comfortable in her skin."
Koenigsberg especially likes the song, "Someone to Watch over Me." She sings it; and, she said, "It's the moment when Polly breaks her outer shell and the audience falls in love with her and starts rooting for her." She said the show is filled with so many different kinds of numbers and costumes and "the sets are amazing. This musical has so much to offer."
Senior Corinne Holland portrays Patsy, a ditzy showgirl from the follies in New York. "She's outgoing, but kind of in her own, little world," said Holland. "She's one of the dancers that help bring the show to life. She's a happy character and I'm happy, too, so playing her comes easily."
Holland's favorite number is "Entrance to Nevada." It's the first time the New York girls come to Nevada, and the males in town are excited to see other women. Said Holland: "It's a quick and upbeat song with a grand ending." She said the audience will also like the show's costumes. "Most of them are handmade, and a lot of work went into them," she said. "They look fabulous."
Playing Irene, Bobby's fiancÈ in New York, is junior Madeleine Bloxam. "He doesn't love her, but she's convinced they're getting married, so she follows him to Nevada," said Bloxam. "She's a rich debutante — stuck up, self-centered and nasty. Even while being rude to people, she maintains her class."
Bloxam likes her role because she gets to be "kind of sultry toward the end and that's fun. But it's harder to get into character, so it's more challenging." She likes the song, "Naughty Baby," best because "it's where Irene changes and lets loose." She said the audience will like how the cast performs Gershwin's songs. "They'll bring back memories to a lot of the audience," said Bloxam. "It's special that they still have all their power today, 60 years after they first came out."
Marketing and Publicity is a new Cappies category this year, so she and senior Chaz Coffin took on that task, too. "We never knew it took so much work to publicize a show, but we enjoyed doing it," said Bloxam.
"It's great to show what we can do, not just as actors, but on the business side of the production," added Coffin. "I learned you need to plan and do everything ahead of time so everything goes smoothly."
Director Pike noted, as well, the "creativity, sense of style and research" that student costume-designers Bayleigh Aschenbrenner and Zoe Hawryluk brought to their craft. Their adult mentors were parents Chris Hobbs, Patti Dezelick and Ginny McLaughlin. "The costumes are magnificent," said Pike. "They're bright, colorful and sparkly."
Yvonne Henry is choreography and props mentor; Carol Jones, music director; and Dolly Stevens, vocal director. Producer and assistant director is Lori Knickerbocker; stage manager is Olivia Witt, assisted by Ally Engelbrecht and Shannon Douglass.
The sets show a New York theater and a Nevada saloon that'll revolve to show their interiors as well as exteriors. There's also an old theater that's become a post office.
"This show highlights our great dancers, and there are lots of wonderful character roles, too," said Pike. "And the Gershwin music is so appealing, widely recognized and memorable. People will go away happy, tapping their feet and impressed with our tremendous talent."