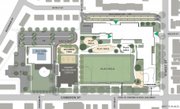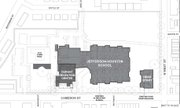 After years of failing test scores and faltering attendance, school officials now have a plan to demolish the existing Jefferson-Houston School and build a new one. The proposal, which administrators at Alexandria City Public Schools call "Site Plan A" is a 120,000-square-foot school expected to cost $44.2 million. Construction is slated to start in April 2013, and public hearings before the Planning Commission and City Council are scheduled for November.
"We made a commitment to the students and families in that community, and we intend to keep it," said Superintendent Morton Sherman in a written statement.
VMDO Architects of Charlottesville is leading the design team, and Brailsford & Dunlavey is providing project management services. Planning for the new school began last year, when School Board members approved initial capital improvement funding for the project. The site plan submitted to the Alexandria Department of Planning and Zoning has an L-shaped building, which is oriented to West Street framing a rectangular athletic field. School buses will enter from Earl Street and exit to West Street.
"We have worked on other projects where it has been very difficult to get the community engaged and excited about a project," said Jay Brinson, project manager. "This is certainly not the case in Alexandria, and we are looking forward to continuing to work with ACPS and the Jefferson-Houston community as this project moves forward."
More like this story