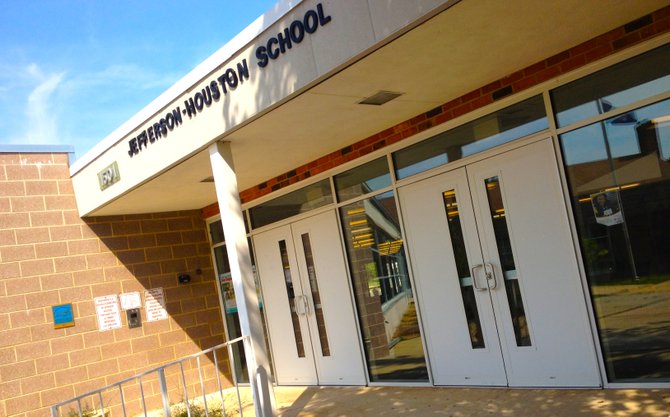 More than a decade of failing test scores and a revolving door of administrators have taken their toll on Jefferson-Houston School, which the Virginia Department of Education was identified as a "priority school" back in August. Now school administrators are on the verge of hiring an "external lead turnaround partner," a step required by state officials who are fed up with years of mediocre performance at Alexandria's most troubled elementary school.
"You have an entire generation of kids that have been failed by the Alexandria city school system," said Virginia Board of Education member Chris Braunlich during a recent hearing in Richmond. "We've talked a lot here about flexibility, but a school system that has allowed this to happen for 10 out of the last 11 years has earned no flexibility."
Test scores at the school have been failing for years, with the school failing to meet accreditation standards for 10 out of 11 years. And recent years have seen an increasing decline. In the most recent set of test scores, for example, only 29 percent of black students showing basic proficiency in Math. And only 46 percent of students with disabilities at Jefferson Houston could demonstrate basic English skills. That's become cause for alarm in Richmond, and a desire to see some oversight outside Alexandria City Public Schools.
"We all are concerned about the failure of a generation," said David Foster, president of the Virginia Board of Education. "And we want to know that we are all doing what we can to expedite some steps to help turn it around."
WHEN OFFICIALS in Richmond denied accreditation at Jefferson-Houston earlier this year, administrators at the city school system's Beauregard headquarters attempted to appeal the decision. Their appeal was denied, and members of the Virginia Board of Education had some harsh words for Alexandria school officials. Instead of selecting one of the vendors state officials had already approved, leaders in Alexandria decided to issue their own request for proposals, which has delayed the selection of the required "external lead turnout partner."
"The last thing I want you to do is take a recommendation to your local board for a lead turnaround partner contract that I'm not willing to fund," said Superintendent of Public Instruction Patricia Wright told Alexandria school officials. "The lead turnaround partner needs to have the autonomy to look at your data, to look at the past history and the current needs, and to make some decisions about how the corrective action plan is shaped."
Members of the Alexandria School Board have identified Jefferson-Houston as a priority for years, although efforts to improve test scores have failed to yield fruit. The school has been in a tailspin since 1999, when the Alexandria School Board adopted a controversial redistricting plan that created a racial imbalance at the school. In one year, the school went from having 50 percent of its students eligible for free and reduced lunch to 77 percent. Since that time, the school's enrollment had plummeted from 486 in 2000 to 364 students today — and that's after adding sixth, seventh and eighth grade classes to the school.
"I'm very disappointed," said Bea Porter, whose children and grandchildren attended the school. "I don't know if it's the teachers don't care enough. I don't know if it's the students misbehave. I don't know what it is."
RESPONDING TO PRESSURE to reconstitute the school, Superintendent Morton Sherman has replaced administrators at the school and replaced half of its teachers. Last year, Rosalyn Rice Harris was hired to replace Kimberley Graves, who had been principal since 2006. More recently, Helena Payne Chauvenet was brought on as assistant principal and DeBerry Goodwin was hired as administrative officer. Last year, Steve Wilkins was hired as "chief executive officer," but he left Alexandria to take a job in Georgia. Now, Sherman has replaced him with Mark Eisenhour, who has taken the position "principal on assignment" to help oversee the demolition of the school and the construction of a new $44 million facility as well as work with the external transformation partner eventually selected to help oversee operations at the school.
"I think there have been a lot of efforts by a lot of different people over the years, but I'm not so sure that efforts were very well coordinated," said Eisenhour. "I think they sought to address the symptoms and individuals students who had difficulties but they never really looked at total core instruction at the building."
The issue of Jefferson-Houston came up several times during the late campaign, with parents across the school criticizing incumbent members for failing to transform the school. One of the candidates who was particularly critical was Bill Campbell, who was elected and is now preparing to take his seat in January. On the campaign trail, Campbell suggested that school administrators try a radical suggestion — pair the school with Lyles-Crouch Elementary or Maury. That way, students would attend pre-K through third grade at Lyles-Crouch or Maury then come to Jefferson-Houston for grades four through five or six. Pairing the schools would diversify the demographics of Jefferson-Houston, where 62 percent of the students are black and the vast majority qualify for free or reduced-price lunch. Meanwhile, Campbell said he would have voted against the recent initiative to add 90 minutes to the instructional day at Jefferson-Houston.
"As is the case with a lot of things Sherman does, he did not present it well at all," said Campbell. "And not just the timing. We should have done a better job at explaining the rationale to parents."
The deadline for potential vendors to respond to the school system's request for proposals is Dec. 13, and Alexandria school officials are expected to select an "external lead parnter" by Jan. 1. The partner will be expected to conduct a management review, which is expected to take at least a month. After that's completed, school officials are expected to submit a "corrective action plan" to the Virginia Department of Education.
"We acknowledge that the (Standards of Learning) scores, especially the last few years, those results have been dismal," acknowledged Eisenhour. "What I would say in response is that we are looking at the school from top to bottom."
THIS WEEK, members of the Alexandria Planning Commission approved a master plan amendment clearing the way for demolition of the old school and construction of a 130,000 square foot new facility. Although the school has few than 400 students today, plans call for a facility that can hold 800 students. School administrators say they are planning ahead to handle a rapidly growing student population. But some neighborhood residents are skeptical.
"The enrollment issue is a shell game," said Leslie Zupan, president of the Old Town West Civic Association.
Zupan noted that Sherman already announced that he wants to build a new elementary school on the east side near Potomac Yard, so the new Jefferson-Houston wouldn't be to handle those students. And she was also skeptical that the enrollment projections will continue to spike if the economy improves. Members of the School Board disagree, arguing that two-thirds of the classrooms at the existing facility don't even have windows.
"Our children deserve a monumental, light-filled place," said School Board member Helen Morris, who lives near the school. "And I haven't heard any of the newly elected School Board members say we should backtrack on this."