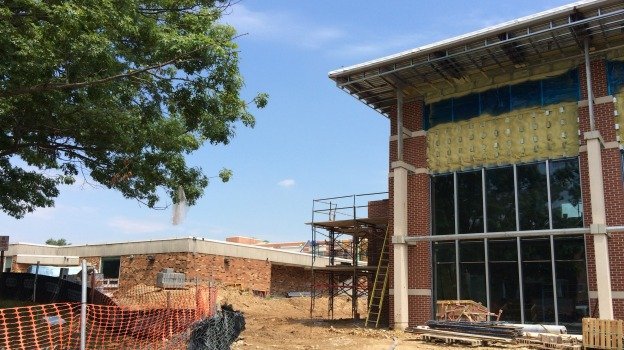 Test scores that will be released later this year show Jefferson-Houston School is failing yet again, with scores declining dramatically in writing. It's yet another failure for a troubled school, where six principals have cycled in and out during the last 12 years. Now Superintendent Alvin Crawley has decided to move Principal Rosalyn Rice-Harris from the top job to an assistant principal position after three years on the job, launching a search for a new leader.
"Three years is enough by most standards," said School Board member Bill Campbell. "We should be seeing some positive trends after three years, and we have not seen that so I support the superintendent in the leadership change."
It's the latest change in a school that has seen a number of so-called "turnaround" efforts over the last decade, a time when the principal's office has become a revolving door of administrators who have come and gone as test scores have dropped lower and lower. Standardized test scores have been so low at the school for so long that Jefferson-Houston is the only school in Northern Virginia that meets the standard for a state takeover under the newly created Opportunity Education Institution. Alexandria leaders are hoping that disorganization among the state agency's leaders and a recent ruling against the constitutionality of the takeover effort will mean the effort is dead, at least for this year.
"A school takeover is a 12 to 18 month effort, but they haven't been planning for one because they don't have the resources to plan for one and their legal status has been in jeopardy," said Del. Rob Krupicka (D-45). "I think there's going to be a lot of conversation in the next legislative cycle about what we should do for schools like this, and my sense is that we are going to have a conversation about whether the Board of Education needs more specific powers to try to bring about changes in schools that need them."
PERHAPS THE BIGGEST change for Jefferson-Houston will be the $45 million facility that will open this September, a school that has capacity for 750 students even though it is expected to have about 400 students in grades Kindergarten through eighth grade. That means the school would be running at about half capacity, which opened the door to school administrators adding four Head Start classrooms at the facility to serve 100 low-income students who are part of the federal program to foster early childhood education. One School Board member raised concerns last week that the previous School Board voted against allowing Head Start classes at the new school back in 2012.
"I have concerns about the way this proceeded," said School Board member Pat Hennig. "I can't find any vote overturning the original vote."
When former Superintendent Morton Sherman sold the $45 million project to City Council members, he did not include any Head Start classrooms at the new Jefferson-Houston. Part of the logic behind that decision was that school leaders would need capacity for the rising student enrollment, and the former superintendent was also concerned about making sure the school system's preschool initiative was able to flourish at the school. Whatever the reason for the decision, City Manager Rashad Young explained in a March 26, 2012 memorandum that city leaders and school officials would have to figure out how to proceed without the five Head Start classrooms.
"The schools have not identified alternative space for the five (Head Start) classrooms currently located at the site, which were built with Head Start and city funds," Young wrote. "ACPS estimated the cost for incorporating the lost annex space into the new Jefferson-Houston School to be $1.75 million."
THE REQUEST for additional money was not approved by the City Council, although school leaders now say they scrambled to add the classrooms anyway. Considering the vast capacity at the school, which would have been half empty without the Head Start students, finding additional space at the school was not much of a problem. So administration officials took action even though no School Board vote had ever taken place to overturn the previous decision. Administrators say elected officials can take action retroactively if needed.
"If this needs to go back to the board, we will take the steps to do so," the superintendent informed School Board members in a July 1 email.
Administrators say the facility is currently on time and on budget, a construction site that is in the final stages leading to opening day this September. The old building, originally contracted in 1970, is slated for demolition next month. Meanwhile, many questions remain unanswered about the future of a school where test scores have plummeted and administrative changes have taken place without School Board approval. Perhaps the biggest unanswered question is who will become next principal, a position that school leaders say might not be filled by the first day of school.
"We can't guarantee that," said Kelly Alexander, communications director for the school system. "Our expectation is to hire a new principal as soon as possible."
SCHOOLS HAVE been located on the property for almost a century. The old Alexandria High School was constructed in 1915 on Cameron Street at the visual terminus of North Peyton Street. Then, in 1922, the Jefferson School was constructed on North West Street at the terminus of Queen Street. Both of these buildings were demolished in 1970 to construct Jefferson-Houston Elementary School, a design that incorporated ideas that were popular at the time about "open classrooms" and "pod design." Now that building is about to be demolished to make way for the next generation.
"This is the first of probably several projects to increase capacity on some of our current sites," said Mark Eisenhour, principal on assignment at Jefferson-Houston, whose signature appears as the property owner on official documents for the school. "Our only choice is to add capacity at current sites."