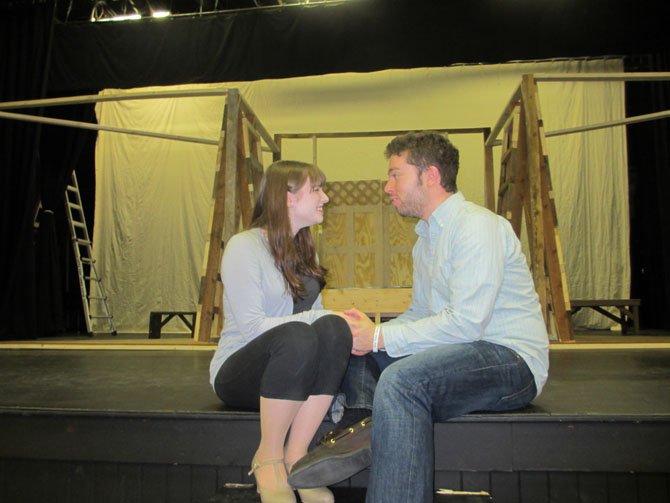 The longest-running show in New York City – 50 years old and going strong – comes to Vienna on April 20. It's not the off-Broadway edition, but, it's the next best thing. "The Fantasticks," as brought to life by the Vienna Theatre Company [VTC], opens for three weekends at the Vienna Community Center with evening and matinee performances.
The storyline centers on the chicanery used by two fathers to "match" their children in marriage. It's a complex plot, says VTC artistic director Susan Devine.
Devine moved the locale from a rural environment to a more urban one, but retained the book and music of the original play. "Try to Remember" kicks off the production.
"The thing about 'The Fantasticks' is that there's everything in it, music, magic, lightning," said Devine. "Just changing the setting makes a big difference."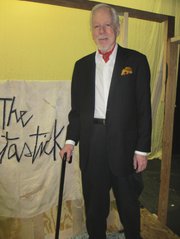 EVERYONE INVOLVED with the production is a volunteer, from actors to musicians and effects. "Community theatre is a healthy hobby for a community," said Devine.
Josh Goldman plays the romantic lead man – Matt – and Molly Nuss of Vienna the female lead, that of Louisa. "I love to sing, I love to act," said Nuss. Molly is a Herndon High School junior, active in the drama department. In theatre since she was just 7 years old, Molly has played roles in "Man of La Mancha" and "Les Miserables." This year, Molly played Belle in her school's production of "Beauty and the Beast." She loves musical theatre and has been taking voice lessons since she was in the seventh grade. Molly's dream is to play on Broadway, some day.
"I can't imagine doing anything other than this in my life," Molly said.
Philip Baedecker, of Vienna, describes his character Henry as the "old actor." Since Baedecker, an experienced actor, does not sing, he plays characters who have only to speak. And Henry is a character he has played in two previous Northern Virginia productions of "The Fantasticks."
"Henry's a delightful character role," said Baedecker. "He's lots of fun to do."
Baedecker comes by his affection for "The Fantasticks" naturally. His father played in a production of the play in the 1960s. Since he retired from the U.S. Geological Survey as a research chemist, Baedecker has been concentrating on acting.
"I love the show, the music is charming," Baedecker said.
The singing narrator El Gallo, or "villainous" hero as Michael Schlesinger calls his character, is hired by the fathers of the love interests to pretend to kidnap Louisa so that Matt can save her. As Devine says, it's a complex plot. There's love come, love lost, love returned … a complex plot with a happy musical ending.
"It's a show that evokes nostalgia," said Schlesinger, who has been in theatre most of his life and loves singing even more than he loves acting. "We have such vibrant community theatre in Northern Virginia. It's always a pleasure to work in a caring, nurturing theatre like Vienna. It's great to learn from the cast, crew and Susan."
Baedecker says that the reason that actors enjoy doing "The Fantasticks" is the presentational character of the show. "There's a lot of interaction between the cast and the audience.
"The simplicity of the play and the interaction it gives show the charm."


VTC'S PRODUCTION of "The Fantasticks" features Vienna residents Philip Baedecker and Molly Nuss, and Keith Flores, Josh Goldman, Donna Naybor, Steve Nixon, Michael Schlesinger and Jacob Wittenaurer. Susan Devine directs. Production staff include musical director Paul Nasto, assistant musical director Francine Krasowska, choreographer Laura Fargotstein and producer Doodie Brethwaite.