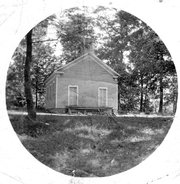 The school bell that is now situated in front of the new Great Falls fire station has a history dating back to 1889. George and Alice Hicks Gunnel sold one acre of land to the Forestville School Trustees in 1889 so that they could build a new schoolhouse on Georgetown Pike in the current location of "The Old Schoolhouse."
When the new Forestville School opened in November 1889, the Groves School that stood at the intersection of Georgetown Pike and Walker Road (where the Shell Station currently stands) was closed. My grandmother, Martha Johnson, was one of the students in the last class at the Grove School. The school bell was mounted on the newly built 1889 schoolhouse, but we are not sure whether it might also have been on the Grove Schoolhouse before it was closed.
In 1922, another new brick Forestville School was built on the site where the Great Falls Firehouse stands today. Mr. A. Henry Goode purchased the Forestville School of 1889 at auction in 1922 and he and his wife, Alice (the former Alice Hicks Gunnel – her husband had died in the meantime) gave the bell from the 1889 schoolhouse to the new 1922 Forestville Schoolhouse at the time of purchase. Henry had bought the old building to convert it into a residence.
Unfortunately, Henry Goode never got to renovate the property, as he died the following year, in 1923. Alice Goode then married Daniel Cornwell. Alice and Daniel renovated the schoolhouse and lived there for the next 25 years.
About 1949, the bell on the roof of the 1922 schoolhouse was causing damage to the roof and was removed. The Bell was returned to Alice Goode Cornwell.
Alice Goode Cornwell then gave the bell to E.P. Orr, their next-door neighbor. Mr. E.P. Orr was a teacher at the Forestville School before later teaching at Herndon High School. Upon falling into ill health, he gave the bell to the Great Falls Fire Department. He believed that the school bell belonged in front of the Firehouse, where the 1922 brick Forestville Schoolhouse used to stand.