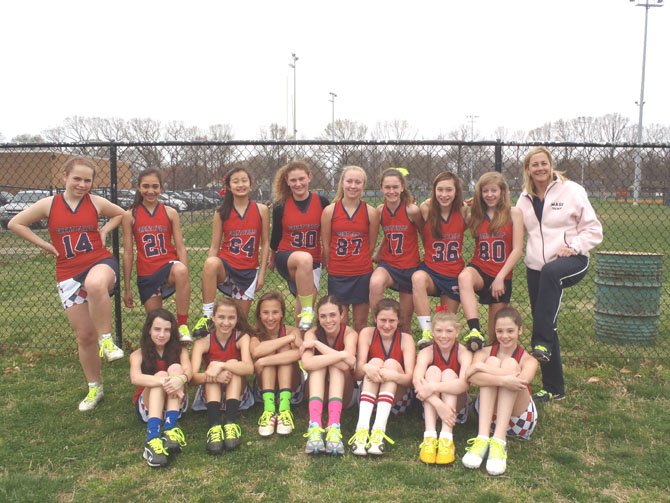 Throughout our high school years we have our takeaways. The people and the moments that when we are young guide us, and when we are older follow us.
In 1981, at Langley High School there were two teachers who believed in an overly chatty girl with a bigger interest in her social life than studying for her next exam. Their gaze was far greater than the four walls of the classroom and the four years of high school. Their words, guidance and teaching crawled beyond the pages of the book and into the pages of my life.
It is my children who now attend Langley High School. It is over dinner or a car ride home that they share a story or two. Their own people and moments who will guide them and follow them. My son, Billy, speaking of a Varsity Basketball Coach who inspired him with a comment. My son, Tommy, excitedly explaining an interesting debate over a life subject as his math class was nearing a close.
This is Coach Travis Hess. A seven-year Langley veteran who teaches Math and who leads and coaches the boys Varsity Basketball team. A man who has so greatly touched the McLean and Great Falls communities that our shoes are now tightly tied with the love and solidarity of neon yellow in order to rally support for his 1-year-old daughter, Gianna, and her fight against Hepatoblastoma - a rare form of pediatric cancer that starts in the liver.
It was just a few months ago, on a February day, that Coach Hess, his wife Suzanne, their infant son, Jackson, and sweet Gianna would learn of the fist sized tumor on her liver.
It is hard not to tear up seeing photos of this bright eyed, dark haired beauty. Her gorgeous, saucer-eyed, sweetness smiling through much of the pain. The moments of relief as she sleeps nestled in the arms of her mother in her hospital crib seem so precious.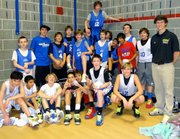 GIANNA'S JOURNEY physically takes the Hess family to hospitals in Philadelphia, Washington, D.C. and Northern Virginia. Emotionally it takes them much further.
From watching their baby connected to tubes, crying out in pain and losing her hair to being subjected to more than her little body should have to endure. It takes them to witnessing the extraordinary strength their baby girl possesses.
A few months ago, Langley played Stone Bridge High School. At the end of the game, senior Joey Robinson drives back down the court with eight seconds remaining and junior Justin Galiani reaches up for Robinson's rebound. With only seconds left, Galiani scores the game winning basket. The student section storms the court. I gazed down from the stands smiling at the sea of joyful, jumping Saxons. That is when I spotted him. Coach Hess was right there in the middle of the court jumping and chanting along side all of them.
This is what makes good coaches great. He is simply one of them and they know this. His passion is not only for the game but for all of them.
"Coach Hess is such a major asset to the school not only for being arguably the best basketball coach we've ever had, but also for taking a very talented group of kids and making them reach their potential within and beyond the classroom," Chris Bass, a former graduate of Langley High School and now a teacher at Langley for the past thirteen years says,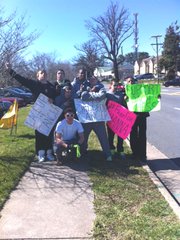 "His players not only play for themselves, but for him," Bass continues, "He is very passionate about what he does and he cares for his kids."
And they care for him. The Langley Boys Varsity Basketball team has taken their game off the court.
Now taking the lead for their coach, they are asking and inspiring all of us to emerge from the bench and to show that when given the opportunity in the game of life, like any great player, we will rise to the occasion for the team.
The team along with several of their parents reached out to Go4theGoal's Lace-Up 4 Pediatric Cancer movement.
Great Falls resident, Debbie Volpicelli, inspired the effort by reaching out to the team and informing them about the New Jersey based Foundation (Go4theGoal.org), which was founded in 2006 by Dr. Richard and Beth Stefanacci after their oldest child was diagnosed with cancer. The foundation began their "Lace-Up 4 Pediatric Cancer" in September 2011.
What many don't know is that Coach Hess has always inspired his players each year to participate in community involvement. He has had them support breast cancer and other important causes and gotten them out and involved in the community.
What people also do not know is that this year he had planned to have his team support lace- up for pediatric cancer. The laces were in and waiting for the team. Then came the news on Gianna. The team is now laced-up for a much more personal dedication to pediatric cancer.
The Langley players ordered 5,000 pairs of laces and their goal is to sell even more than that. They are well on their way and the dedicated Varsity boys team has devoted many hours to doing just that. They are eager to support their Coach.
"He's just a great guy. He connects well with the players. He's funny and he's goofy and he makes you want to work hard, " says Langley Varsity Basketball player and junior, Brad Dotson. "He does a really good job of transitioning from your coach and being serious to being your friend and hanging out with the team and just being one of the guys. When this happened to Coach, it hit us all really hard so we wanted to do whatever we could to step up and help him out. He's done so much for us that we were happy to do it and we wanted to."
"Plenty of times over the course of the season it didn't look like we were going to win the game, but we would come back," says Langley Varsity Basketball player and also junior, Justin Galiani. "We knew never to give up until the end and very often it led to us making large comeback wins. Coach Hess taught us the belief to never give up. We wanted to help because he's affected all of us in a positive way."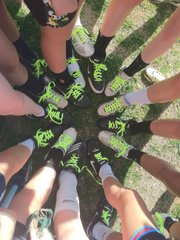 AN ENTRY BY COACH HESS in Gianna's CaringBridge Journal shows that the love and respect are mutual. The following excerpt in his own words:
"Today several of our players gave up their Saturday afternoons to sell bracelets and shoe laces to raise awareness about pediatric cancer and help raise money for Gianna. The bracelets bear the saying 'I Believe That She Will Win,' a play on one of our crowds chants before and during games. In addition, I am hoping that many of you will be seeing kids and adults alike sporting the neon shoe laces in their sneakers this spring.
If you think I am bragging about our team and program, you are correct. I cry over every text I receive from a former player and today's events are a testament to the caliber of young men I am privileged to teach and coach. I just want to say to all of my players, past and present, I love you. Thank you for all you have done for Gianna and my family. It means more to me than you will ever know. God bless you."
I am brought back to that moment at the Langley/Stone Bridge game. I am brought back to the moment where Coach Hess reminded me what the game is really all about.
It's about believing that with every opportunity, every game, we put our best foot forward, work together, strive to beat the odds and never give up. It's about rising from the bench to catch a dropped ball, substitute for an injured player or take a shot.
This is what makes fighting for a win worth it. It's not about a score on the board, not a singular experience, not a second in time. It's the even bigger picture - this thing called "our team" is really the lesson sports and some really great coaches teach us about life.
You can help the Hess Family by lacing up either as an individual or as a team. Individual laces are $5 per pair and to organize and out fit your local or school team, become a "Laces Leader," and coordinate all the members of your team or organization towards 100 percent participation to "LaceUp4PediatricCancer." For information on laces or wristbands which are also $5 e-mail HessHelpers@gmail.com
You can also make a donation directly to Travis and Suzanne at
https://www.paypal.com/cgi-bin/webscr?cmd=_s-xclick&hosted_button_id=W3WYLB42UKNBL