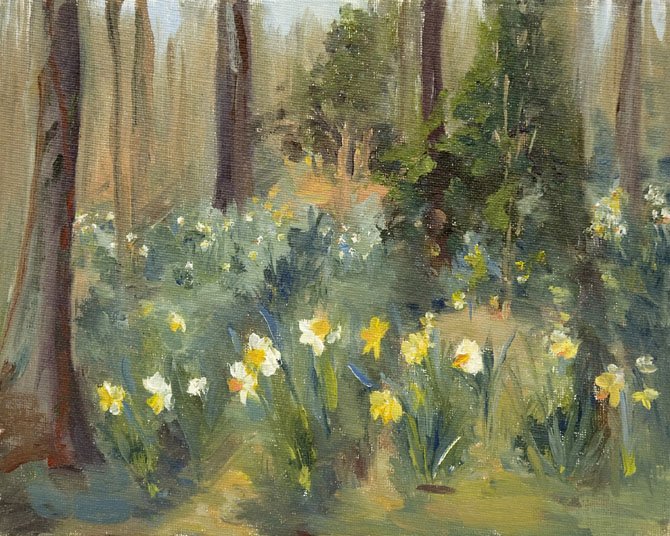 The Sixth Annual Great Falls Spring Art Festival and Sale, a showcase for art created locally, will be held next weekend, April 21 and 22, at the Village Green Day School, 790 Walker Road, from 10 a.m. to 5 p.m. each day.
The festival features pottery, paintings in oil and watercolor, jewelry, photography, woven handbags, digital art, woodcarving and other work created by over 20 artist members of Great Falls Studios, a network of artists based in Great Falls. Many of the participants are either new to the event or returning after a hiatus, bringing additional creativity to the festival.
"This looks like a great show with an interesting lineup of artists," said Linda Jones, a watercolor painter who has organized the event on behalf of Great Falls Studios. "Even if you've been to one of the other Spring Festivals, you'll find new and different art and gifts each year, and this year is no exception."
Great Falls boasts over 95 working artists, most of whom work out of studios in their homes. The Spring Festival, plus the Holiday Show in December and the annual Studio Tour held each October, give the community an opportunity to see high quality art made locally and to speak with the artists, many of whom are friends and neighbors, about their creations. Admission is free.
Visitors who come on Saturday are eligible to win drawings for two $50 "Art Bucks" prizes, which can be used on Sunday toward purchase of any work on sale.
A portion of proceeds from the sale of art will be given to the host venue, the Village Green Day School. The funds will be used to support the development of art education at the school, which serves pre-school-age children. Village Green Day School is just south of the Village Centre on Walker Road.
Great Falls Studios serves the interest of local artists, but it has also become an important community-service organization to help make Great Falls a more artful place. You can get a preliminary look at some of the artists taking part by going to the group's website: www.GreatFallsStudios.com.