Twenty Great Falls Studios member artists—painters in oil, acrylic, watercolor and mixed media, potters, photographers, jewelers, a wood carver, stone cutter, layered paper artist and weaver—are participating in the Great Falls Studios Spring Art Festival, Saturday, April 20 and Sunday, April 21, 10 a.m. - 5 p.m. both days, at the Village Green Day School, 790 Walker Road, Great Falls. Everyone is welcome and the event is free.
The Spring Art Festival showcases some of Great Falls Studios widely known artists and introduces guests to some new faces and techniques. Each artist enjoys talking about his or her creative drive and process. Visitors are encouraged to engage in the often lively conversations. In addition to original paintings, photography, wall hangings and jewelry, some quite large, there will also be high quality prints, pots and dinnerware, purses, pillows and scarves, walking sticks, art cards and books.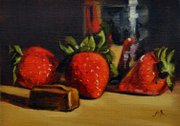 Visitors to the festival on Saturday can submit their contact information for a drawing that evening for four "art bucks," $50 gift certificates that can be used to purchase art on Sunday. It is not necessary to be present when the winners are announced.
The event is the seventh annual Great Falls Studios Spring Art Festival. It is the first in a series of planned celebrations throughout the community in 2013 marking a Decade of Art in Great Falls. Great Falls Studios membership now numbers over 100.

A portion of the proceeds from the sale of art will be given to the host venue, the Village Greed Day School. The funds are being used to support the development of art education at the school, which serves pre-school-aged children. To learn more, go to www.GreatFallsStudios.com.