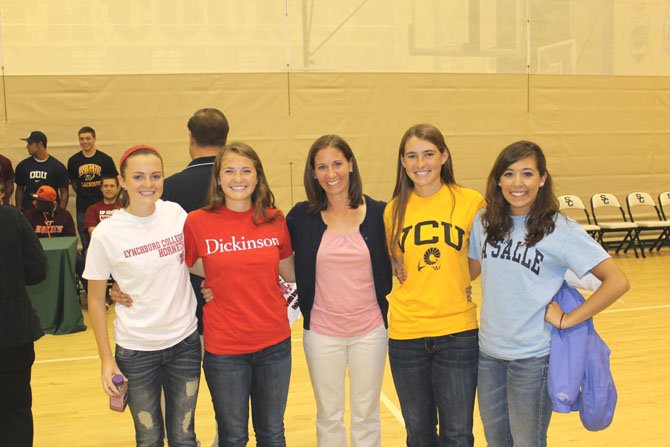 fairfax station — Next school year, four players who have been instrumental members of the South County Secondary girls' field hockey team will be going off to college where they will commit to their classroom studies as well as play field hockey at the collegiate level.
Two of those four players, Kendall Clifton and Caroline Karwel, earned First Team All-State, All-Northern Region, and All-Patriot District honors as seniors last fall. Karwel also made First Team All-Met.
Meredith Bradsher, another one of the program's college signees, made First Team All-District. And Kaylee Taillon, the fourth player from South County headed for college, missed about half of the past autumn season with a concussion. Stallions head coach Leah Conte said that Taillon, even with her missed time, was still a crucial part of the team.
The four girls were part of a South County team that went 19-5 in the regular season. In the playoffs, the Stallions reached the Patriot District championship game but lost in double overtime to Lake Braddock. However, they went on to capture the region crown with a finals win over Westfield, then defeated Hanover High, 2-0, in a first round state playoff game. The team's marvelous season ended with a state semifinals loss to First Colonial High, the eventual state champion.
Coach Conte said the team experienced success because its players always showed great chemistry and a strong work ethic.
NOW, THE PROGRAM'S four standout players - Clifton, Karwel, Bradsher, and Taillon - are each set to graduate in June and shortly after leave for their respective colleges. Clifton is going to Virginia Commonwealth University (Richmond); Karwell to Dickinson College (Pa.), Taillon to LaSalle University (Philadelphia); and Bradsher to Lynchburg College.
Conte has nothing but praise for all four of them. She described goalkeeper Clifton as a leader who had a fantastic season and an amazing playoff run.
Bradsher, the coach said, was the workhorse and also a great teammate. Karwel held the defense together while always showing great composure, and Taillon held the midfield together and managed to score a game winner against Fairfax High School.
Coach Conte says these four girls have practically grown up together, having played together since the seventh grade. She is proud of all of them and believes they will all be successful at the college level.