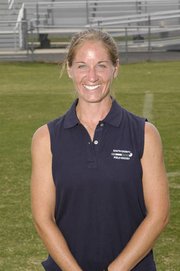 South County head field hockey coach Leah Conte has been named to the U.S. Women's National Indoor Field Hockey team with hopes of competing in the 2010 Indoor Field Hockey World Cup.
Conte, 29, who was an All-American outdoor field hockey player at three-time Division II National Champion Bloomsburg University, coached at Ithaca College and the University of Mary Washington before coming over to South County when the school opened.
"For me, I am excited to bring back what I learned training with the U.S. team," said Conte. "To bring that experience back to Northern Virginia, that is going to be awesome."
Conte, who started playing the sport in sixth grade, traveled to Pennsylvania for open tryouts. Over 75 players showed up for the six-hour tryout. Conte was one of 22 players selected to the team.
Conte started playing indoor field hockey as a way to train for the outdoor season during her college years.
"I love the indoor game. It is so much faster," she said. "It is a really fast game. It is a lot of fun."
Conte will begin training with the team once a month starting May 10. In the summer, head coach Shawn Hindy will pick 12 players to travel in November to Argentina for the Pan American games. Ultimately, in 2010, the team hopes to qualify for the World Cup.
"I'm just really excited," said Conte. "I'm really excited."