Chantilly — Granted, says Theater Director Julie Wharton, "Nobody's ever heard of this show, 'Brenda Bly: Teen Detective,' but it's funny and the characters are charming." And soon, local residents will be able to enjoy it, too, at Rocky Run Middle School.
It will be presented Thursday-Friday, April 26 and 27, at 7 p.m., and Saturday, April 28, at 2 and 7 p.m. Tickets are $7 at the door or during school lunches, the week of April 23.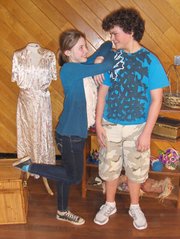 The play's a comedy-mystery musical set in a private, all-girls school in 1958 Florida, and the girls are in rehearsal for their musical production inspired by the space program. When a sandbag falls on the lead actress' head, knocking her out, she gets amnesia and can't remember her lines.
She's replaced by another actress, and her best friend, Brenda Bly — a student who's a teen detective — tries solving the mystery of what happened to her. Meanwhile, Brenda's boyfriend Buddy is jealous that she spends so much time on her cases and not enough with him.
The cast and crew of 45 have been rehearsing since early February, and Wharton says they're doing a fabulous job. She also praised the choreographer, Sue Skaddan, and music director, Lynn Christman.
"The 1950s music — swing, cha cha, boogie and rock — will sound familiar to the audience," said Wharton. "We've got big skirts, big hair and big fun; people will love the story, characters and music. The show's family-friendly and has a great message — find your talent and passion in life and embrace life while doing that."
Eighth-grader Roxy Matten has the title role. "Although Brenda's still in high school, she's the town's main detective," said Roxy. "She's sure of herself and matter-of-fact. She's pretty much perfect in every way; she gets great grades, is good in sports, is popular and has lots of friends. She basically does it all."
Roxy's having a good time working with her cast mates. "I love the music and the costumes are great," she said. "I don't usually play characters so sure of themselves, so it's good for my acting skills. It's awesome to be a lead and spend so much time on stage and learning the lines and music."
Her favorite number is "I Always Get My Man," in which Brenda sings about all the cases she's solved. "It's a bright and happy song and gives me the opportunity to convey a lot of emotion," said Roxy. As for the show, she said the audience will like the story because "it's an interesting mystery with an unexpected ending."
Portraying Brenda's boyfriend Buddy is eighth-grader Connor Schutte. "He goes to a private boys school and is charismatic, bold and on top of the world," said Connor. "He's also arrogant and full of himself, and everyone bows down before him."
Since the character is so unlike himself, Connor's had to learn how to strut and do certain hand movements to illustrate his character's cockiness. "I'm enjoying it," he said. "And I've met interesting people in the cast."
He especially likes the song, "Thief in the Night," because "it's well-written and fun to sing, so it sounds really good. Buddy sings it and is sad at the time." Connor said the audience "will be amazed by how talented we are as middle-schoolers. They'll be impressed by the quality of the actors and the play."
Eighth-grader Rachel Cahoon plays the headmistress of the girls school, Vera Van Strander. "She's categorized as the villain — cold and bitter to everyone," said Rachel. "But as the play goes on, you learn about her background and see why she's that way. Some people stereotype her when they first meet her, instead of digging deeper to see why."
Rachel likes playing villains because "it's cool to change who you are and playing someone evil makes me a better actor. I even have an evil laugh and am stern to the students and yell at them." Her favorite number is "Van Strander's Lament," which she sings. "It's the turning point, when others see who she really is," said Rachel. "It's slow and sad, but I like its emotion."
She said the audience will enjoy watching the group dances and noted that some of the dancers will perform "cool tricks" in them. "The set's interesting, too," she said. "At times, there are two different scenes on stage at the same time."
Playing school security guard Cecil Sessile is Marc Manaloto. "He's always trying to be in charge and acts like he knows what to do," said Marc. "He's also having a secret affair with Van Strander. I'm excited because, as a seventh-grader, I was surprised to get a lead role. I was nervous, at first; but now, I'm happy and proud of myself. This is more of an adult role, so it's fun to make my voice lower for it."
The song Marc likes best is "Find Me That Man," which he sings. "It has a catchy tune and, once you hear it, it'll easily get stuck in your head," he said. Overall, he added, "The audience will like the cheesy humor throughout the whole show and how much fun it is to watch."