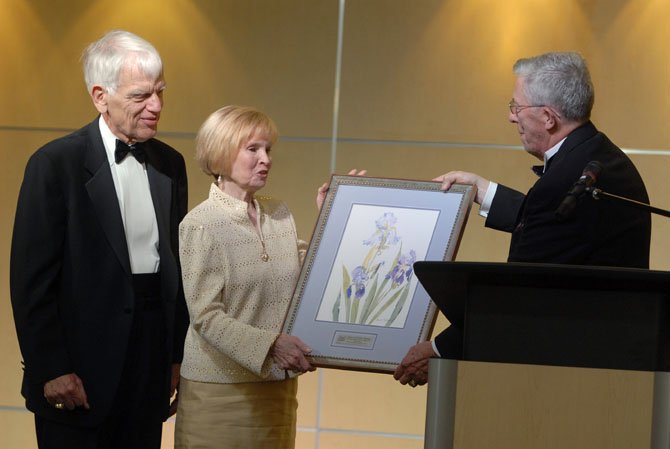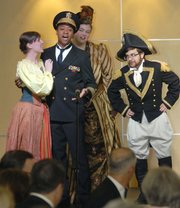 Hundreds of people gathered at the Sherwood Center on Friday, April 20 to attend the 2nd Annual Mayor's Ball, and to celebrate the opening of the 27th year of Fairfax Spotlight on the Arts Festival.
Guests enjoyed a champagne reception and silent auction before a dinner accompanied by musical vignettes performed by students from the Fairfax Academy for Communications and Arts, Mason Opera and George Mason Department of Music. Guests also danced until midnight to the jazzy sounds of the Fairfax Swing Band.
All proceeds from the evening will go towards assisting local students to study arts related programs at George Mason University and Northern Virginia Community College.
The 27th annual Spotlight on the Arts festival, which is dedicated to promoting local artists, will run until May 12. For more information on Spotlight, call 703 352-ARTS or visit www.fairfaxspotlight.org to view complete schedule with dates and times of events.
Highlights of the festival include:
*A premiere performance of Disney's "Winnie the Pooh" by Acting for Young People at the Sherwood Center
*"Forever Young" Art Exhibit at Adam Lister Gallery
*"SWING! SWING! SWING!" a Sherwood Center performance featuring swing music by the Woodson High School Jazz Band, as well as Tom and Debra of Gottaswing
*A Spring Arts Festival at Truro Church
*An FX Players (Fairfax High School) production of "Sweeney Todd," a Woodson Players (Woodson High School) production of "Alice in Wonderland" and a PVI Players (Paul VI High School) production of "Hello, Dolly!"
*"Wild Side Art Show" (The 2012 Earth Exhibit of Student Artwork) at City Hall, a display sponsored by the City of Fairfax Environmental Sustainability Committee and Twins Ace Hardware
*"Tea with Celtic Baroque" with the Síor-Óg Celtic music ensemble at Historic Blenheim Civil War Interpretive Center
*The 6th Annual Bluegrass Festival at Auld Shebeen