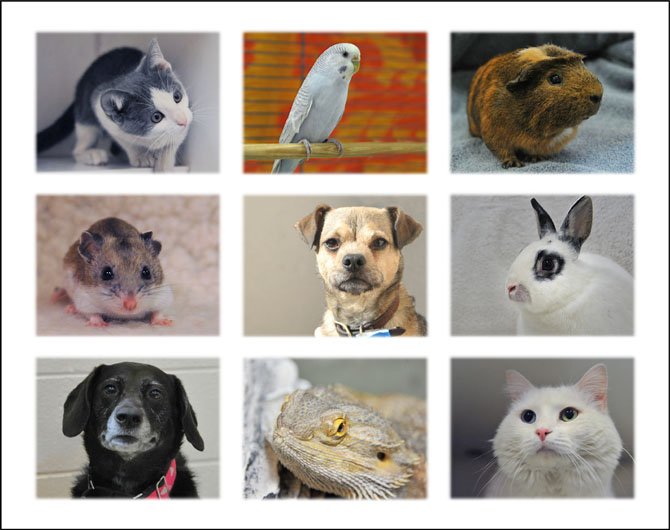 The Fairfax County Animal Shelter is a place of refuge for animals needing care. They often arrive ill or injured, and many have been abused, neglected or abandoned.
With limited funds, the shelter can't pay for the care of each animal needs. But it has a guardian angel in the nonprofit Friends of the Fairfax County Animal Shelter (FFCAS). Since 2006, this organization has raised money to fund things the shelter can't.
But to be able to keep making donations, FFCAS must continue raising money. So on Saturday, May 5, from 6:30-9 p.m., it's holding a wine- and beer-tasting event at Total Wine & More in the Greenbriar Shopping Center on Route 50 in Chantilly.
Called "Wine, Whiskers, Wags & Beer," it's $35/person, and each attendee will taste five different wines and five different beers, enjoy heavy hors d'oeuvres and receive souvenir wine and beer glasses adorned with the FFCAS logo. Anyone wanting to attend should sign up at www.ffcas.org.
"Last year we raised almost $10,000 at this event," said FFCAS President Evelyn Grieve. "So this time, we hope to exceed that amount." People who can't come, but would like to help out, may contribute on the Web site.
The fun includes a silent auction for a wide variety of items, including golf outings for four at the Twin Lakes and Westfield golf courses; tickets to GMU men's basketball games; a jersey signed by the whole Washington Capitals team; four tickets to a Washington Nationals game, plus a baseball signed by a player; and baskets full of wine.
Also auctioned off will be a three-night stay and spa bath treatment for an animal at Old Town Pet Resort; a gift basket from Great Harvest Bread Co.; free pet wash at the Vienna Pet Spa; a plant or gift certificate from Merrifield Garden Center; and merchandise and gift cards from other, local merchants, as well.
All funds raised by the all-volunteer FFCAS go to the shelter, so the more money it receives from this event, the better it will be able to help the shelter care for its animals. And it receives all kinds. Although the majority of them are dogs and cats, the facility takes in practically any potential pet imaginable, such as birds, turtles, chinchillas and hamsters.
"People drop off potbellied pigs, porcupines, horses, chickens, mice, rats, snakes, iguanas – anything," said Grieve. "It's really amazing. Sometimes, people just leave them outside the door, so they do their best to place them somewhere else. One man dropped off 30-40 rabbits all at once."
Shelter Director Karen Diviney notifies FFCAS when an animal with special needs comes in and, if the group can help, it does. People don't want to adopt animals needing surgery; but, often, it's needed to save an animal's life.
"Outside of the normal care, a lot of these animals won't have a second chance," said Grieve. "If they need immediate or extensive surgeries, the shelter can't afford to pay for them. They're only budgeted for so many surgeries, but they get so many animals."
The shelter handles more than 4,000 animals a year. In 2011, it gave veterinary treatment to more than 150 animals with special needs. These included Baby, a boxer-pit bull mix needing complicated spay surgery, and Jake, a Shiba Inu who was operated on after being hit by a car. And, said Grieve, "We just chipped in for hip-replacement surgery for a dog named Chevy."


LAST YEAR, FFCAS raised $45,000 total for the shelter. Part went toward caring for the 160 cats and kittens the shelter received from a November 2010 hoarding case in Annandale. Some also went toward a program FFCAS started with Clocktower – a veterinarian office focusing on neonatal care – to provide specialized care for neonatal kittens.
The group also buys cages and supplies for the shelter's feral cats spay and neuter program. And now, it wants to hire a dog trainer.
"One of the big things we're trying to do is fund a behavior-modification program for the dogs coming into the shelter to help them become more socialized," said Grieve. "The trainer would teach the staff and volunteers basic commands and skills for the dogs. That way, it's consistent and everyone would be saying the same thing to them."
FFCAS also supports the shelter's foster program. Through it, underage and sick dogs, cats and other companion animals are sent to volunteer, foster-care providers to be cared for until they're mature and healthy enough to be returned to the shelter for adoption.
So with all these responsibilities, Grieve's hoping for a good turnout for the wine- and beer-tasking event. "It's a fabulous cause," she said. "Plus it's Cinco de Mayo that day, so we want people to come celebrate and help the animals."
Anyone wishing to donate to FFCAS may do so at the website, or by sending checks payable to the organization to: FFCAS, P.O. Box 2321, Centreville, VA 20122.