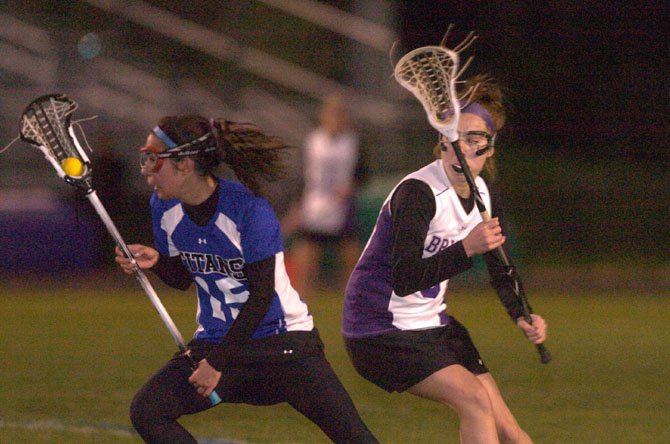 Springfield — The Lee Lancers girls' lacrosse team is having a good season thus far. The team started out the spring with four straight wins during its non-district schedule.
Over the past few weeks, the wins are not coming for Lee, which competes in the ultra tough Patriot District, but the team continues to play hard and, for the most part, good lacrosse.
"April is our toughest month facing some of the strongest teams in the state of Virginia," said Lancers' head coach Emily Miller. "However, the girls are solid, resilient lacrosse players."
Lee opened the season back on March 15 with an exciting 13-10 home win over Stuart High (National District). Five days later in a non-Northern Region game versus visiting Park View High (Dulles District), the Lancers were once again in good form in an impressive 16-3 win on March 20.
In its next two games, Lee played National District opponents Edison and Mount Vernon. In a third straight home game on March 22, the Lancers defeated the Eagles of Edison by a 13-4 score. And then on March 26, in a road game at Mount Vernon, Lee prevailed 16-11 over the Majors.
"We started off strong in March, ending the month 4-0," said coach Miller. "The girls twice had to fight back from behind to win."
Following spring break week, Lee picked up its schedule again with the start of district play. In their Patriot District opener at West Potomac on April 13, the Lancers lost their first game of the season, 13-4.
Since then, Lee has lost district encounters to visiting Lake Braddock, 15-4, on April 17; visiting Annandale, 13-4, on April 19; and at T.C. Williams, 15-5, earlier this week on Monday, April 23.
"They were tough loses but the team held out and fought for an entire 50 minutes, never quitting, never letting Down," said Miller, prior to her team's game with T.C. Williams.
COACH MILLER has been pleased with her group of seniors this spring, including Lancer team captains Amber Velasco (defense), Ada Rodriguez (midfield), Lindsey Hernandez (midfield), and Alex Bouharb (attack).
"We have an extremely strong senior class," said Miller.
Senior Valeria Ferrufino and junior Carly Martin lead the Lancers in draw controls. Juniors Lexy Van Aartrijk and Misheel Batbayar have been pivotal to Lee's play in both the midfield and defense.
"Both are growing significantly as players and leaders throughout the season," said Miller, of Van Aartrijk and Batbayar.
This Friday night, Lee (4-4) will play at district opponent South County in a contest scheduled to begin at 7:15. The Lancers' next home game will be next Monday, April 30 versus West Springfield. They will conclude the regular season with a district home game against Woodson next Wednesday, May 2. Both of next week's games are scheduled to begin at 7:15. The district tournament will begin next Friday, May 4.