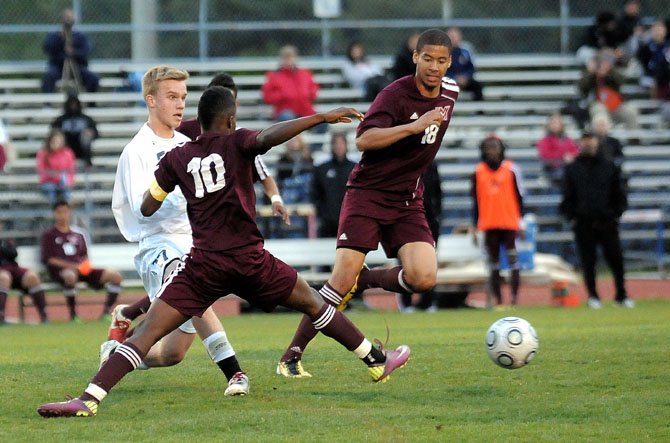 Falls Church — The Mount Vernon boys' soccer team entered its April 24 contest at Stuart with an undefeated record. The Majors, however, did not appear to enter the match as a focused group.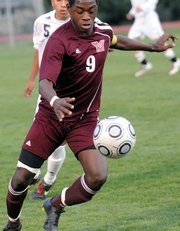 Head coach Robert Garza vehemently voiced his displeasure from the visitor's sideline early in the first half as Mount Vernon littered the field with miscues. Whether it was threatening to bench a player or continuously pointing out the same mistake made by multiple Majors, Garza couldn't seem to reach his players. At one point, Garza told senior Amardo Oakley to "shut him up," hoping the team captain could make a play and put an end to the coach's ranting.
Oakley's hustle produced Mount Vernon's first goal of the evening and eventually the Majors did enough to remain undefeated.
Bryan Castellon scored a pair of second-half goals and the Majors beat the Raiders 3-1 at Stuart High School. Mount Vernon improved to 6-0-2, including 3-0-1 in the National District.
"We were trying too much," Garza said. "Instead of letting our game come to us like we usually do, it was like we were trying to force our way in there. With us putting Bryan Castellon up top, [that] really was the spark right there."
Garza moved Castellon, a three-year varsity starter who is listed as a defender, into an attacking position during the game and the senior delivered a pair of goals.
"With Bryan coming in, it kind of made us settle down a little bit," Garza said. "It kind of put us back into playing our possession game and putting the ball through the gaps while he made the runs that we needed. … Bryan, to be honest, is the most skilled player on the team. He is one of the most overlooked players in the district. He can play any position."
Castellon scored his first goal in the 54th minute, coming down the left side of the field to break a 1-all tie. He added a second in the closing minutes.
"We could be doing better. We're starting off a little too flat at times. … When we're playing our game, I believe we can be the team that pulls away [from the Northern Region]. We play some good ball."

— Mount Vernon boys' soccer coach Robert Garza
"I just got the ball and I knew I was faster than him and I just took it all the way," Castellon said about what proved to be the game-winning goal. "I saw the goalkeeper coming up, looking for the cross and I just slid it in near post."
Oakley put the Majors on the board in the 24th minute. Rahim Costa-Dorsey crossed to Simond Kargbo, whose shot ricocheted off the crossbar, but Oakley was there to finish the scoring opportunity. Stuart tied the game in the 44th minute, but Castellon's goals lifted Mount Vernon to victory.
"When coach yells at us, you get a little frustrated," Oakley said. "He told us to shut him up, so I guess we did what he told us to do."
After a tie against T.C. Williams in the season opener on March 13, Mount Vernon defeated Westfield, Wakefield and South Lakes before playing to a draw against Yorktown on April 10. From there, the Majors earned a pair of confidence-boosting victories against teams ranked in the Washington Post's top 10, beating Robinson 2-1 on April 13 and Falls Church 5-2 on April 16. While Mount Vernon was unranked at the time of the wins, as of Tuesday night the Majors were ranked No. 5. Robinson was No. 8.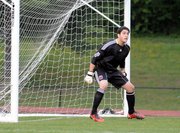 "That win over Robinson," Garza said, "to us, was once again [a message] to the Northern Region: 'We can do this. We can play with you guys and [don't] overlook us.'"
Mount Vernon has been succeeding despite the loss of all-state junior goalkeeper Lucas Belanger, who Garza said left the team after the season opener to focus on preparing to play college soccer. Diego Castro, a sophomore, has taken over as the Majors' goalkeeper and Garza said he's pleased with the results.
"Diego has been a huge asset for us," Garza said. "A lot of people counted us out after Lucas left. Diego has stepped in [and] he hasn't even once tried to do the whole, 'I've got to fill in for Lucas.' Diego's been like, 'I'm Diego, I'm the goalkeeper; I'm just going to play my game.'"
Mount Vernon will host defending National District champion Washington-Lee at 7 p.m. on Thursday, April 26. The Generals defeated the Majors 6-0 in last year's district final.
After W-L, Mount Vernon will close the regular season against Chantilly, Hayfield, West Potomac and Edison.
"We've got to stop overlooking teams," Oakley said, "and come out here and play our best game, every game, no matter what team we play."
If Mount Vernon improves on its slow starts, Garza likes the Majors' chances.
"We could be doing better," he said. "We're starting off a little too flat at times. … When we're playing our game, I believe we can be the team that pulls away [from the Northern Region]. We play some good ball."