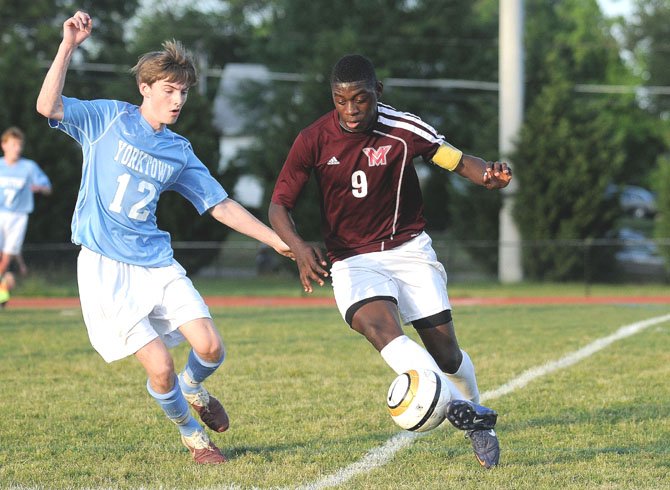 Mount Vernon — The Mount Vernon boys' soccer program won 25 games during the 2010 and 2011 seasons, including regional victories against Langley and Robinson, but something was missing. The Majors couldn't translate regular-season success into a National District championship.
In 2010, the Majors started the season 6-0 and finished 4-1-2 against district foes, but lost to Stuart in the district tournament semifinals.
Mount Vernon was even better in 2011, starting 8-0 and finishing with a 6-1 district mark. The Majors reached the district tournament final, only to be trounced by Washington-Lee, 6-0.
This season, Mount Vernon opened with a 7-0-2 record and finished 6-0-1 in district matches. The Majors once again reached the district final, but this time, they brought home the hardware.
Simond Kargbo's goal in the 60th minute broke a 1-all tie, Amardo Oakley converted a penalty kick for insurance and Mount Vernon captured its first district title since 2005 with a 3-1 victory against Yorktown on May 18 at MVHS. After the game, the Majors celebrated by soaking head coach Robert Garza with a customary water-bucket bath.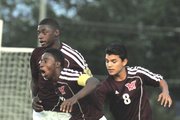 "It's just passion — passion is the difference," Kargbo said. "It seems last year and the year before we had all the skills and everything … but the passion wasn't there — the desire to win it. … This year, we all just tried to come out and win it all."
Mount Vernon led, 1-0, at halftime, but Yorktown tied the score with a goal in the 54th minute. It didn't take long for the Majors to regain the lead as Rahim Costa-Dorsey crossed to Kargbo in the 60th minute and the first-team all-district forward headed the ball in the net for what proved to be the game-winning goal.
After a disappointing runner-up finish in 2011, Kargbo was glad he could contribute to a championship.
"After last year in the finals against W-L, not doing anything, that meant a lot to me scoring that goal," Kargbo said, "and actually being able to hustle for my teammates."
Four minutes later, Oakley added to the Mount Vernon lead by converting a penalty kick.
"My coach told me if you're confident, go grab the ball and lead this team and that's what I'm doing," said Oakley, a senior captain and first-team all-district midfielder. "… Miss or not, I know my team's going to have my back, so I just went up and did what I had to do."
"It seems last year and the year before we had all the skills and everything … but the passion wasn't there — the desire to win it. … This year, we all just tried to come out and win it all."

— Mount Vernon junior Simond Kargbo
Sophomore midfielder Erik Villanueva, recently pulled up from the junior varsity, gave Mount Vernon a first-half lead with a left-footed goal off the crossbar in the 34th minute.
"That kind of woke us up a little bit," Garza said.
Yorktown was the only district opponent Mount Vernon didn't beat during the regular season as the teams played to a 1-all tie on April 10. The Majors took care of business the second time around.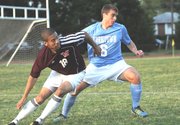 "Every season we say we're going to [win a district title] and we always fall short because we fall apart as a team," Oakley said. "But this year, we kept our heads together, never got cocky, kept our focus, set a goal and we reached that goal. Now we're happy and excited [but] we've still got more to go."
Four days after winning the district, Mount Vernon defeated Woodson, 2-1, in the opening round of the Northern Region tournament on May 22 at MVHS. The Majors, who improved to 14-1-2, will host Robinson in the quarterfinals at 7 p.m. on Thursday, May 24.
As of Tuesday morning, Mount Vernon was ranked No. 5 in the Washington Post's top 10 poll. The Majors were also ranked nationally, climbing to No. 19 in the ESPNHS POWERADE FAB 50 rankings for the 13 spring soccer-playing states.
"They played with heart tonight," Garza said after the district championship game. "… Even our school sometimes doesn't really understand where we're at, and we showed our school and our community who we really are tonight."
Along with first-team all-district honors, Kargbo and Oakley were named second-team all-region. Erik Rodriguez (midfielder) and Bryan Castellon (defender) received first-team all-district and honorable mention all-region accolades for Mount Vernon.
Damaro DaCosta (defender), Cedric Ekoue (defender), Costa-Dorsey (forward) and Diego Castro (goalkeeper) made second-team all-district.