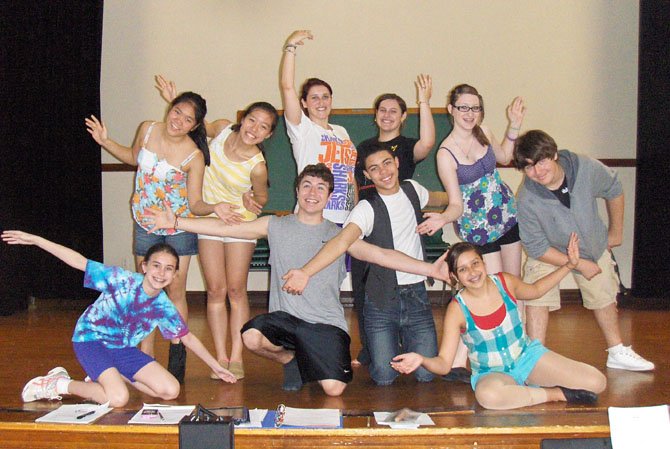 Shining a spotlight on the local community's youth, The Alliance Theatre presents its inaugural Musical Showcase, Friday-Saturday, May 4-5, at Mountain View High. The event is a fund-raiser for Mountain View to purchase additional lighting, sound and window covers for its auditorium.
Participants include students from Centreville, Chantilly and Westfield high schools; Greenbriar West and Union Mill elementary schools and St. Timothy Catholic School. Directors are Jen Farmer and Cathy Arnold; the producer is John Ingargiola.
"It's a coffeehouse-type variety show," said Arnold, of Chantilly's Franklin Glen community. "We wanted to showcase the kids and bring in new talent. We even have some really talented 7-year-olds that'll knock your socks off. One's doing Tae Kwon Do, and another, a routine from 'Annie' — and they're possibly going to steal the show. But everybody has talent and will get to shine their own way."
The 40 performers range in age from 6-21, and the event includes guitar solos and songs of The Beatles and The Who. It also features solo, group and ensemble numbers from Broadway shows, including "Shrek," "Aida," "Annie," "Beauty and the Beast," "13 the Musical," "Les Miserables," "Suessical" and "Phantom of the Opera."
There'll be songs, dances and monologues, with the entertainment flowing from one act to the next. "The kids came to the auditions prepared with the acts they wanted to perform, and we turned them into a show," said Arnold. "It'll be great, family entertainment."
Centreville High senior Anthony Ingargiola will sing "What You'd Call a Dream," from an off-Broadway musical revue called "Diamonds." Said Ingargiola: "It's a beautiful ballad about baseball, envisioning your future and achieving your dreams."
He's also part of the group number, "Freak Flag," from "Shrek, the Musical." Describing it as a fun song, Ingargiola said, "All the fairytale creatures have been kicked out of the kingdom. But they sing about how proud they are of what they are they decide to rebel against the kingdom."
"The music is upbeat and will make the audience want to get up and start dancing," he continued. "We'll be in costume and each character will have a particular, funny voice." He says the whole show is "a big appreciation of young talent" and the audience will enjoy seeing the participants "express themselves and grow through this opportunity to perform for the community."
Courtney Jennelle, a 2011 Centreville High grad now attending NOVA, will sing "My Strongest Suit" from "Annie." She chose it because "it's a powerful song and shows a lot of girl power."
She's also helping choreograph the show, working on "Freak Flag" with Anthony Ingargiola. "As I listened to the music, I started making dance moves in my head," she said. "And it's a great experience for me to teach the choreography to the younger kids."
Jennelle is part of the "Beauty and the Beast" medley, as well. "My favorite song in it is 'Be Our Guest' because of the choreography and because it's such a fun tune," she said. She's also one of the tap dancers in the "Puttin' on the Ritz" number from "Young Frankenstein."
To Go

The Alliance Theatre will present a Musical Showcase on Friday, May 4, at 7:30 p.m., and Saturday, May 5, at 2 and 7:30 p.m., at Mountain View High. It's at 5775 Spindle Court, behind Glory Days Grill in Centreville.

Tickets are $15 at www.thealliancetheatre.org or at the door. For details about a special, pre-show event for Scouts, May 5, e-mail boxoffice@thealliancetheatre.org or call 703-220-8101
Overall, said Jennelle, "The audience will love all the different genres of music from ballads to classics, rock, opera, contemporary and jazz."
St. Timothy sixth-grader Diana Witt also performs in "Puttin' on the Ritz," the "Beauty and the Beast" medley and "Freak Flag" — which she especially loves because its so funny. "I was in [Alliance's production of] 'Hairspray' last year, and this [musical showcase] looked like a fun thing to try out for," she said. "There's a lot of singing, dancing and acting and I love doing all three."
"It's different from the usual Alliance show," said Diana. "And it's not like a school talent show because everybody has amazing talent and we've been practicing for a long time."
Other performers include Westfield junior Paige Arnold, who'll play guitar while her friend Alli Saenz, also of Westfield, sings The Who's "Pinball Wizard." Katie Williams will do an Irish dance, Megan James will sing the Beatles' song, "'Til There Was You," and Johnny Cerisano will play an electric-guitar solo called "Cannon Rock."
Union Mill first-grader Ali Adams, 7, is also expected to be a standout. She's taken Tae Kwon Do lessons since age 3 and takes classes at ATA Marshal Arts in the Colonnade at Union Mill shopping center.
"I like getting to do all these crazy tricks and flips and stuff," she said. She just earned her advanced red belt, meaning her training level is just one below a black belt — for which she must be 8 before she can receive it.
In the show, she'll do a Tae Kwon Do routine to the song, "Make a Man out of You," from "Mulan," and she's looking forward to it. Said Ali: "I'm excited because I have a really good talent in Tae Kwon Do and I'm happy to show it to the world."