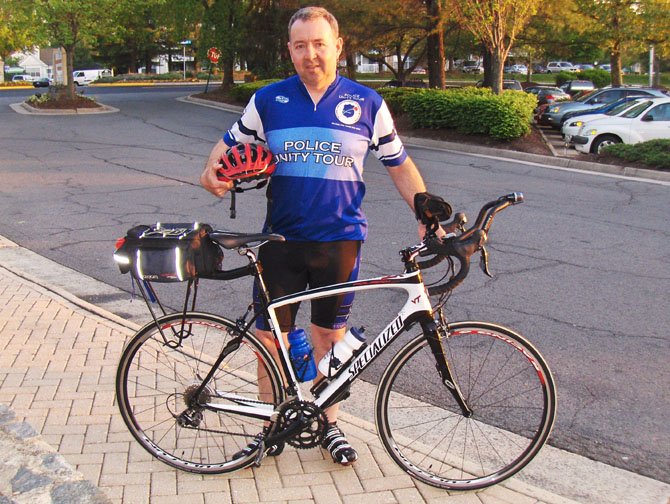 The motto of the Police Unity Tour (PUT) is "We Ride for Those Who Died." And May 10-12, Centreville's Kevin Whalen is bicycling 232 miles in memory of Virginia Tech Police Officer Deriek Crouse who was killed Dec. 8, 2011.
Whalen, of the Walney Glen community, is a federal agent with the Treasury Department, and he knows firsthand the mortal dangers law-enforcement officers face every day. That's because, on Sept. 1, 1994, he nearly lost his life.
"I was on a surveillance detail with ATF [the Bureau of Alcohol, Tobacco and Firearms] in an unmarked van in northwest Washington, D.C.," he said. "When we were finished, one of the other officers went to move the van, and a drug-gang member we were investigating shot five rounds at us."
"I was kneeling in the van and the bullets went through it, missing my body by half an inch," continued Whalen. "That's when it really hit home that I could have died."
His wife was pregnant with their second of four children at the time. And by then, he'd already gone to the funerals of four law-enforcement officers. "But you don't give up," he said. "You keep going to work every day, catch the bad guys and make it a safer place for everybody."
And that's what Crouse — a 39-year-old father of five — was doing when he was fatally shot while sitting in his unmarked car. After he made a traffic stop on the VT campus, a person unrelated to it approached his vehicle and shot him in the head.
Both Whalen and Fairfax County Police Officer Rodney Barnes are riding in the PUT in Crouse's honor, and they met with his wife Tina, April 13, in her Blacksburg home. "We wanted to get to know a little more about him as a person," said Whalen. "She thanked us, and we told her that her husband would never be forgotten and that we're riding in honor of him, his family, the community and the Virginia Tech Police Department."
Last Thursday, April 26, Crouse's name was engraved into the Law Enforcement Officers Memorial in Washington, D.C., and Barnes and Whalen were there. Crouse was one of 162 officers nationwide who died last year in the line of duty. However, said Whalen, "We're honoring him not for the way he died, but how he lived."
This year's PUT, the 16th annual, is in tribute to them all, with each participant riding in memory of a particular fallen officer. The event also raises awareness of and money for the National Law Enforcement Officers Memorial Fund (NLEOMF) and Museum in the District.
On May 10, at 7:30 a.m., Whalen will be among about 100 officers from the PUT'S Chapter IV contingent, led by Fairfax County police, to leave from Richmond on the first leg of their journey, 93 miles to Charlottesville. The chapter president, Maggie DeBoard, was FCPD's deputy police chief and is now the first female chief of the Town of Herndon's police department.
They'll pedal 80 miles to Warrenton the next day and 59 miles more to Washington, D.C., on May 12. That day, they'll bicycle up Route 29 in Centreville, around 9:10 a.m., en route to a lunch provided by Glory Days Grill before heading to the District for the ride's end.
"I never thought, at nearly 50, I'd be riding a bike 232 miles," said Whalen. "But I'm inspired to do it. We all wish we didn't have to [ride because of tragedy]. Every time we get a notice that another officer's died, it's really upsetting."
To stay in shape for the event, he bikes all year along the W & OD Trail and in Clifton and is currently up to 75 miles/week. He also takes spin classes, a few times at week, at Life Time Fitness in Centreville. During the actual PUT ride, a motorcycle escort and ambulances will accompany the cyclists, while a support team handles their food, water and lodging.
Bicyclists from other police departments — federal, state and local — across the country will ride from New Jersey. Then on May 12, they'll join with the Virginia riders at RFK Stadium and, together, all 1,400 of them will cycle two by two to the Memorial.
At that point, said Whalen, "You're just numb and full of goosebumps. You're thinking of the officer you're riding for and you're overwhelmed with emotion. You get tears in your eyes at the same time you're reaching out for the hands welcoming you."
A crowd will be waiting there to cheer for the bicyclists, including NLEOMF Chairman and CEO Craig Floyd. "Then there's a big ceremony and all the police chapter presidents will present him with one check," said Whalen. "Last year it was an incredible $1.5 million."
Each rider must raise a minimum of $1,700 to participate in the PUT. So far, Whalen's raised $6,000 and will use his excess to help other riders meet their goals. "It's not a contest; we're all a team raising money for a good cause and the right reasons," he said. "And it's not just about the money — it's about raising awareness of the memorial and the officers who made the ultimate sacrifice to protect our government, communities and families."
"Law-enforcement officers do dangerous things every day that people don't hear and know about," continued Whalen. "You never know if something will happen to you. On an average, one officer dies every 48 hours."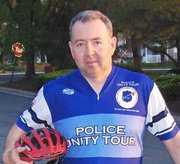 Each PUT rider wears a special, blue bracelet engraved with the name of the officer in whose honor they're riding. And at the end of their journey, they'll present those bracelets to that person's loved ones.

"You also walk over to the memorial, see your officer's name, kneel down and touch it and tell him, 'Thanks for protecting us; you'll never be forgotten,'" said Whalen. "Then on Sunday, May 13, at 8 p.m., is the Candlelight Vigil. The families of all 163 officers will be there for the memorial dedication and the reading of everyone's names."
The theme for this year's Candlelight Vigil and National Police Week, May 13-19, is "In Memory of Many, In Honor of All." After this year's additions, the memorial will contain 19,660 names and, said Whalen, "You're praying they'll never have to add another wall to it."