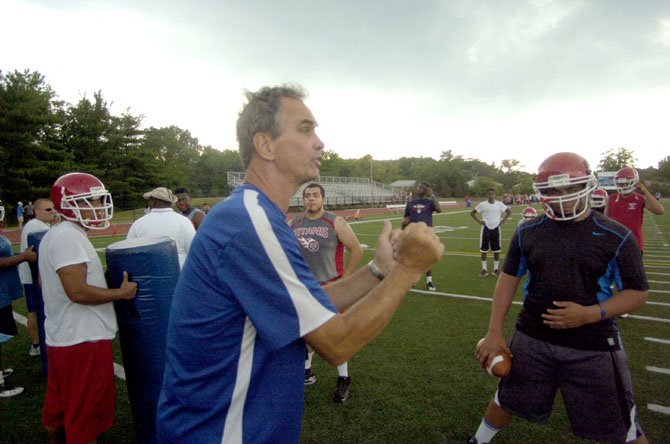 Exhausted, emotional and uncertain, Dennis Randolph entered the unknown as he exited T.C. Williams High School on Sept. 24.
TC was four games into the 2011 football season and Randolph, the school's head football coach and assistant athletic director, had nothing left to give. One day earlier, the Titans lost to South County, dropping their record to 1-3 as a once-promising season plummeted toward the program's 21st consecutive campaign without a trip to the postseason.
Randolph's inability to push forward, however, had nothing to do with wins and losses or X's and O's. The 58-year-old's health was failing. What started with dark urine, extreme fatigue and thoughts of dehydration in early August had transitioned to a chilling diagnosis: pancreatic cancer.
Doctors found a tumor on Randolph's pancreas after the season's second game. He coached two more before leaving the program and his duties as assistant athletic director in need of treatment. According to Surveillance Epidemiology and End Results data from the National Cancer Institute, the five-year relative survival rate for white male pancreatic cancer patients from 2002-2008 was 5.4 percent.
"When I walked out of here that Saturday (Sept. 24), I never knew if I was coming back," Randolph said. "I never knew if I would see this place again. … It was such an emotional moment for me to hand my keys off — that alone was emotional — and to walk out these doors and to think, 'I don't know if I'll ever see this place again in my life.' I could have got a death sentence …"
One year later, Randolph's doctors tell him he's cancer free. After surviving surgery, complications due to infected blood and five months of chemotherapy, Randolph, 59, is back for his sixth season as T.C. Williams head coach. His absence affected the program in multiple ways, but after a 3-7 finish to the 2011 campaign, the Titans are hoping adversity faced last season will make them stronger in 2012.
"I thank God every day that he decided he has something in store for me other than being part of that 95 percent of the people that don't make it a year," Randolph said. "I wouldn't [have] even [had the chance] to see this football season."
ALONG WITH DARK urine and fatigue, Randolph appeared jaundice early in the 2011 season. His tired face caught the attention of an official, who asked Randolph about his health prior to Titans' second game of the season at Westfield on Sept. 10. After the game, a 28-13 TC loss, Randolph's yellow complexion caught the attention of his daughter, Alyson, who told him he needed to see a doctor.
The following day, Randolph went to after-hour care in Falls Church and was told he might have hepatitis A. He received an IV and was told to see his primary care doctor. On Wednesday, Sept. 14, Randolph had a sonogram and an MRI, which led doctors to three potential reasons for the coach's jaundice appearance: his bile duct was obstructed by a gallstone, he had a liver infection or he had a tumor. With both of Randolph's parents having died of cancer, the TC coach said he already knew the culprit.
Randolph was taken to Arlington Hospital for additional tests and would stay overnight. Randolph missed practice on Sept. 14 — the first practice he had missed in 35 years of coaching.
On Sept. 15, Randolph awoke from an endoscopic exam to find his wife and two daughters "crying profusely."
"So we're not going to Disney World?" Randolph joked.
The exam revealed a cancerous tumor on Randolph's pancreas and doctors explained to the coach his treatment options. Meanwhile, Randolph's mind was also on the Titans' home opener against Robinson, which was just two days away.
"We have a game Saturday against Robinson and I'm starting to wonder if I'm ever going to coach football again," he said. "You don't know."
Randolph was a candidate for a surgery called the "Whipple" procedure. However, he still faced long odds. According to the American Cancer Society, at the time of diagnosis, about 10 percent of pancreatic cancers appear contained entirely within the pancreas. Only five percent are completely removable during surgery.
RANDOLPH CONTINUED coaching despite his diagnosis. Two days after finding he had cancer, Randolph was on the TC sideline leading the Titans against Robinson on a Saturday afternoon at Parker-Gray Stadium. TC jumped out to a 13-0 lead in the first 97 seconds of the contest, but the Rams came back to win, 27-13. The Titans were now 1-2 with an ailing coach. Randolph had yet to tell his players about his cancer diagnosis.
"I guess it was his way of not showing us that he was hurt," said lineman Michael Crockett, who was a junior when Randolph was diagnosed with cancer. "He didn't want us to feel bad for him so he showed us that he was strong."
On Friday, Sept. 23, Randolph coached the Titans against South County in Lorton. TC fell to 1-3 with a 35-13 loss to the eventual Division 5 state runner-up Stallions. After a 51-7 victory against Wakefield to open the season, TC had dropped three in a row.
The following day, Randolph realized he was too worn down to properly do his job.
"The day I left after the South County game, I knew I couldn't coach anymore," he said. "I was going to try to make it through the Lake Braddock game [on Oct. 1], but my first and primary objective the day I started coaching was to help kids and I couldn't help them anymore. I was worried about myself.
"I found myself at the South County game — and I had no business coaching that game — I found myself in the game wondering. I knew I had cancer, I knew I had a tumor and I knew that I was going to undergo surgery. The kids didn't know yet. They knew something was wrong with Coach Randolph because I didn't look right and I had missed several days. I just knew at that game that was it."
The following day, Randolph went to the T.C. Williams-South County junior varsity game at TC. He ran into then-junior Alec Grosser, the program's starting varsity quarterback, and informed the signal caller of his cancer diagnosis. Grosser was the first athlete to know. Randolph had already addressed the coaching staff in a meeting and he would later tell the rest of the team.
"I actually had no clue [Randolph was sick]," said receiver Landon Moss, who was a junior during the 2011 season. "It caught me off guard. I didn't think anything like that would happen."
Randolph informed athletic director Steve Colantuoni that he could no longer fulfill his duties as head coach. Linebackers coach Avery Williams was promoted to interim head coach for the final six games of the season.
RANDOLPH HAD SURGERY on Oct. 3 at Inova Fairfax Hospital. Randolph's surgeon used a technique called the "Whipple" procedure, during which parts of the pancreas, stomach and small intestine, the gallbladder, part of the common bile duct and some nearby lymph nodes are removed, according to the American Cancer Society. As the surgery progressed, no additional cancers were found. He was later released from the hospital, but had to return due to a blood infection. While he was back in the hospital in November, Randolph briefly shared a room with a man who had just undergone a Whipple procedure. The man's cancer had spread, however, and doctors predicted he had six months of quality life remaining. Randolph said they talked for more than two hours before the man went home. Randolph doesn't remember the man's name, but their conversation stuck with him. Randolph considered exchanging phone numbers with the man, but decided against it.
"When I wake up in the morning, the first thing that goes through my mind is I think about that guy," Randolph said. "That was the middle of November, we're … coming up to the end of July and they told him [he would have] six months [of] quality life and then after that he'd be struggling."
ALONG WITH BEING the head coach, Randolph is also the offensive coordinator and quarterbacks coach for T.C. Williams. He installed a version of the spread offense in his second season with the Titans as a way to utilize the program's skill-position players. The offense is run almost exclusively from the shotgun and, if a team has the right personnel, provides the quarterback a chance to shine by spreading the ball around in space to a plethora of talented receivers.
After Randolph left the team last year, Williams and the Titans coaching staff opted for a more ground-oriented attack, operating primarily out of the I-formation with the quarterback under center. While the Titans also ran the ball out of Randolph's spread, the blocking schemes were different, meaning adjustments were needed.
Grosser was arguably the Titan most affected by the change in offensive philosophy. After a stellar sophomore season in which he took over as the full-time starter in week four and led TC to its first winning record in 15 years, Grosser spent much of the second half of his junior campaign handing the ball off. Along with being less of a factor, Grosser didn't have Randolph to turn to when he had questions about reads or footwork in the new offense.
Randolph and Grosser had developed a bond working together since Grosser was an eighth-grader.
"I'm not going to lie, it was definitely tough — middle of the season switching [offenses] and not even to have Coach Randolph there to help me through it and work on footwork and all the plays and stuff," Grosser said. "… I walked in the locker room the Monday after he told me [and], I don't want to say I was confused, but I didn't really know where things were headed."
From a coaching standpoint, Williams, who was in his third season as a Titans assistant, ran the show while Randolph was away. Williams said one of the biggest challenges he faced was getting everyone to listen to one voice.
"Obviously, there are a lot of people within the school, outside the school who have influence and a relationship with the kids, and I think the biggest thing that I encountered was trying to get them to understand and listen and buy into the system that we were implementing," he said. "It's kind of difficult when you're telling them one thing here and then an outside person tells them something else and now they're confused and they don't know which way to go. That's just part of what happened."
After Williams took over, the Titans lost to Lake Braddock and previously winless Woodson, but responded with victories against West Springfield and Annandale. TC closed the season with losses to Lee and West Potomac, finishing 3-7, including 2-4 under Williams.
"One thing for sure, the guys never quit last year," Williams said. "They never quit. In the past, I have seen a team get up on us and [we] just lay down. One thing, we fought. We fought all the way until the end whether we were down or up. We continued to play, which was very pleasing to see."
Randolph praised the work of Williams, who is in charge of the Titans' strength and condition program and has played a major role in getting players offseason exposure at camps and combines. Williams coached at H.D. Woodson in Washington, D.C., for six seasons, including four as the JV head coach. Randolph said he hopes Williams at some point takes over as Titans head coach — just not yet.
"He's going to be an excellent head football coach one day," Randolph said. "I know he wants to be the head football coach here and I want him to be the next head football coach here, I'm just not ready to step aside and let him be the head coach. I told him that. I know it's hard for him because he's put so much into it and he's just that kind of guy — he does it thanklessly. I've said thank you to him 1,000 times and every once in a while he says, 'Coach, you don't have to say thanks,' and I said 'Yeah I do.'
"Of all the people on my staff, he's the only one that was capable of taking over like he did and doing the things that he still does. He's a solid individual and he's going to be a great head football coach and I hope he's the next head football coach at T.C. Williams, I just don't want it to be yet. I certainly don't want to end my career at T.C. Williams in a hospital bed, which is what would have happened if I left."
RANDOLPH RETURNED to his job as assistant athletic director on a limited basis in January. His appearance had changed as the cancer and ensuing surgery left him looking scrawny and weak (he's lost 70 pounds to date). Randolph attended away basketball games so he wouldn't have to take part in the strenuous activities needed to set up the gym at home games.
When athletes saw Randolph, some of them acted afraid to hurt their frail-looking coach.
"I couldn't believe it. It kind of frightened me," Crockett said. "I felt worried for him and I wanted to do all I could to help him. It shocked me, but now to see him, I'm glad that he's out here and he's being positive every day."
Randolph said he's thankful his players care.
"There are some kids that had a hard time," he said "I know they did because I see the reaction that they have when they look at me. I still have kids come up to me and talk to me like I'm a gingerbread cookie — really careful about how they talk to me."
In January, Randolph started a six-week chemotherapy program during which he had a chemo pump on him 24 hours a day, seven days a week. During that time, he also received radiation treatments five times a week as a way to help keep the cancer from coming back. After a few weeks off, Randolph started a three-month chemo cycle where he received a treatment once a week for three weeks before taking one week off. He has been off chemo for about a month.
While Randolph struggled with fatigue, Colantuoni said it can be good for someone trying to recover from cancer to do small tasks to keep his or her mind occupied. Colantuoni is four years removed from a battle with colon cancer.
"It gives you something to look forward to — to come in because your mind is racing 100 miles an hour," Colantuoni said. "Even though your body can't do anything, your mind wants to do something. So to come in and do emails, or to come in and schedule some buses or to come in and see kids or see people or socialize, anything other than just sitting in a bed."
While Randolph's strength slowly returns, Colantuoni said the two are honest with each other about what the coach is capable of doing on the job. If some heavy lifting is required, Colantuoni won't ask Randolph if he can handle the load or tell him he can't. Instead, he trusts Randolph to make the decision on his own.
Colantuoni's experience with cancer makes him someone Randolph can confide in when times are tough. Randolph said Principal Suzanne Maxey and Superintendent Dr. Morton Sherman have also been helpful.
"I'm more of a sounding board," Colantuoni said. "We talk all the time about how he feels, what can he expect. Simple things [like], when will I get my appetite back? How come I feel sick some days? How come I don't? How come I'm so tired and I can't sleep? Just things that everybody goes through. I'm more of a sounding board for him, which helps out."
Randolph's father, Billy, died of prostate cancer in 2002 at the age of 73. Randolph's mother, Geraldine, died after a 10-year battle with lung cancer at the age of 80. Randolph moved Geraldine from Ohio into his Northern Virginia home to help take care of her for the final 10 years of her life. She died on April 9, 2007, the same day Randolph was scheduled to be announced as the new head football coach at T.C. Williams. Despite having been around cancer for years, Randolph said he had no idea what he was up against.
"She died the minute I walked out of the house," said Randolph, who was on his way to the old T.C. Williams High School to be introduced as head coach. "She was waiting for me to leave. She didn't want to die in front of me because I had taken care of her. I took care of my mother while she was going through chemo and radiation and I had no idea this is what she went through. You can't explain it to anybody."
Colantuoni also said cancer is something one has to experience to fully understand.
"Once you get back up on your feet, people think everything's OK," Colantuoni said. "Even though it's the biggest effort in the world to get [yourself] up and to come in here, people think it's OK. They think you're better. There's just something about seeing somebody walking around or someone eating and they think, oh, they must be getting better. People that go through it, at first I think you start by trying to tell somebody, 'God, I'm just so tired, I don't understand.'
"People don't understand unless they've been there."
RANDOLPH SPENT the summer taking part in offseason activities, helping Titan athletes prepare for the 2012 season. The first day of practice is Monday, Aug. 6, and the Titans' season opener is Aug. 30 at home against Wakefield.
Randolph said he focuses on getting better in the way an athlete must focus on the field while blocking out distractions.
"Every minute I was awake [in a hospital]," Randolph said, "I thought about how I was going to beat this, what I needed to do, because they told me the cancer was gone, but you have a tough road ahead of you."
Thanks in part to his return to football, it's a road Randolph won't travel alone.
"I'm happy he's still alive," Grosser said.