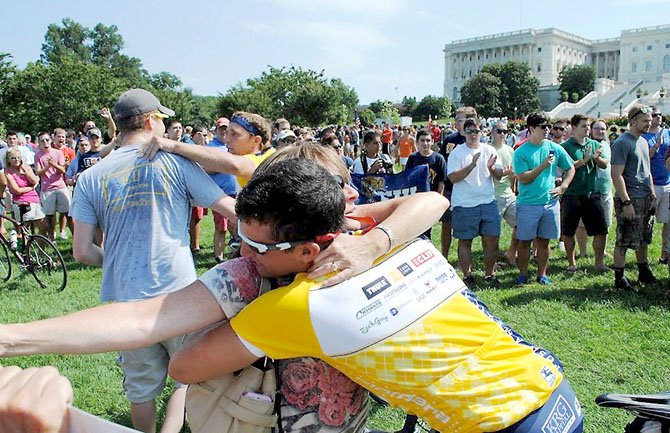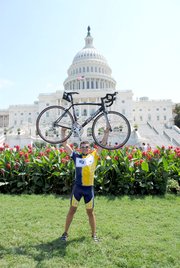 Dan Rieck, a senior at Virginia Tech, just had the best summer of his life. Unlike most 20-year-olds, Rieck's definition of "best summer" didn't involve all-night partying or a free vacation to some luxe beach resort.
Instead, his summer involved hours of training, a Spartan diet and a grueling cross-country bike trek. His 3,645-mile journey kicked off on June 7 in Los Angeles, where the 2008 Lake Braddock graduate and 38 other members of the Pi Kappa Phi fraternity biked at least 85 miles every day on a route that took them through the sweltering desert heat of Arizona and across the swampy humidity of Mississippi, with the occasional relief of summer thundershowers.
The journey's purpose? To raise money and awareness for people with disabilities.
"The fact that you're put on one side of the country and told to go to the other side was a little daunting at first," Rieck said on Sunday, Aug. 5, after arriving home with 100 other cyclists to a celebration on the west lawn of the U.S. Capitol. "I signed up on a whim, and I didn't know what to expect. It was, hands down, the coolest, most rewarding thing I've ever done in my life," Rieck said.


THE ANNUAL CROSS-COUNTRY BIKE TREK—sponsored by Push America's Journey of Hope, a national outreach project of Pi Kappa Phi—has three separate kick-off locations (Los Angeles, San Francisco and Seattle), and ends with all teams converging for a celebration and parade on the grounds of the U.S. Capitol. This year's event, according to organizers, raised more than $800,000, and every cyclist commits to raising at least $5,000.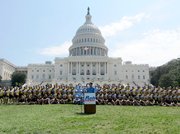 Rieck said team members were exhausted after biking an average of 80 miles a day, but he and his fellow cyclists didn't just collapse and rest up for the next day's ride.
At least three nights a week, the team participated in "friendship visits," sponsored by local disability-support groups. They danced at proms for people with cerebral palsy, shot hoops during games of wheelchair basketball and performed puppet shows to educate children on the abilities of people with disabilities.
In Jackson, Miss., Rieck said his team helped children with mental and physical disabilities take airplane rides on two-seater planes.
"The events, the camaraderie, the friendships, the expressions on people's faces. It opens your eyes to people with disabilities and you see the struggles they go through, what their parents go through every single day," Rieck said. "You get to know them as people, and you realize you're the lucky one for getting to be with them."
Push America's Journey of Hope, which began in 1987, solely comprises members of Pi Kappa Phi cycling more than 12,000 miles on three routes to spread a message of acceptance and understanding for people with disabilities.
"Simply put, the Journey of Hope is a ride with a purpose," said Eric Ray with Push America, who spoke to the participants during Sunday's celebration on the grounds of the U.S. Capitol. "Make no mistake; this is not a simple ride. Journey of Hope is about many things. It is about challenging the norm. It is about serving our communities. It is about finding out more about ourselves than we ever imagined. It is about having a dream. It is about a mission. It is about hope."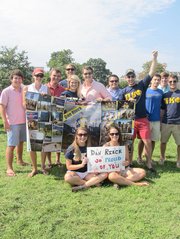 "We are so proud of him for raising awareness of people with disabilities," said his aunt, Jan Gulick, who was part of the family-and-friends welcoming party at the Capitol on Sunday that included Rieck's parents Dan and Anne Marie, his grandparents, other family members, his girlfriend, Catherine Hamner and fellow Hokies.
"I just can't wait to give him a hug," Anne Marie said. "I was concerned about his safety at first, but this is a great program and a worthy cause."


RIECK SAID he also learned something about himself during the 3,645-mile trip.
"Physically, you learn to get through struggles, you see what you can really do when you push yourself."
Rieck said that after graduating from Virginia Tech next spring with a degree in civil engineering, he wants to follow in his father's footsteps and become a pilot with the U.S. Navy.
"OSC (officer candidate school) is tough, but after this, I think I'm ready for just about any challenge."