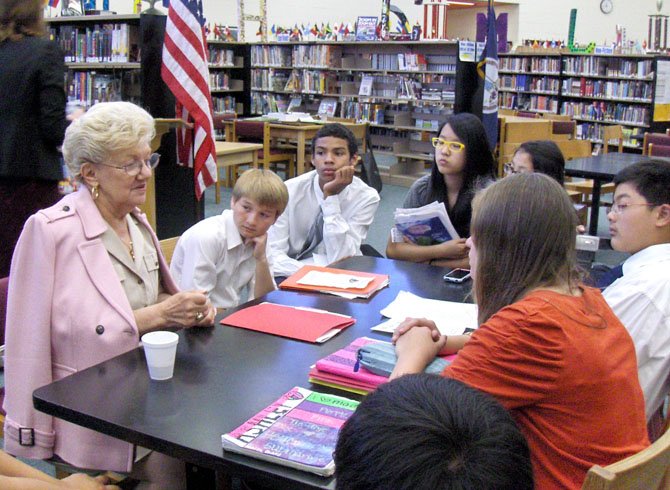 Centreville — Each year, WWII comes alive for seventh-graders at Rocky Run Middle School. That's because, besides what they learn about it from their textbooks, they get to hear firsthand from those who lived through it.
Before school ended, history teacher Jamie Sawatsky organized the annual, WWII Oral History Day. Both veterans and civilians came to the school. Some addressed large gatherings, while students interviewed others in small groups. Some interviews were videotaped and sent to the Library of Congress for its Veterans' History Project.
"It's an exciting, once-in-a-lifetime moment for me," said student Steven Schwarz, serving as the guide for 87-year-old Army veteran Richard Graff. "It helps me relate to the situations they've been in and see a new window on history."
"I never realized the danger we were in."
— Madeline Rich, a Jewish child in WWII in German-occupied France
Pleased to participate, Graff was glad to be at Rocky Run. "This is a privilege, and I'm proud that the students come and listen to me," he said. A former infantry PFC, Graff said he and his Army buddies had reunions every year from 1946-2010. And, he said, "We all agreed, we can't let the world forget about it."
"War is not glamorous, and you've got to do whatever it takes," said Graff. "You do what you're told — boots on the ground. War is about death and piles of bodies, and every combat soldier has got to get that behind him. But it still stays in your mind."
But camaraderie and family are also important, he said. "I carried a Bible with a steel plate in it to protect my heart," said Graff. "It was from my sister. We go to war for continuity of lifestyle, and I believe part of our mission is to remember it."
Grayson Bishop served in the 106th Infantry in Germany and Belgium and was a Browning automatic rifleman in the Dec. 16, 1944 Battle of the Bulge. "It was the biggest land battle ever fought by U.S. land forces anywhere and involved 750,000 to 1 million men," he said. "But we lost more men to the terribly cold weather than to the Germans. Our shoes were substandard and we got frostbite; they were neither warm, nor waterproof."
He said that battle began around 5:30 a.m. with "a tremendous, artillery-and-mortar barrage." And initially, just four U.S. divisions were facing 29 German divisions. "I was so busy shooting Germans, I didn't have time to feel anything," said Bishop. "We shot for about three hours straight. During that time, we only lost one man from our two platoons, and there were probably 300 dead Germans."
Still, he said, "I didn't think we were heroic; we just did what we were supposed to do. Every family was involved, and there was no bitterness or protests."
Bishop said Rocky Run's students impressed him because "they have a good grasp of history." Oral History Day is important, he said, because "if they're going to appreciate their country, they ought to know about it."
Madeline Rich, 82, of Centreville's Manorgate community, spoke to students in the media center. Her grandchildren attended Rocky Run; but during WWII, she was a young, Jewish girl living in German-occupied France.
"People have no idea what civilians in the war went through, and everybody has a different story," she said. "I came here because I believe it should be told, and I don't want it to be forgotten. You can't read about it; even a movie isn't a true rendition."
Rich said most of the Germans "were just people like us. Not everyone was bad." She was just 9 on Sept. 2, 1939 in Metz, France when her mother sent her to the grocery store. "When I came out, people were saying, 'The war is started; the German's invaded Poland,'" said Rich. "We were worried, especially as Jews, because France wasn't far from Poland."
She said people afraid of the Germans blamed the Jews for the invasion, and she remembers asking her mother, "What did we do?" Said Rich: "My mom said, 'Nothing,' but she packed us up to leave. My father had already gone to the south of France to find a place for us to escape the Germans."
She and her mother; sister, 6; and brother, 3; fled to Dunkirk, planning to head to England from there, but couldn't. So they kept moving seven more times to stay ahead of the Germans. "I never realized the danger we were in," said Rich. "Dad was in the French Underground, blowing up bridges and helping Jews escape from the Germans."
When the war ended, she was just 15. People were so happy, she said, they were dancing in the streets. She came to America in 1951 and eventually married. "My husband had been in a concentration camp," she said. "It took him years and years before he was able to talk to our children about it."
Also sharing his story was Dr. Norman Ikari, 93, a Japanese American who served with the 442nd Regiment in Italy. His parents came to the U.S. in 1913, and he was born six years later in Seattle. His family moved to Southern California in 1930, in the midst of the Depression.
"I remember people standing in line for a loaf of bread," he said. Graduating from high school in 1936, he registered for the draft and then attended L.A. City College. But in his second semester, on Dec. 7, 1941, the Japanese bombed Pearl Harbor.
"I was shocked and I wondered what would happen to me and the other 100,000 Japanese living in the U.S., mainly west of the Rockies," said Ikari. "At that time, several thousand Japanese were already in the Army. On Jan. 20, 1942, I was drafted and sent to a camp for medics in Illinois."
But, he said, "In my second month of basic training, President Roosevelt signed an order to evacuate all Japanese people. They were rounded up, taken from their homes and placed behind barbed wire. There were 10 camps and my wife was put into one of them."
In May 1944, as part of the 442nd Infantry Regiment comprised of Japanese Americans, Ikari went to Italy, where his unit fought the Germans north of Rome. That July, a bullet went through his left leg. "I was afraid to move; I was yelling for the medic and saying prayers," he said. "The medic and another person carried me back."
After four months in a hospital, he was reassigned and, when the war ended in August 1945, he went to Fort Bragg, N.C., and then to school at UCLA, George Washington University and Georgetown University. Ikari then became a microbiologist at the NIH, retiring in 1980. He and his wife have four daughters and three grandchildren, and he's spoken at Rocky Run since 2005.
"It's a part of history and, for me, unique history, because of my Japanese parentage," he explained. "After Pearl Harbor, America was shocked and angered and had an intense hatred of all things Japanese. Even today, 70 years after the war, I still experience anti-Asian prejudice." On Nov. 2, 2011, the 442nd Regiment was awarded the Congressional Gold Medal – the nation's highest civilian award.
After the oral history event, seventh-grader Lilly Hill Pensamiento said she enjoyed listening to the veterans' stories about "how they helped us have the life we have today. They each fought in their own way and, as you hear them tell their stories, you can actually visualize what happened."
She said learning firsthand about the sacrifices they made for their country made them more real to her than if she'd read about them in a book. "It makes me grateful that we have this event and can have the honor of talking with them," she said. "It also makes me realize how life-or-death the war was. I don't think I could do what they did."
---
The War from Two Different Perspectives
A civilian and a pilot share their stories.
Although WWII involved the whole country, people's perspectives on it varied, depending upon where they lived and whether they were civilians or military personnel. Below are two, personal accounts of the war given by people who participated in Rocky Run's recent WWII Oral History Day.
CIVILIAN LIFE
"My dad was an Army doctor at the air base at Fort Shafter in Honolulu when Pearl Harbor was bombed," said Judy Heisinger of Centreville's Bull Run Estates community. "I was 6 and I didn't know what that meant or what war meant. But then uncles and cousins went to war, as well. I think every family I knew had someone in the war."
So she told the Rocky Run students how the country came together then "because we were all doing the same things. I was living in New Martinsville, W. Va., and we collected metal and rubber to turn in for the war effort. My elementary school was sent out to a field to collect milkweed pods to use for parachutes instead of silk."
During the war years, said Heisinger, "Everybody had a victory garden and there was food rationing. But if three or four families saved their ration cards, we could buy sugar for ice cream once a year. And with the aluminum foil from candy wrappers, we made balls and turned them in to be used for airplane and ship parts."
She said families didn't have butter and people were limited to two pair of shoes a year. Students in her school sent kits filled with combs, soap, toothbrushes, socks and mittens to children in Norway, which was then occupied by Germany. Heisinger and her classmates also brought dimes to school and, she said, "When you had $18.75, you got a war bond that, years later, would be worth $25."
She's spoken at Rocky Run during three Oral History programs. "I come here to honor the veterans who fought during that time and to let the kids know what life was like for civilians in a war situation," she said. "I also get to hear other people's stories and meet the veterans."
MILITARY PILOT
Russell O'Connell, 91, flew P-47 aircraft over France and Germany with the Army Air Corps, racking up 99 missions in a year. He was just 20 when he enlisted, so his parents had to sign for him. "There were no P-47 instructors," he said. "We had to teach ourselves. But it was one of the biggest thrills of my life."
He eventually flew that aircraft so well that he became an instructor pilot. "We flew protection for the fighter pilots," said O'Connell. "Although, we couldn't protect them from the flak on the ground. We saw tragedies over Berlin — some of the guys bailing, planes exploding or spinning — and we'd pick them up and escort them home."
As part of the 9th Air Force, he said, his group bombed bridges, factories and railroads. "We put out 3,000 rounds [of ammunition] a minute," he said. "We were cutting off transportation and, if anything moved, we shot it." Then came D-Day, June 6, 1944, and O'Connell was impressed by all the planning that went into it. "We were the first squadron to land in France, about six days after the invasion," he said.
Photo Gallery
WWII-C31sm
Click Photo for Flash
His most memorable moment came when he and other pilots were bombing trains in a railroad yard and the enemy shot back. "Both wings were hit and I didn't want to bail out because I was afraid they'd shoot me [while dangling] in my parachute," said O'Connell. "So I bellied into a big field and blew up the radio so they wouldn't get our codes."
"I saw a Frenchman, but he ran from me," continued O'Connell. "I found a woodpile and covered myself up and prayed. When I looked up, there was a Jeep with a Frenchman and a G.I., who'd been reconnoitering the area. They took me to a place with C-47 aircraft and flew me back to my base."
Despite what he'd just been through, that afternoon he had to fly another mission. But he didn't mind because, like many pilots, he had what he considered a good-luck charm — red socks his wife had knitted for him. Said O'Connell: "I wouldn't fly without them."