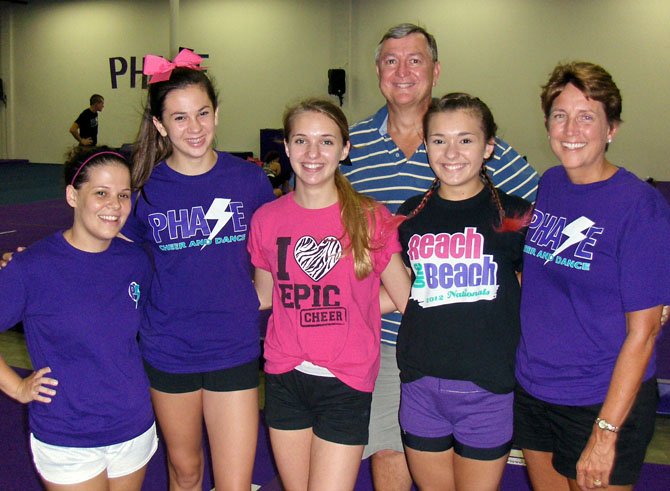 Centreville — Susan and Mark Culin and Jelaire Grillo have something to cheer about — literally. They've just opened Phase Cheer & Dance, an all-star gym in Chantilly where they'll train competitive cheerleaders.
"It's cheer, dance, stunts and tumbling, all combined into a two-and-a-half-minute routine set to music," said Susan Culin. "They'll learn one routine from September to May and keep perfecting it for competition."
Planned are five cheer teams divided by age and skill level and ranging from five to 32 athletes per team. There'll also be one competitive, hip-hop dance team for ages 11 and under. It currently has six members, but will be expanded to add more; some of them are also on the cheer teams.
"We have about 75 kids so far in the cheer-and-dance program," said Culin. "We just have girls now on the teams, but boys are welcome to join. We'll accept people for all teams through August."
The gym is at 14807-L Willard Road, between Cox Communications and Bowl America, and around the corner from Westfield High. To sign up, and for information about cost and practice hours, go to www.phasecheeranddance.com.
The facility also offers open gym for non-team members who just want to work out, Fridays, from 6-8 p.m., and Saturdays, from 1-3 p.m.; cost is $10. "Several high-school girls preparing for cheerleading tryouts have also come to it," said Culin. "We have coaches here or they can practice on their own." Tumbling classes are also available to the public, plus Saturday, 11 a.m., adult hip-hop classes. Information is on the Web site.
Susan Culin is a Fairfax County police captain and the commander of the department's Traffic Division. Her husband Mark retired from the department and now owns his own accident-reconstruction and investigative-services business.
Grillo moved to Centreville's Centre Ridge community four years ago. Before then, she coached running and cheering for girls' competitive teams at the University of Florida. She began coaching SYA cheerleading in 2008 and, from 2009 through this May, coached SYA's competitive cheerleading squad, SYA Extreme.
She met the Culins because, for the last two years, their daughter Sam, now 13, was on that squad. "We got to know Jelaire and see her talent," said Susan Culin. "The team was hugely successful and won first place in the U.S. finals in May in Virginia Beach. It was later ranked number two in the country in recreational cheerleading."
But SYA Extreme didn't have dedicated practice space and had to rent space in three different places. So, said Culin, "We got to talking and decided we had these great kids, ages 5-17, who were very talented and wanted to go to the next level in a space where they could further their skills. So we decided to join forces and open an all-star gym."
Photo Gallery
Something To Cheer About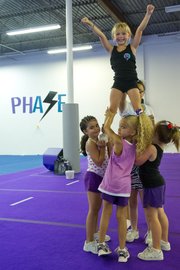 Click Photo for Flash
The Culins and Grillo are equal owners. "Jelaire has the knowledge about coaching, competing and running the teams," said Culin. "Mark and I have the managerial side and know how to get the facility up and running and stocked and do the books. That's our experience — dealing with budgets, personnel and facility issues."
The program is called Phase because it's another phase in Grillo's cheer life. The letter "s" in that word is written as a lightning bolt, so one wall of the gym is designated as Bolt's Corner. On it are inspirational and encouraging sayings written by the girls.
"This is a family-oriented program and recognizes the girls for their accomplishments both here and in school," said Culin. "We're there for the kids outside of cheer, as well."
In addition, the girls are currently doing three service projects. They're collecting mini toiletries for soldiers hospitalized at Walter Reed National Military Medical Center; they're also collecting can pop-tops for the Ronald McDonald House. And they're doing what they can to help Cheer Fusion, a cheer gym in Fredericksburg that was leveled by a tornado on July 8.
"We created a spirit box and filled it with candy for their kids, and our kids took photos of themselves with encouraging signs," said Culin. "We're also collecting money to make a contribution to them." To donate to Cheer Fusion Devastation Relief, go to www.wepay.com/donations/cheerfusion.
Although the girls participate in a competitive activity, Culin said gyms should support another. "Teaching the kids sportsmanship is important to us," she said. "We cheer for all teams and never cheer against another team. We're trying to build a positive atmosphere."
Phase Cheer & Dance opened in June and will have its first competition in December. Choreographers teach the girls their routines.
"We also plan to have a seasonal team start in mid- to late November for high-school girls who've finished their high-school-football cheering season," said Culin. "They'll still be an all-star team, but won't begin competing until January [2013], since they're starting late."
The teams practice in the late afternoon and evening, so the Culins go to the gym after work. And they're excited about the program's potential.
"We'd like to grow the teams and have the girls improve their skills so we'll be able to have higher-level competitive teams," said Culin. "And already, it's amazing how fast these kids have progressed."
Her daughter Sam, a rising freshman at Centreville High, is delighted to be part of the new endeavor. "It's awesome just being able to come practice whenever and have a lot of fun," she said. "I'm good at tumbling, but want to improve my jumps. I'm trying out for high-school cheer, so this'll get me more practice. Jelaire will also be the assistant varsity cheerleading coach at Centreville High, so she knows the skills I'll need for high school and will be able to help me."
Becca Weinert will be a Centreville sophomore and, in cheerleading, she's a flyer — the person at the top of the pyramid formation. "I really like being able to come by with my friends [at Phase] and improve my stunting and tumbling," she said. "I'm also doing high-school cheer."
Her sister Hannah, an incoming Centreville freshman, is at the new gym, too. "Jelaire has been my SYA coach for three years, so I wanted to come and continue with her because she's a really good coach," said Hannah.
"I'm really excited for Jelaire and everybody who gets to come here because it's such a nice gym," she said. "It has two spring floors for doing routines, a tumble track — like a trampoline, and a dance floor without springs because that's what high-school kids dance on."
"We also have lots of other types of equipment and mats to help them with their tumbling skills," added Culin. And Sam, Becca and Hannah enthusiastically recommend that others join the program, too.
"Oh, my gosh, come," said Hannah. "You'll learn so much." Sam called it "an amazing gym and a ton of fun." And Becca said, "We're like a family and accept everybody. It's fun to be around people you like at practice, while learning new skills and doing what you love."