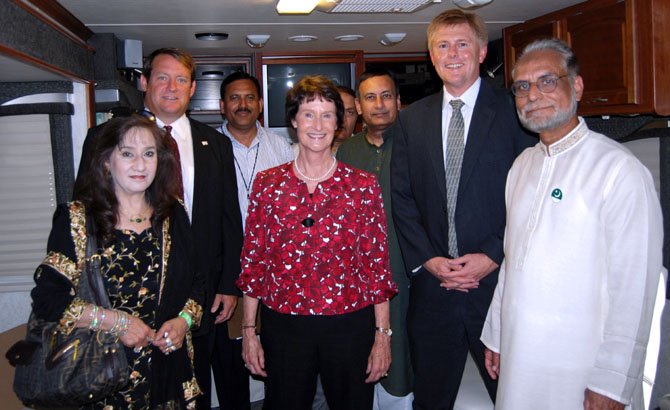 he Pakistani-American community will celebrate the 65th anniversary of Pakistan's independence at the Pakistan Festival on Sunday, Aug. 26, at Bull Run Regional Park in Centreville. This year's festival will also mark Eid-ul-Fitr, celebrated by Muslims around the world for completing a month of fasting, special prayers and self-restraint.
This year's festival, being held for the 26th consecutive year, will start at noon and end at dusk. Prior to the festival, a cricket tournament will be held from 9 a.m. to noon at the nearby Special Events Center. The festival is open to the public and there is no admission fee; plenty of free parking is available.
The festival has become a popular tradition in this area, attended by tens of thousands of families and individuals from the District of Columbia and several states in the region, and a well-recognized showcase of Pakistani-American life, culture and achievements. Most specially, it offers the community a sense of pride in its exceptional accomplishments in arts, science, business and engineering and an inspiration for universal support on human rights and dignity.
As in previous years, attendees will be able to enjoy a variety of Pakistani foods, including fragrant and delectable kabobs, biryani, haleem, vegetarian snacks and sweets. For children and young adults alike, there will be hot air balloon rides, pony and fun-train rides, cotton candy and a fashion show, and a gift for every child.
Vendors and artisans at booths and stalls will offer Pakistani handicrafts, jewelry, clothing and bangles, as well as business services and promotions. Mehndi decorations (henna tattoos) and other cosmetics services will be available.
The highlight of the evening will be folk and popular music performances by well-known artists from Pakistan, some young and aspiring and some already legendary in style and appeal. A Korean and Japanese cultural troupe will also perform to show support and solidarity with the Pakistani-American community.
Zahid Hameedi, chief organizer of the festival, said that the main objective of this annual event is to cherish the history and traditions of Pakistan and share the colorful, multi-ethnic heritage of its people. It is also to rekindle the purpose and ideals for the creation of Pakistan in 1947 as a separate nation.
As in previous years, the governors of the state of Maryland and the Commonwealth of Virginia will issue proclamations recognizing Pakistan Festival Day and several members of Congress and other national leaders send their congratulatory messages and felicitations.
For additional information, call 202-431-3099 or visit www.pakfestusa.com