With the arrival of autumn, Herndon's Frying Pan Park is preparing upcoming events for people of all ages. Located at 2709 West Ox Road, Frying Pan Farm Park preserves and interprets a 1920s through 1950s farm, agricultural process, rural community life and landscape for the educational, cultural and recreational enrichment of citizens and visitors of Fairfax County.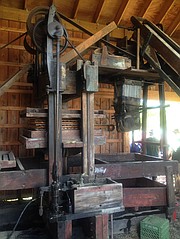 Local residents have long enjoyed the annual events at this historic park, including the upcoming Fall Carnival. "The carnival has been a regular success," said Yvonne Johnson, manager at Frying Pan Park.
Earlier this year, a poetry contest was sponsored by the Fairfax County Park Authority and the Fairfax County Park Foundation as part of the 65th Anniversary Celebration. Saturday, Oct. 10, young poets' creative spirit will be celebrated as several contest winners, ranging in age from 5 to 13, read their poems aloud at the Park Poets event at 10 a.m., at Frying Pan Farm Park. Winners of the Why I Love Parks Poetry Contest will read in front of the park's Cider Press, and guests will be able to enjoy fresh-squeezed apple cider and donuts after the reading. Musical entertainment will be featured before and after the poetry readings. This event is free and open to the public.
In addition to a regional equestrian center and historic blacksmith shop, Frying Pan Farm Park has livestock at the farm. The farm welcomed a new bull calf during the harvest supermoon on Sept. 28. The calf is a cross between Sasha, his Jersey mom, and Ferdinand, the resident Angus bull. Since this was her first delivery, park staff have been taking extra care of Sasha by checking her a few times each night for the past week. Sasha will soon join her mother Anastasia for the daily cow milking demo in Kidwell Barn.
Thursday, Oct.15, from 6 to 8 p.m., the park will host its Boo-Stravaganza event. A ticketed event programed for parents with children ages 3-8, participants can arrive at the Indoor Arena Barn dressed in costume between 6 and 8 p.m. The event will feature games and a wagon ride, concluding with treats and a small pumpkin.
Oct. 17 and 18 will be the dates of the Farm Harvest Days Celebration. This free event requires no reservations, and is an opportunity to watch the cider press in action, milk a goat or a cow, shell corn, peel apples, meet farm animals and see traditional farm demonstrations. "We run the cider press only one time a year, at the Farm Harvest celebration… Farm harvest time was when the community came together to harvest crops. We carry on this tradition at the park when people and staff pull together to host this event. There is a real sense of camaraderie," said Yvonne Johnson.