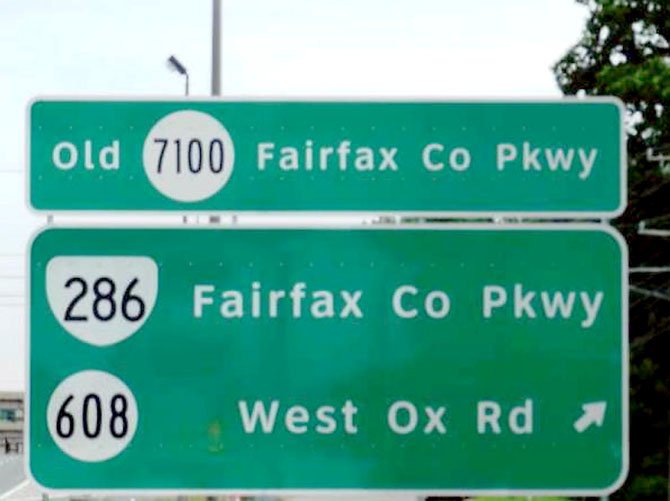 The Fix on 286--Fairfax County Parkway Paving Project
*The repaving project began in June and is expected to continue through October 2012. VDOT will repave 24 miles of the 32-mile, six-lane Fairfax County Parkway between Rolling Road in Springfield and the Fairfax/Loudoun County line.
*The $19 million maintenance project will take place mostly nights and weekends, and will require lane closures and occasional detours.
*While work will be complete in October, the heaviest traffic impacts were scheduled from June until Labor Day, when Fairfax County schools are out for the summer.
*Crews repaved the northern section of the parkway first, from Route 7 to Baron Cameron Avenue (Route 606).
*Exceptions include the area of the Fair Lakes Interchange construction project, which will be paved in 2013, and other recently-paved areas.
*Ramps and trails will not be paved as part of this project; however VDOT officials said they are looking at separate funding opportunities for those projects.
*Noise Alert: VDOT officials said they will do their best to be good neighbors, but paving and milling is noisy; jackhammers, which are necessary for work around water valves, will end by 10 p.m. Dump trucks are required to have a back-up warning system (loud beeping) which cannot be minimized.
*The bottom line: VDOT officials said to expect day/night noise near your neighborhood to last about two weeks.
To get updates on the web, go to Virginia.org, click on "Projects" then click on "Northern Virginia."
To contact the project manager, Avtar Singh, email Avtar.Singh@vdot.... or email NOVAinfo@vdot.vir....
Since 1987, the Fairfax County Parkway has been known as Route 7100 for the estimated 75,000 motorists who travel the 32-mile parkway each day.
In the last few weeks, however, new signs have started to crop up, indicating that Route 7100 is in the process of becoming Route 286.
"We've been getting calls about it," said Supervisor Pat Herrity (R-Springfield). "People want to know why, and how much the new signs cost. I'm a little surprised we haven't received complaints about the noise from paving."
Herrity said the parkway was upgraded to a primary road by the Commonwealth Transportation Board last February, along with two other major parkways in Northern Virginia--the Franconia-Springfield Parkway (Route 7900), and Prince William Parkway (Route 3000).
According to Joan Morris, a spokesperson with the Virginia Department of Transportation (VDOT), the new designation requires new route numbers for the three parkways because secondary roads are numbered 600 and above and primary roads are numbered 1-599. The cost for changing signs on all three parkways is about $200,000, she said.
"Only the route numbers will change; the names of the roads will not change," Morris said.


OVER THE NEXT THREE MONTHS, VDOT will replace signs with the new route numbers and add additional signs indicating "Old Route 7100," "Old Route 3000," and "Old Route 7900.
"Drivers will see the old route number alongside the new route number for about a year so that hotels, businesses, map companies, etc. have ample time to update their materials," she said.
Any short-term inconvenience or confusion about the numbers will have long-term benefits for motorists down the road, Herrity said. As primary roads, the routes can receive federal funding for paving, guardrail, bridge improvements and other projects. Federal funding typically covers 80 percent of the cost to maintain interstates and primary roads, with the remaining 20 percent from state funds.
Herrity said he began pushing for the parkway designation change about two years ago, after repeated questions from constituents who wanted to know why the parkway, riddled with potholes, was being neglected while Route 123 was being repaved for the second time in less than two years.
"When I dug into the problem, it was clear that federal stimulus money was the reason Route 123 was getting repaved," Herrity said. "Federal funds could only go to primary roads and the parkway was a secondary road, so it was left full of potholes and needing attention."
After a little more research, Herrity said it was clear that the state also spends more money and attention on primary roads.
"For those two reasons alone, it made sense to try and get the parkway's classification changed in the state system so that it could receive the dollars and attention it deserves." In September, 2011, the Fairfax County Board of Supervisors formally asked the state to reclassify both the Fairfax County Parkway and the Franconia Springfield Parkway from secondary to primary roads.


ROADS MAY BE CONSIDERED for the transfer from secondary to primary when they meet a majority of certain criteria, such as carrying a minimum traffic volume; carrying a minimum percentage of out-of-state, truck, tractor-trailer, or bus traffic; and serving as a link for highways, county seats or sites of historic or scenic interest.
There are now about 470 miles of primary roads in northern Virginia, and 8,000 miles of primary roads statewide.
"In the end, I'm just happy to see it getting paved. The new signs mark a new direction in the parkway's future," Herrity said.