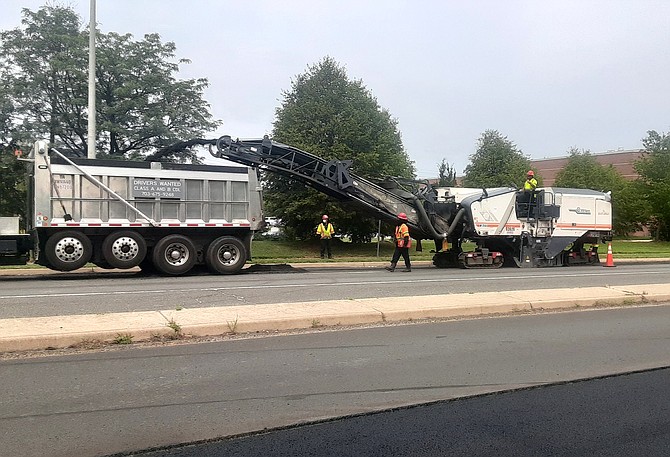 August is hot, and the drivers trying to get back to a normal routine have probably hit a pothole or two out on the roads, but VDOT is out there with the paving crews, putting down pavement on 1,145 lane miles throughout the paving season, which goes until November. There is $133.8 million in the VDOT Northern Virginia budget to make that happen too.
In Northern Virginia, there is a wide assortment of roads to address so the VDOT uses a paving condition website with a multi-colored map that determines the level of need for each area. Blue stands for roads that are currently in excellent condition, and this dominates the roads in Fairfax County closest to the Capital Beltway. The next most common color is red roads, which is labeled as "very poor," and this seems to dominate the roads away from the Beltway, but as the season goes on, those areas will become blue.
For example, the Fairfax County Parkway and the Springfield-Franconia Parkway are mostly light green, defined as "good," while the neighborhoods in southern Springfield are red. Further north, a section between Braddock Road and Little River Turnpike is all blue, where the pavers must have hit earlier this summer, while there is lots of red in the neighborhoods north of Route 50.
VDOT negotiates with paving companies in the winter, and paving contracts start in the spring and go until late fall. The time of day for paving is dictated by traffic volumes, VDOT said. For example, interstate paving is frequently overnight due to lower volumes. For neighborhood streets, paving operations are generally during the day between and outside of rush hours, VDOT said.
The paving operation basically follows a pattern. Tear the old pavement up, load into a dump truck, grade the surface, and put the new pavement down.
The asphalt removed from roadway surfaces can be recycled. Typically, this comprises about 30 percent of the new hot mix but in some cases this can be 100 percent in a relatively new process that is called cold central plant mix recycling.
The asphalt "millings" are brought back to the asphalt plants where they are stored, processed and incorporated back into new asphalt mixes. Although each plant has different ways of processing their materials and different proprietary asphalt mix designs, the procedure is basically the same for all the asphalt producers in Virginia.
Bad road surfaces can also be reported to VDOT or the district supervisor and the road in question will be analyzed for repaving. Online, the site is known as the "VDOT customer service center," and everything from road repairs, signs down or something removed from the road like a dead deer are things that can be reported here. Even a compliment to VDOT can be made through this site.
There is a reminder that "VDOT does not maintain roads in cities, towns, or in Henrico and Arlington counties, except for interstates and major primary roads. VDOT does not maintain all sidewalks, or pedestrian or bike paths. Some may be maintained by localities. Please submit a separate report for each request," it says.