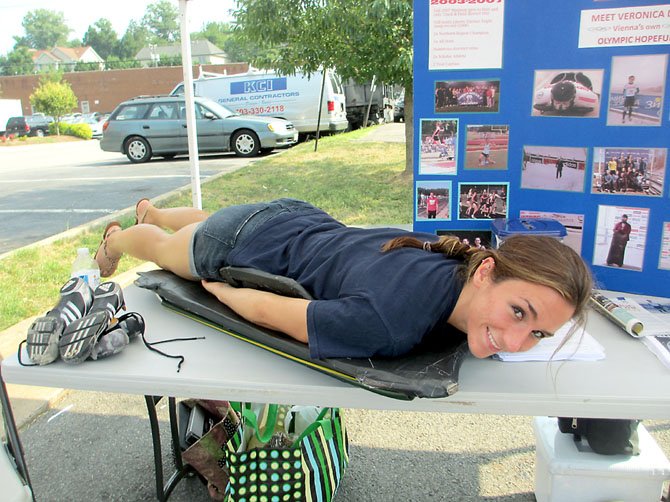 Vienna — Since graduating from Elon University, Veronica Day's life has gone downhill.
And well it should be because Day, a Madison High School graduate in 2007 who was track and field three-time All-State, who broke Elon's track and field records, is at the U.S. Olympic Committee's training facility at Lake Placid, honing her skill at "skeleton," a relative of luge and bobsled. She's preparing for the 2014 Winter Olympics in Russia.
"You go into skeleton because you want to compete in the Olympics," Day said. "There's no reason to do skeleton unless you want to go into the Olympics."
If you are unfamiliar with skeleton—and many are—here are some details. The skeleton competitor uses a sled with runners and lies on her stomach, gliding down hills head first at 80 miles per hour. The sled itself weighs 65 pounds.
DAY'S CAREER was born of an inside joke. She and her roommate were watching the Vancouver Winter Olympics on television in 2010 when the two jested that they would build a bobsled team after graduation.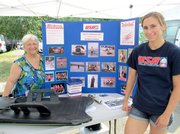 Day was on a full track and field scholarship to Elon when she researched bobsledding through the website of the United States Bobsled and Skeleton Federation [USBSF], the national governing body for those sports. USBSF recruited track and field athletes. And that is what Day, a Vienna native, was.
Bobsleds are very heavy and the bigger the driver is, the easier it is to push. Skeleton fit her size. In her senior year, she decided she wanted to try the sport, though she had never worked at it before.
"I realized I was too small for bobsled," said Day.
After the college track and field season ended, she took a month-long break from competition. Last August, Day participated in her first USBSF "combine" at Lake Placid. The combine consisted of eight events, the most important of which was sprinting. She did "really well," she said, and qualified for USOC training. Her combine score put Day on the Elite Olympic team. Lake Placid is her new home.
There are four circuits internationally a skeleton sledder can race on, Day said. If you don't make it to the Olympics, a skeleton sledder is eligible, but not guaranteed, to race on other circuits. Her 2012 winter at Lake Placid was spent learning the mechanics of the sport and competing intersquad. "Pretty much, since I started in January, I won all of those slides," she said.
This coming October, Day will be participating in USOC team trials to determine her circuit placement. She hopes to be racing competitively in winter 2013.
Her new focus is costly. Skeleton sleds cost between $3,000 and $10,000. A helmet costs $700, and runners for the sleds, $700. Her shoes cost $300 and her speedsuit cost more than $100. She has to pay for all her other gear, as well, including exercise gear. She pays her own way to other tracks, from airlines to hotels. Day says she will be doing a lot of traveling this upcoming winter because she has to learn to drive other tracks.
"If you're ranked USA 1 or USA 2, you get a monthly stipend from the USBSF. If you're USA 3 or 4, you get little. The only thing I get from USBSF is housing and food," Day said.
When Day graduated from Elon University in 2011, she left with a double major—international business and international studies—and as the holder of five school records. She was the university's MVP two times, three-time Southern Conference champion, nine-time All-Conference and the Southern Conference Athlete of the Year. Her parents, she said, always supported her but never pushed her. Her parents made it to every college meet she participated in. The Olympic hopeful from Vienna believes her upbringing served her well.
Day has an exercise regimen designed by her coaches. She works out at the gym three to four hours a day, lifting weights for two hours. Her gym routine does not count the one to one-and-a-half hours of sprinting she does early in the mornings.
It's not just working out that she's strict about, either. Her diet fuels her training. No wheat, including bread or pasta. She figures that about half her diet is protein and the other half vegetables and fruit. When she does eat cereal, she chooses Rice Krispies. "Since I've started watching my diet closely, it's made a huge difference in the quality of my workouts."
WHAT HAPPENS if she does not make it on to the U.S. Olympic Skeleton Team? Day is not deterred by the possibility of failure. She's motivated by the possibility of success. Day likes competing at a high level and believes she has the ability to do so. As long as she likes doing what she does, she feels it would be a waste to stop. She would have regrets because there would always be a "what-if" in the back of her mind.
"You only have one life to live, and if you don't pursue your passion to the fullest, give 100 percent, you'll regret it."
To support Veronica Day's Olympic training, go to www.frostbittenfollies.wordpress.com/donate.