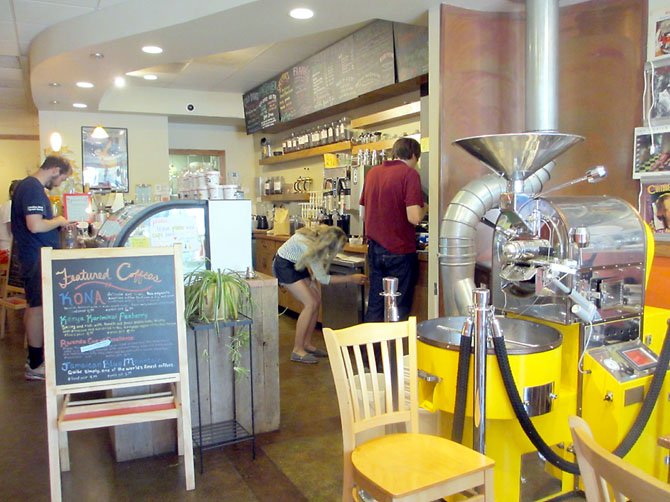 From free concerts on the Town Green to Civil War-era exhibitions and festivals to presentations, there are lots of free things to do in the Vienna area for every age group. Even those not-quite-free things are a bargain for what you get.
The restored and newly-repainted red caboose across the street from Freeman House is maintained by the Optimist Club of Greater Vienna. Children are always welcome to climb aboard, but once a month or on special occasions, the Optimists open the doors to the caboose for the public to walk through.
If there is an iconic landmark in Vienna, it is probably the red caboose, sitting adjacent to the W & OD trail, once a railroad track passing through Vienna.
The Saturday morning Vienna Farmers' Market is as much a social event as it is a resource for buying locally-produced produce and home-made goods. Running through the end of October, the Optimist-operated market sells seasonal produce and creates themes to celebrate the seasons. There's frequently a balloon artist to bring smiles to kids' faces.
Church Street Holiday Stroll, always celebrated the last Monday in November, rings in the holiday season. There's live music, bonfires for roasting marshmallows, a petting zoo and an antique fire truck carrying Santa down Church Street to his perch on the Freeman Store front porch. Church Street merchants keep late hours for shopping.
ViVa! Vienna!, hosted and sponsored by the Rotary Club of Vienna, is a three-day mega-festival dotting the historic Church Street corridor. While the amusement rides, food and vendor goods cost money, the live entertainment on two stages does not. There's a children's stage and a main stage, and local businesses or groups offer free kids' activities on the Town Green. The revenue Rotary collects is returned to the local community.
Concerts on the Green, performed on Friday and Sunday nights from mid-May through August, pull in every age demographic. Listeners bring lawn chairs, blankets, and picnics, spreading out on the expanse of soft lawn. The little children run to the stage dancing away their little bodies. There is also a shorter season of kids' programming on Wednesday evenings and an occasional Saturday night open mic. Concerts are free to the public because local businesses and individuals come through and sponsor the performances.
Patrick Henry Library offers events and activities from babies to adults and everyone in between. Fairfax County libraries cannot charge for events, so what you get at Patrick Henry and Oakton Library is free. That includes animal shows, toddler read-alongs and music, lectures, presentations, Internet instruction and lots of "special events." The area's most prominent kiddie-rock band, Rocknoceros, played for preschoolers last month at Patrick Henry.
Historic Vienna, Inc., who administers Freeman Store and Museum under a contract with the Town of Vienna, offers free programming throughout the year, from historical exhibits and reenactments to preschool fun on the lawn behind Freeman House. HVI, in partnership with the Town of Vienna and Church Street merchants, hosts the annual Church Street Holiday Stroll.
Nothing says "fall" like harvest bazaars and craft fairs and Vienna is loaded with them. The Vienna Women's Club hosts one of the area's most popular bazaars annually in early November and the Northern Virginia Handcrafters Guild operates its three-day bazaar Thanksgiving weekend. Even if you're just browsing, the ambiance at the fall bazaars is enough to get a person into a holiday mood.
Not Free, But Pretty-close
Some of Vienna's local businesses go out of their way to be "good" neighbors. They give back to the community that supports their business by hosting activities, events and just being there to help when you need some help for a community project.
On a wretchedly-hot summer evening on the Town Grown, Whole Foods gave away bottled water and cherries from a tent it had set up. The store worked with the Town of Vienna to create a community garden. On many a Friday evening, Whole Foods hosts wine sippers and snacks for $5 [called 5 After 5]. For a lot of people living in Vienna, this is a regular event.
For the price of a cup of coffee or tea at Caffe Amouri on weekend nights, you can sit back and listen to vinyl records or live music and play board games. Michael Amouri is the same business owner who gave out free coffee all day the day after the dericho, brewed in his own home because the shop was without power. He raised $5,000 on behalf of the Khristin Kyllo scholarship fund. Here's the best part, though … Amouri roasts his own coffee beans in-house and hand-grinds beans for "hand-pours." The coffee at Caffe Amouri costs no more than that sold at the chain coffeehouses, but at this coffeehouse on Church Street, the owner really does give back to the community. He still coaches women's basketball at Madison High School. During the school year, Caffe Amouri hosts "Penny University," free presentations on topics of interest to residents.
A fairly recent addition to Vienna hot-spots, Sweet City Desserts not only bakes out-of-the-world desserts, but it too is becoming a neighborhood hang-out. Wedged between Church Street and Maple Avenue in the alley that houses The Pure Pasty Co. and Bikes@Vienna, SCD hosts presentations and open-mic nights.