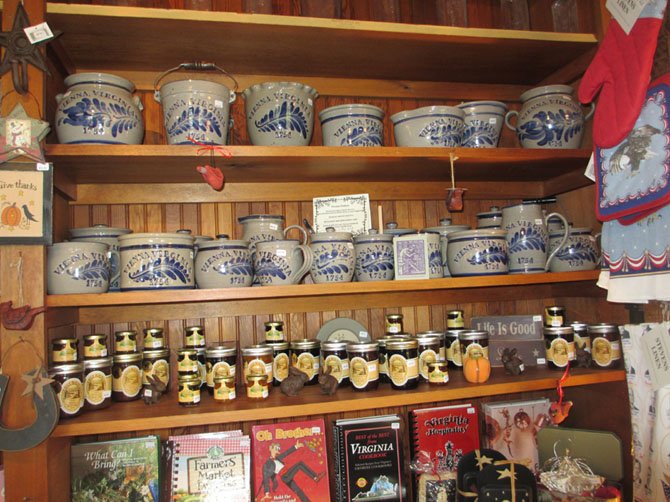 The season of sharing and gift-giving is upon us. The malls and chain stores scream "sale" and mass-produced merchandise, made in other countries, flies off the shelves. This year, why not seek out the unique, the one-of-a-kind gifts sold in places that offer personalized, welcoming service, the kind of place where the owners and staff are truly happy to see you.
Photo Gallery
Vienna Gift Ideas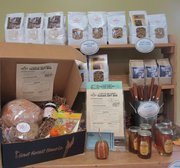 Click Photo for Flash
Why not shop locally? Vienna boasts many a business owned by Vienna residents, managed by Vienna folks and staffed by them.
Only along the historic Church Street corridor will you find Vienna-logo pottery made in the U.S., Virginia-produced preserves and chutneys, hand-held turnovers to make a British expat homesick, and coffee beans roasted fresh daily in the coffee house. While we're on the subject of food—and, really, isn't everyone on the subject of food?—where else but Great Harvest can you buy freshly-baked breads prepared from flour stone-ground daily?
Talk of the ultimate hostess gift… a presentation of epicurian coffee beans, apple-scrapple bread, rich and hearty pasties, topped off by a Vienna-logo coffee mug.
Here's the most special aspect of shopping the Church Street business district. Most of the shop and restaurant owners are not only Vienna business owners but Vienna-area residents, as well, with as much at stake in maintaining Vienna's warm and welcoming character as their shoppers.
These local businessmen and women actively support their community, with fundraisers, in-kind donations and presence of human resources. You cannot beat that for community investment.
More than their engagement with the community, local shop owners come to recognize their regular customers who become part of the business's public family. Local owners are empowered to accommodate their customers, to customize service, because there is no big corporation or chain to create rules or policy. When you own the business, you create the model in your own philosophy. And that is where Vienna's small, locally owned businesses shine… embracing customers as neighbors, because, well, you are.
By the way, Small Business Saturday, on Nov. 24, celebrates locally owned businesses. Support them; they support Vienna.
Need some ideas? Direction? Here goes the first of the Vienna Connection's holiday gift guide. The nicest thing about these ideas is that you can buy many of these items for yourself, and your family and friends will still benefit.
THE ARTFUL GIFT SHOP truly is a little gem tucked away in the commercial white house at Lawyers Road and Church Street.
The shop features arts, crafts, original artwork and handknit woolens, and handcrafted animal clocks.
Owner Peggy James, in partnership with her brother David, is the Artful Gift Shop. When Peggy is not in the shop, she's scouting arts and craft shows, doing fundraising for Homeless Animals Rescue Team [HART] or supporting the local business service organization [VBA]. David staffs the shop when Peggy is fulfilling other obligations. The two of them know their customers, even those who may have visited the shop a year ago. Peggy remembers what people bought, what their interests are.
Here's the unbeatable edge from most accessory shops. The knit hats and scarves are handcrafted on-site by David James himself. David buys pure unfinished wool yarns and dyes the wool in his kitchen, creating vibrant colors and shadings. While tending to the shop, David knits the yarns to hats and scarves. David's handknit wool hats start at $24; his opera-length wool scarves at $36. A set, both hat and scarf, sells for $48. Acrylic hats and scarves start at $18. If there's a color you would like, ask David to make it up for you. Peggy and David take custom orders.
Dan Kessler art pieces are sold at two places only: Eastern Market in D.C. and The Artful Gift Shop. Shoppers come into the store especially for Kessler works; the stylized dog designs and dinosaur designs are Kessler top-sellers.
Among the store's best-sellers are the handcrafted animal clocks selling for $42 each. Peggy James donates 50 percent of the sales proceeds of the clocks to Homeless Animals Rescue Team. Any breed can be designed.
The Artful Gift Shop is at 145B Church Street. Call 703-242-1220 for hours and special requests.
FREEMAN STORE is Vienna's oldest store. Built before the Civil War for Abram Lydecker, the building housed a general store on the lower level and living accommodations on the upper floor. During the Civil War, it was used by Union forces. The interior recalls days of old with its wide-planked flooring and pot-belly stove.
At the Freeman Store you can buy holiday cards depicting local landmarks. The cards, designed by local artists and photographers, sell for $8.50 for a package of ten. The 2012 card, a snowy Freeman House, was designed by Laura Chirillo of Vienna.
Freeman Store's merchandise, arranged like Grandma's cupboard, also nods to the past, a non-digital, non-techie one. Graves' Mountain preserves, a Virginia-sourced and produced line, features fruit and sugar, no corn syrup or gooey liquid. A large jar sells for $6, the mini for $2. The apple chutney is outstanding if you like apple or chutney.
Every year since 1997, Freeman Store has sold a handmade Rachael Peden ornament rendering a Vienna landmark on wood. This year's ornament recreates the antique fire truck owned by the Vienna Volunteer Fire Department. Each ornament sells for $19.50.
The store's most iconic sales stock are the blue-and-grey Vienna-logo mugs, steins and serving and storage pieces. For anyone with warm recollections of their lives in Vienna, nothing is more memorable, something to pass on to the next generation.
Westerwald Pottery Pennsylvania uses 12 separate hands-on processes for each piece. The products are all wheel-thrown, brush-decorated and kiln-fired at 2,300 degrees. The glazes are lead-free, microwaveable and dishwasher-safe. The Westerwalk pottery starts at $17.50.
But… there's more. The children's toys are the kind kids played with for hundreds of years, the classics. There's tiddly-winks, Dominos, jacks, old-time bicycle bells, and even pick-up sticks [$3.50 for the pick-up sticks]. There are Christmas puzzles for the family, too. Shopkeeper Alla Fiore calls them toys "you don't see in stores any more." Fiore said that since 'Once Upon a Time' closed, people have been coming into Freeman Store to buy toys. The miniature treasure boxes hold a secret "treasure" within.
For a unique holiday wreath, look to the tussie-mussie wreaths crafted by members of the Ayr Hill Garden Club. They sell for $25 to $35, and look old-fashioned.
Santa visits Freeman Store on Sunday, Dec. 2, and Saturday, Dec. 8, 1-3 p.m.
Freeman Store and Museum is at 131 Church St. NE, open Wednesday through Sunday afternoons. See historicviennainc.org or call 703-938-5187 for holiday hours.
CAFFE AMOURI is more than a place to buy a cup of coffee or tea. It's a place to buy a cup of coffee from beans roasted on-site. Michael Amouri himself, owner of the community coffee house, comes in at 6 a.m. to roast the green beans that come in from coffee-growing countries around the world. Caffe Amouri's coffee has dedicated fans, regulars who will experiment with different beans or teas.
"Freshness counts in coffee," said Amouri. "We always get the current crop of beans, top-notch beans. We roast them almost-daily for freshness."
The baristas at Caffe Amouri are no casual coffee pourers. Amouri trains his staff to understand the processes and the characteristics of the beans they roast and sell. The roasting process is customized for a bean's profile, testing each roasted batch to develop the optimal flavor profile. Each batch takes 15 to 20 minutes to roast.
Training pays off for Caffe Amouri. Customers appreciate the familiarity staff has for the products and the cheery customer service. Friday free espresso samplings have become popular with customers, too.
"I come here often," said Judy "W" of Vienna. "The level of customer service and quality of product is the best. They pay particular attention to educating their customers," Judy said. "These people here are really excited about their products. You don't get that everywhere."
Caffe Amouri sells gift certificates, as well as shop-packaged coffees and teas. Troops in Afghanistan recently flew a flag over their base in recognition of Caffe Amouri's coffee donation to them.
Toward the end of November, Amouri and his staff will be creating specialty baskets of coffees and teas, and "lots of unique things," for holiday gift-giving. Bags of coffee beans to-go start at $11 a pound.
If you need a pick-me-up during the hectic holiday season, stop by Caffe Amouri for a peppermint cappuccino.
"Everyone who walks in here should walk out feeling a little bit better," said Amouri.
Caffe Amouri is at 107 Church Street NE, across the street from the new but not-yet open chocolates shop. Call at 703-938-1623.
GREAT HARVEST BREAD COMPANY is like no other bakery in the Vienna area.
There are certainly many places in Vienna where you can buy fresh bread, but no place where you can buy fresh bread made with freshly-milled stone-ground wheat other than at the Great Harvest Bread Company. A fixture in Vienna for many years, Great Harvest offers a selection of breads that has gained itself legions of devoted fans. Great Harvest mills its own flour daily using a stone mill in its Herndon facility, and uses pure ingredients in their recipes. What party would not want to set out a tray of natural, hearty breads, sweet and savory?
"It has the best bread around," said customer Steve Piekarec of Vienna. "You say you'll have a little piece, and then, you eat the whole loaf."
If you're going to eat the whole loaf, you'd better be careful because there is a myriad of bread products to choose from. Great Harvest is currently featuring seasonal favorites pumpkin loaf and the onion-dill rye loaf. Apple-scrappel is the store's top seller.
Regular customers, such as Piekarec and Carol Kelly, say manager Rene Altamirano is knowledgeable and welcoming at all times. He doesn't just slice bread samples, he describes the ingredients, as well.
"Our breads are very healthy, no preservatives or additives," says Altamirano. "They have soft crusts, and they taste delicious."
Kelly calls the giant cookies "amazing."
A stone mill, says Altamirano, grinds at a lower temperature than does metal, retaining nutrients.
Apple-scrapple, what a young boy described as "apple-pie bread," sells for $7.10. Tea loaves, such as pumpkin, go for $7.50 to $8. The onion-dill rye, that just begs for corned beef or pastrami, is $6.
A unique but welcome gift for foodies is Great Harvest's own pancake mix and granola, a comfort-food addition to a basket. Like the breads, the flour for the pancake mix is stone-ground. The ingredients are simple and pronounceable: whole wheat flour, rolled oats, nonfat dry milk, brown sugar, baking powder and salt. A 32-ounce bag sells for $4.95.
Coming up soon on Great Harvest's bread menu are Virginia rolls, made only during the fall holiday season and at Easter-time. They sell for $6 a dozen and customers are already asking for them.
The Great Harvest Bread Company is at 132 Church St. NW. Phone is 703-938-0921.
THE PURE PASTY COMPANY: You don't have to be Cornish—or even British—to love the authentic Cornish pasties that Brit ex-pat Mike Burgess, along with Nicola Willis-Jones and the crew, make fresh daily. The crust is meltingly-rich, the fillings flavorful and saucy. For the holidays, Pure Pasty is pulling out its culinary roots with traditional and not-so-traditional pasties. As a party contribution or spontaneous meal, pasties shine. They can be frozen, too. Who doesn't love a gift of food?
Pure Pasty features a variety of holiday pies that are made into dessert pasties. From Nov. 8 on through end of November, the shop will offer pecan pasties—smaller than the meat ones—which is, basically, pecan pie enclosed in a thin layer of folded-over crust. The pumpkin [pie] pasties debut on Nov. 13. Both the pecan and the pumpkin pasties are made through Thanksgiving.
December brings one of England's traditional holiday favorites, homemade mincemeat pie pasty.
A pasty is a turnover starring a rich, buttery crust. Fillings are savory, as in the traditional beef and potatoes, or sweet. There are pasty shops all over London.
The restaurant's Thanksgiving pasty hits their menu on Nov. 14. Willis-Jones describes the specialty pasty as "literally thanksgiving dinner in a pasty," turkey, green beans, cranberries, sweet potatoes, potatoes, gravy and herb. It's delicious, Willis-Jones said. Pure Pasty is planning on a "decadent" pasty for Christmas, said Willis-Jones.
Willis-Jones suggests that if shoppers wants to order for the holidays, they should place orders well in-advance. Pasties freeze well and can be reheated.
Sweet pasties sell for $2.99 to $3.50 for sweet pasties, and savories sell for $5.99 and $6.99.
The Pure Pasty Company is at 128-C Church St. NW, between Bikes@Vienna and Sweet City Desserts. Phone is 703-255-7147.