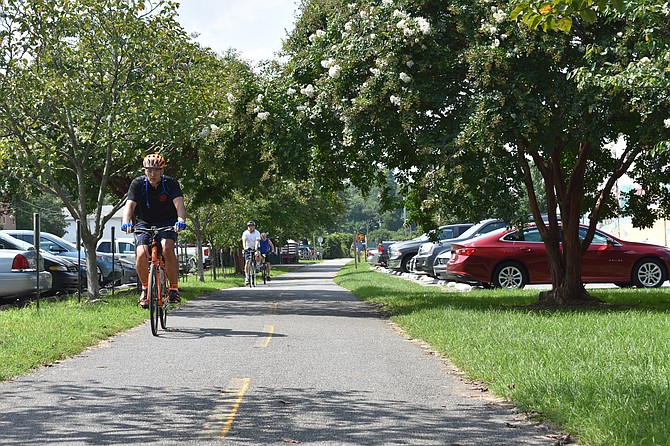 Since I was five years old, I've lived in Vienna: dancing, as a child, on the Town Green during summer concerts, going to summer camps at Nottoway Park and riding the Ferris wheel at the ViVa! Vienna! festival Memorial Day weekend.
Now I'm 19, and for the first time since moving here, I spent an extended amount of time away from Vienna: nine months living in a Chicago suburb for college. Though I enjoyed the new experiences in Illinois, here are a few of the many places I was happy to come home to in Vienna this summer.
W&OD Trail
Though this trail along what formerly was the Washington & Old Dominion Railroad extends far beyond Vienna, I like how scenic the Vienna section of the trail is in contrast to other stretches of the W&OD. Following the trail through the Town, you pass many Vienna landmarks: the community center, the Town Green, the historic Freeman Store and Museum, the iconic red caboose, the historic train depot and Caboose Brewery on the other end of Town.
Cocoa Vienna
When I walk through the door of Cocoa Vienna, the first thing I notice is the smell of chocolate. I've always been impressed with the friendly service here, and while it's hard to choose what to get with such a wide variety of handmade chocolates, I have never been disappointed.
Bards Alley
This corner bookstore on Church Street caught my attention as soon as it opened. Bards Alley offers story times for kids and book clubs for adults as well as a wide variety of books. It includes a small cafe to make the bookstore into a place to spend time chatting with friends in addition to finding good reads.
Crepe Amour
Crepe Amour offers a wide selection of extremely satisfying sweet and savory crepes. Employees make the crepes right there at the counter, so you can watch the process as they're prepared for you. Its gelato is the perfect complement to the crepes, and the room provides the perfect atmosphere to eat and relax with friends.
Magnolia Dessert Bar & Coffee
Magnolia actually opened while I was away at school, and when I first saw it, all it took was one Google search for me to realize I had to go there – the pictures I saw of the food had me sold. Magnolia did not disappoint. The food is delicious and, like the whole establishment, is beautiful. Everything is photogenic, from the decorations, to the food, to the Instagram-worthy floral bathroom walls.
Meadowlark Botanical Gardens
These beautiful botanical gardens are a fun place to walk around and spend time outdoors. I like to go each year to Meadowlark's Winter Walk of Lights, a light display around the botanical gardens that ends with hot chocolate and roasting marshmallows.
Church Street Pizza
Church Street Pizza is a great, low-key place to spend time with friends or bring the family and enjoy New York style pizza. It's one of the places that my friends and I most like to go to in the Town. They also offer delivery in Vienna, Tysons and Oakton.
Vienna Inn
A true Vienna landmark, the Vienna Inn has a real community vibe. I've seen servers greet people by name as they walk in the door. There are community events posted and kids' drawings hung up, so the place really has a small town feel. The Vienna Inn is famous for its chilli dogs, reportedly selling over 10,000 each month.
Caffe Amouri
Another location with a feeling of community, Caffe Amouri is a coffee shop with a commitment to sustainability. It's also a place dedicated to the community, offering open mic nights and classes and partnering with local organizations. I like to come in and get work done or hang out with friends.
Wolf Trap National Park
Wolf Trap is an intimate outdoor concert venue and National Park dedicated to the performing arts. In addition to the Filene Center (main stage), there is the Children's Theater in the Woods and trails for walking. Don't miss the free Winter Holiday Sing-A-Long concert with the United States Marine Band and local singers or the free Memorial Day concert and fireworks.
So, I invite you to go out and explore the Town, because this list doesn't even scratch the surface of all the places it has to offer. Welcome to Vienna, and I hope that you, too, will find aspects of the Town that are always a joy to come home to.