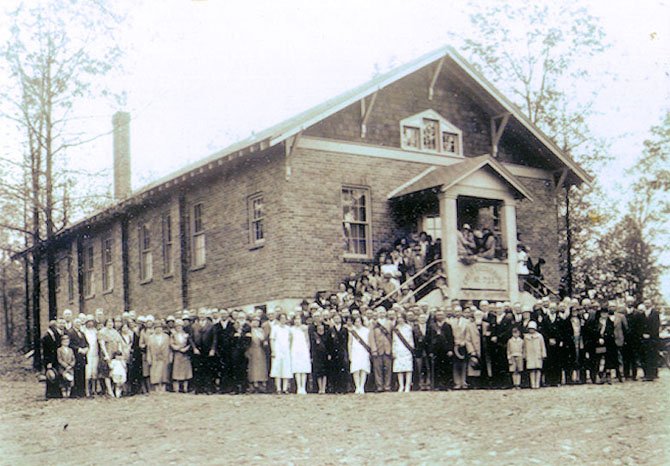 We have chosen to make our homes on a village of land where the footsteps of George Washington still echo. From the land close to Difficult Run Stream Valley (where the Colvin Run Mill now stands on Colvin Run Road) that he once owned and envisioned that a grain mill would stand, to the Powtomack (Potomac) Canal System at the foot of Seneca Road with its Lock system at Great Falls Park, which he envisioned as a transport system for farmers to move their grain down toward Alexandria for export, George Washington surveyed, knew the potential of, owned and invested in the development of important pieces of our specific place, now called Great Falls. So you might say that being the hometown of people of invention and entrepreneurialism makes inherent sense.
Our journey to the present has had its ups and downs. After Washington's death, the grain mill was built on Difficult Run by Colville. It went through a few owners, some very successful, however John Powell went bankrupt due to the disruption of the mill during the Civil War. Although the Civil War was not fought on land in Great Falls, there was one skirmish—the Battle of Dranesville on Dec. 20, 1861; local farmers were harassed throughout the war as both Union and Confederate soldiers came to Great Falls to forage for food for men and horses. Bitter feelings and mistrust lingered after the war. Many churches sprang up over the next 40 to 50 years. Searching for viable economic activity after the Civil War, the benefits of dairy farming slowly became apparent. The dairy farmers of Great Falls grew to be among the most economically and commercially successful in Fairfax County, known for their fine product and productive herds. Dairy industry success lasted from the late 1880s to the 1950s when it slowly began its demise due to refrigerated trucks, giving remote dairy farmers entry to the DC market. The last standing dairy farm, The Nalls Farm, was sold in the mid-1980s. New waves of economic fortune have touched our community, as the CIA and other government and high tech workers moved in, turning Great Falls into a bedroom community for people who work in DC, followed by the emergence of the Dulles Corridor of offices, to being the home of entrepreneurs who work from home and enjoy country living close to urban areas.
Great Falls is unique today because it is a place where longstanding local families who have lived here their entire lives, and many of whom are descendants of families who have lived here for generations, inspired "more recent settlers" who arrived 35 to 40 years ago and worked together, with affection and imagination, to preserve and sustain a local culture.
The Affection of "Local"
To get a sense of how things were, take a look at the local baseball team of 1890: The young men on the team were descendants of land-owners from some of the largest farms of Great Falls: Johnson, Dickey, Follin, Sanders, Cunningham, Money, Gunnell and Cornwell played their game in the cow pasture, often sliding through cow dung to touch home base. When their game was over, they walked home to their family farmhouse and helped out with the chores. You may recognize some of these names today. In 1890, each baseball player's family owned a farm that made up a sizeable portion of the Great Falls we know today.
Wendell Berry says it so well: "To have a place, to live and belong in a place, to live from a place without destroying it, we must imagine it. By imagination we see it illuminated by its own unique character and by our love for it. By imagination we recognize with sympathy the fellow members, human and nonhuman, with whom we share our place. By that local experience we see the need to grant a sort of preemptive sympathy to all the fellow members, the neighbors, with whom we share the world. As imagination enables sympathy, sympathy enables affection. And it is in affection that we find the possibility of a neighborly, kind, and conserving economy," (http://www.neh.gov/about/awards/jefferson-lecture/wendell-e-berry-lecture).
The Courage to Imagine
Imagination comes to bear when we see the severely dilapidated before us, but do not tear it down. It takes courage to look beyond the wear and tear to the possibility of functional adaptive reuse—preserving the character of original craftsmanship, while achieving functionality for today that is beautiful and unique. A case in point is The Turner Farmhouse.
The Turner Farm was a lively, enterprising local farm owned by a dynamic leader in the community, the dairy industry, a member of the Fairfax County Board of Supervisors, and the first master of the Great Falls Grange, Mark Turner. The farmhouse, recently purchased by the Fairfax County Park Authority, is currently in need of major restoration. Built in the Queen Anne-style, it is the only other remaining example, besides The Dr. Alfred Leigh House—now Dante's Restaurant. The Turner Farm awaits the Resident Curatorship Program. The Resident Curatorship Program's policy (currently being written) will offer the property rent-free for life to an interested party who would agree to take on the care and maintenance (including its restoration) in entirety.
Sustaining the Past for the Future
As Wendell Berry says so well, cultural sustainability depends on establishing a cultural cycle within our local community: "The cultural cycle is an unending conversation between old people and young people, assuring the survival of local memory," (http://www.neh.gov/about/awards/jefferson-lecture/wendell-e-berry-lecture).
The Great Falls Grange represents a highpoint of Great Falls agricultural, economic and social life from 1920 to its suspension in 1979. The organization and the place served as a focal point of activities in the community such as Saturday night suppers on a regular basis, sponsoring an annual "Grange Fair" and maintaining "a baseball diamond for community use" (www.gfhs.org). It speaks to a time when agriculture, economic life and social life were integrated, whole and intact. Your family's economic life was an inherent part of each family member's identity as an individual and as a part of the community fabric. Today, economic life is entirely separate from community life.
A metaphor of the current detachment of place, economy, family and social life is the current condition of the Great Falls Grange. The building is barely utilized, has fallen into disrepair and is in need of maintenance. Our challenge is to re-imagine an adaptive reuse of the Grange and Old Schoolhouse that reflects who we are as a community today. Inspired by The Great Falls Grange heritage, can we imagine a place where economic engagement, family and friends and youth can come together in a common bond of collegiality, cooperation, enjoyment and mutual support? A metaphor for the Grange organization in Great Falls is the Great Falls Studios, where close to 100 local artists have joined together to show and co-market their artwork, many working from a home studio or sharing studio space with fellow members.
The Great Falls Historical Society provides a place for the continuing conversation between old people and young people in the interest of keeping our local memory alive and capturing the story of the past so as to enlighten our common future. Continuing our local village culture and legacy for future generations to enjoy depends on the active involvement of our residents today. There are historic stories to be written or filmed; there are photos and artifacts to be gathered; there are historic properties to be preserved and curated. Our continuing enthusiasm and curiosity is pivotal to the fulfillment of GFHS's mission—"To feel the pulse of earth where man has trod, and for the future keep the past."