Alexandria — Next week all Alexandria students will be back in school so Alexandria Sheriff's Deputy Valarie Wright is spreading the word about traffic safety by distributing posters and giveaways for AAA's annual "School's Open Drive Carefully" campaign.
Wright visited libraries and recreation centers around the city, asking them to display the poster and share stickers, rulers, pencils and other back-to-school items with young people and their parents as a safety reminder.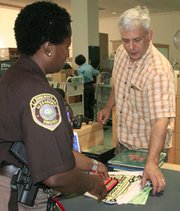 AAA offers the following safety tips for drivers:
• Limit distractions such as cell phones or other devices that cause you to take your eyes off the road. Research shows that taking your eyes off the road for just two seconds doubles your chances of crashing.
• Stay alert and slow down in or near school and residential areas. Don't rush into and out of driveways. Expect pedestrians on the sidewalk, especially around schools and in neighborhoods.
• Stop at stop signs. It sounds obvious, but research shows that more than one third of drivers roll through stop signs in school zones or neighborhoods.
• Look for clues such as school Crossing Guards, AAA School Safety patrols, bicycles, and playgrounds, which indicate children could be in the area.
• Drive with your headlights on – even during the day – so children and other drivers can see you.
• Always stop for school buses that are loading/unloading students.
• Pay particular attention near schools during the morning and afternoon hours and plan ahead. Leave early for your destination and build extra time for congestion.
• Practice extra caution in adverse weather conditions.
For more information, visit the AAA website at http://midatlantic.aaa.com/Foundation/SchoolPrograms/SchoolsOpenDriveCarefully/.