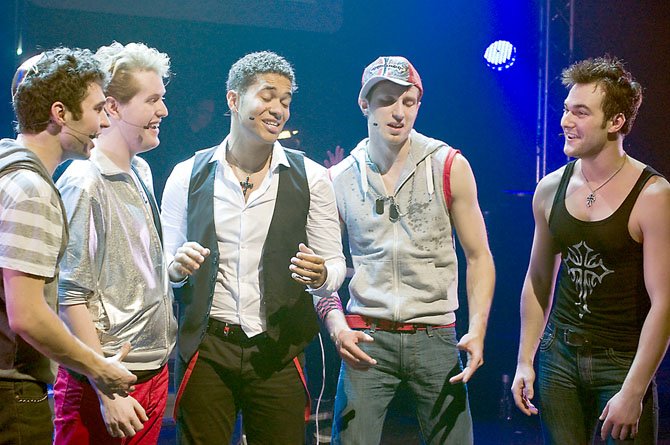 There is a joyful noise full of tight harmonies backed by spot-on keyboards and percussion with lyrics full of universal positive messages at 1st Stage. It is a boisterous, full-octane, musical concert called "Altar Boyz" about a heartthrob Christian boy band's struggles in their last "Raise the Praise" concert.
"Altar Boyz" is driven by the very capable tenor voices of five actors-singers who with extraordinary, non-stop kinetic energy, power through a score of 13 songs. There is also well-synchronized hip-hop style choreography devised by Jeremy McShan, that would tax the lungs of a marathon runner.
The five members of the ersatz Altar Boyz group are BJ Gruber (Matthew), Edward C. Nagel (Mark), Derek Tatum (Luke), Jonathan Walker (Juan) and Zack Powell (Abraham). Yes, their names, except for one, are of the apostles, and they are spreading the good news message. They do so in their own non-preachy way.
Gruber is the handsome titular lead of the group and Nagel always has a sunny disposition even with some secrets of his own. Tatum is the "bad" boy with his baseball cap gently askew. Walker has a Latin-infused role and accent to match. Powell is the Jewish boy wondering how he ever got into the group but readily fits in.
The production has a rock concert essence with pulsating lighting (David A. Sexton), sound (Derek V. Knoderer) and special effects (Zack Sanders) developed under Steven Royal, making his area directorial debut. Royal was also the set and costume designer.
Where and When
1st Stage production of "Altar Boyz" at 1524 Spring Hill Road, McLean. Performances now through Dec. 30. Performed Fridays at 8 p.m., Saturdays at 2 p.m. and 8 p.m. and Sundays at 2 p.m. and 7 p.m. Tickets $15-$30. Call 703-854-1856 or visit http://www.1stSta...">www.1stStageTyson....
The vigorous music under the direction of Walter Bobby McCoy and his four-piece band moves smoothly through the song-filled evening. Song titles give hints of the show's message including "I Believe," "Epiphany," "Something About You," and "Everybody Fits," to name a few.
With music and lyrics by Gary Adler and Michael Patrick Walker, and book by Kevin Del Aguila, the award winning "Altar Boyz" ran for 2,032 performances off-Broadway from 2005-2012. As the 1st Stage program notes indicate, the show "satirizes the phenomenon of boy bands and the popularity of Christian-themed music in contemporary America."
The show is cheerful and just this side of safely naughty, with its rock concert atmosphere. There are some saggy segments, especially those with lesser musical structure to fall back upon. The acting is not always subtle, and sometimes takes its over-the-top sensibilities too far, but so what. 'Tis the season for joyfulness.
More like this story