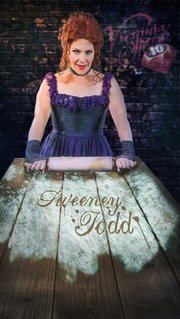 Where and When
George Mason University, Center for the Arts presents Virginian Opera's production of "Sweeney Todd — The Demon Barber of Fleet Street." 4400 University Drive, Fairfax.
Performances: Saturday, Oct. 11, 2014 at 8 p.m. and Sunday, Oct. 12, 2014 at 2 p.m.
Tickets $44-$98. Tickets are half price for youth through grade 12.
Call 888-945-2468 or visit cfa.gmu.edu.
"Attend the tale of Sweeney Todd…" Such are well known lyrics for those familiar with the musical "Sweeney Todd-The Demon Barber of Fleet Street." Good news is coming. The production of "Sweeney" as a rarely done opera is arriving from the Virginia Opera.
And for those who have not seen this Tony Award-winning, musically moody rich account of revenge and passion this is a golden opportunity. Sung in English, the production is arriving soon at George Mason University's Center for the Arts. "Sweeney Todd" has music and lyrics by Stephen Sondheim and book by Hugh Wheeler. Why in operatic form? Well, Sondheim himself called "Sweeney Todd" a "dark operetta."
"Sweeney Todd" is a musical tale all about a man named Sweeney Todd living in Victorian England. He is wronged by a powerful, lecherous judge.
Todd loses all that matters to him. He spends years plotting his payback. Todd and a colorful meat pie shop owner named Mrs. Lovett work as partners to build a thriving business built upon a most unexpected ingredient for tasty meat pies.
"Stephen Sondheim transformed a play into a musical that captures in full measure its vigorous full-throated, full-blooded and emotionally generous story telling — which is what opera is," said director Ron Daniels. It is "exuberant; full of energy the audience will feel and experience. The show emotionally spins the audience on a dime from horror to comedy and back again. It is not a timid production."
Conducting the music will be Adam Turner, Virginia Opera's principal conductor and artistic advisor. He will be directing an orchestra of 30. The production has "great, powerful voices that will amplify the story. There will also be a full chorus singing with an intensity and a joyful presence," said Turner.
The role of Mrs. Lovett is performed by Phyllis Pancella, a renowned mezzo-soprano. She is relishing the role of someone with "raw emotions as they spin out of control." She said, "Mrs. Lovett doesn't think what she does is unethical. She is broke and needs money to survive. And she loves Sweeney."
Sweeney Todd is played by baritone Stephen Powell. "The character of Sweeney drew me to the role. I want to create some sympathy for him," said Powell. "Is his behavior at being wronged so far-fetched" as he seeks revenge? Come taste the "Sweeny Todd" magical elixir for yourself.