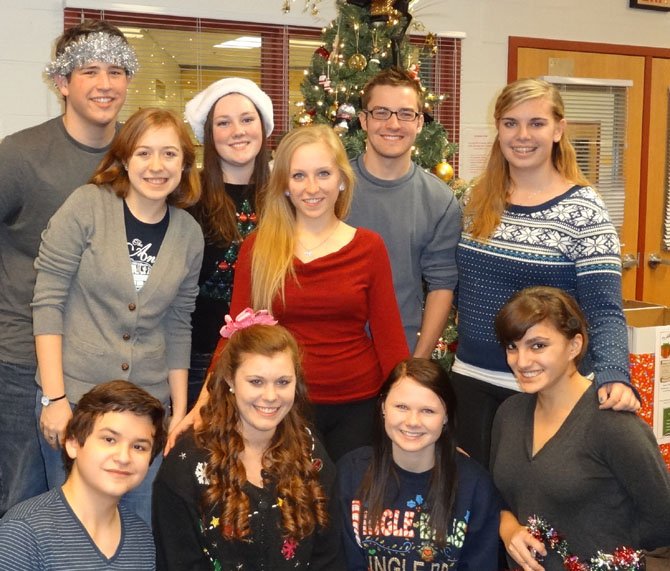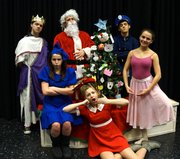 Centreville — The Grinch, Charlie Brown, Frosty the Snowman — these characters and more will be onstage to delight children during Westfield High's 13th annual Ho-Ho Holiday Show.
Entirely student-directed by seniors in the theater program, it'll be presented Saturday-Sunday, Dec. 15-16, at 2 p.m. in the school theater. Tickets are $5/person and $12/groups of four.
"There's something for everyone," said senior Sarah Schweit, the stage manager. "They're classic holiday stories told in dance, song and acting."
In her position, she organizes rehearsals, gives blocking and performance input and makes sure all the props, costumes, makeup, etc., are there when the directors need them.
"I love putting on children's shows because they're a simple kind of theater that's a good start for the underclassmen actors," said Schweit. "It's important that they make big and animated motions on stage to appeal to the kids."
The Grinch
Directed by Bayleigh Aschenbrenner and Olivia Joseph, "The Grinch" has a cast of 15. Ariana Willis plays the title role; Niki Evertson portrays Max the dog and Audrey Weatherholtz plays Cindy Lou Who.
"The Grinch hates the Whos and Christmas and tries to stop Christmas from coming by stealing the Whos' presents, tree and feast," said Joseph. "But then his heart grows bigger and he realizes Christmas means more than boxes and bows."
She said the show has a "really strong cast" so she's excited to see how it's going to turn out. The song, "You're a Mean One, Mr. Grinch," will be played and the actors will sing the Whos' song.
Joseph said directing can be challenging, "trying to relay your ideas to the cast. But it's been a lot of fun casting the show, and it's been a good experience directing it." She said the audience will especially like the happy Whos and the "brightly-colored costumes, wacky hair and makeup in Whoville."
Charlie Brown Christmas
Madeleine Bloxam, Mitchell Buckley and Shannon Douglass are directing "A Charlie Brown Christmas." Charlie's depressed about the holidays because of all the commercialism, so Lucy tries to cheer him up by making him the director of the community Christmas play. He decides they need a Christmas tree and he brings back a small, scrawny one. But everyone gets angry because it's such a tiny tree, so then Linus explains to everyone the true meaning of Christmas.
The show features a cast of 14, with Brandon Sanchez playing Charlie Brown. Olivia Witt is Lucy; Stephen Cox, Linus; Juliette Jacobson, Snoopy; and Rachel Moser, Sally.
"All three of the directors have been in this show before, so we're working well together and want to present it like it's been done before," said Douglass. "I like being able to shape how the product's going to be and see what's in my head come out on stage."
She said the audience will enjoy the show's youthfulness. "It reminds you what it's like to be a kid at Christmastime," said Douglass. "And it's full of big, expressive characters."
A Hanukkah Story
"A Hanukkah Story" is directed by Alex Mann and contains eight speaking parts plus an ensemble. Keegan Garant portrays the male lead and Zoe Hawryluk plays his wife. King Antiochus is played by Zack Walsh.
Antiochus was an oppressive Syrian king who wanted a group of Jewish people, the Maccabees, to worship idols. They refused, so he waged war against them; and though the Maccabees were few in number, they were able to survive.
In this show, the husband and wife relate this story to the audience while it's being acted out onstage. The culminating event, said Mann, is "when the little bit of oil the Maccabees have is enough to light their menorah for eight nights."
"It's a story that might be new to some people and it's also funny," he continued. "Directing is enjoyable because I was able to mess with the script a bit and have creative control of the project. Many of my actors are freshmen, and it's comforting to know we have talent in the lower grade levels."
Frosty the Snowman
Aidan Quartana and Abby Picard are directing "Frosty the Snowman." There are seven in the cast; Angelie Benn plays Frosty, Sara Berrios is Karen and T.J. Vinsavich is Prof. Hinkle.
"Both Aidan and I were in this show last year," said Picard. "He was Hinkle and I was the train master, so we wanted to direct it this year. 'Frosty' is a lot of fun because we stick to the story of the Christmas special, but add our own, little twists."
"We have a really talented cast, so I'm excited about working with everybody," said Picard. "Children's shows are so much fun because the actors can be cheesy and relaxed and wear crazy and bright costumes."
She loves directing and getting to put her own spin on things. What's surprising, she said, is that "as a director, I'm seeing things in the script I didn't notice as an actor and begin thinking about how to stage particular scenes."
Night Before Christmas
Directing "'Twas the Night before Christmas" are Maggie Mitchell and Allie Koenigsberg. The show features a cast of 20 dancers and actors, and the only speakers are narrators Paolah Urista and Sarah Dickenson who recite the poem; everyone else is dancing. In fact, said Mitchell, "We've added a couple extra rehearsals because of all the dancing and choreography."
Mitchell was the Sugar Plum Fairy in her freshman year, is on Westfield's dance team and has been in this show all four years of school. "It's a tradition that the Sugar Plum Fairy is always a freshman, so I'm happy to pass it on to Shaina Greenberg," she said. "Besides her, also dancing will be fairies, the Nutcracker, plus the Rat King and the rats, as well as reindeer, and everyone will be in costume."
Mitchell said things are going really well and she was "pleasantly surprised" with the number of dancers who turned out for this year's show. "I love directing it and carrying on the tradition – whoever dances as the Sugar Plum Fairy as a freshman directs the show as a senior," she said. "So I've been happily anticipating my senior year to do this."
She said it's nice to finally see the whole picture, instead of just being one of the dancers. She also noted that she only made a few changes to the choreography.
As for the show, Mitchell called it "visually enticing." Seeing the story fully acted out – and not just a poem in a book, she said, is "going to be really special and exciting for the audience."