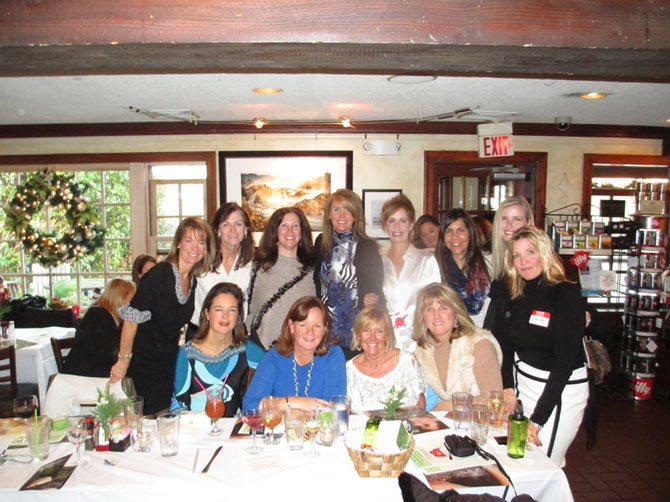 I once asked my uncle who was a priest in Washington, D.C. if there was a soup kitchen where I could volunteer.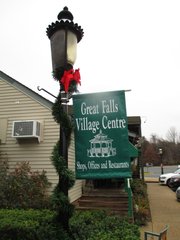 "Colleen, do something in your own backyard," he said. There was a method to his madness. I somehow believed I needed to reach out in a grand manner. My uncle believed that while we may occasionally help a soup kitchen, we are much more likely to consistently help those that surround us.
I was chatting recently with a local merchant. We discussed the challenges facing many of our businesses. I returned home to finish my business column.
As I wrote my column that day, I became frustrated with myself. I love this town and I am incredibly loyal, yet even I fall into old routines and become forgetful. I then thought of the most significant advice I offer to small businesses. It is that "emotion drives consumer action."
If there is a neighbor in need then we are a town that is ready. There is something special about Great Falls and all of us that reside here live it and feel it.
On Dec. 7, we held our "Annual Old Brogue Women's Holiday Luncheon." It was originally started as a way to come together for a little candy cane cocktail fun and to celebrate and remind us to shop our local merchants. It is a group of 50 to 60 women from the community.
"It's great to get together for the holidays at everyone's favorite local hangout," says Mary Jane Novak. "I especially love hearing about the local businesses and supporting them."
Ali Regen has been attending the event for years. "This is a luncheon I look forward to every year," says Regen. "I always meet new people and share lots of laughs with wonderful friends."
Susan Decker says it is "Wonderful to see women I don't have enough time to see."
Kaz Natal, another Great Falls resident, says, "Because of this luncheon I think we are more sensitive to supporting the local businesses rather than driving out of Great Falls. It brings it to the forefront of our minds. On top of that the food is great, the service is great and the camaraderie of the women is great."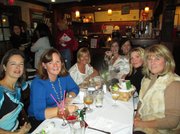 As yummy Brogue fare delighted the crowd, I got up to speak. I didn't just speak about our merchants this year, but about how badly they truly need us. Many have seen the beautiful improvements that have been made to the Great Falls Shopping Center, but at some point it is likely those costs will be passed along to our merchants. There could be more Subways and Starbucks and less local, homegrown small businesses. If we don't band together there could be a day that Great Falls is replaced with more chains and less organic movements. We have already lost many over the past few years.
I asked the women that day if they would join me in a movement for "A Greater Falls." To resolve to leave a portion of our holiday spending in our own backyard and in our hometown. The economy hasn't been easy on any of us, but I am reminded of that quote, "That none of us has it all together, but together we have it all."
I told them that I believe that with true heart and emotion for this place we call home we will make a huge difference. How? If we set personal goals and reverse our thinking and resolve to leave a percentage of what we spend here—in our town.
For me personally, once I shed my good intentioned thinking for an actual plan for "A Greater Falls," and made a personal goal I found myself spending the exact same money only here in town.
I have been by Maison Du Vin to buy my wine, I have stopped in Salud at Colvin Run for a few fresh market goodies, I bought my crazy, chocolate lab Hazel a few Christmas treats from Great Dogs and I bought a gorgeous gift for a friend at Maison et Jardin. I have made plans to meet friends for lunch at Brix, Dante's and Chez Francois. This is just the tip of the business iceberg this holiday season.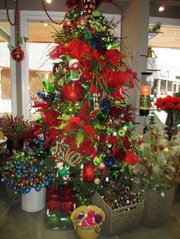 I may buy some personal training sessions as gifts from Elite Fitness or MAX Performance. I may take my niece or nephews to lunch at The Tavern or The Brogue. I may order pizza from Romantica or Deli Italiano while I wrap presents. I may take my sisters for a manicure or pedicure, or to have their hair done at The Falls Salon or The Nail Place. I may stop in Adeler Jewelers for their fabulous 35 percent off December sale. I might even remember to stop by the firehouse and thank them with some home baked goodies like we did when I grew up here.
These are our business friends. It's Great Falls Cleaners who will rush some dry cleaning, Mr. Kim who will make that dress somehow fit me in a hurry, and Julie at The Nail Salon who will take me at the last minute.
How great would it be to see a holiday business miracle in our small little town. The shops jammed with shoppers, shelves becoming bare, the restaurants packed with laughter in this always conscious and connected town.
There is one common vein that runs through the heart of this community. Our business neighbors need us, so I am hoping we band together in this great town, with a great heart and a great spirit towards "A Greater Falls."
I never made it to that soup kitchen, but I took my uncle's words to heart and I try to help in my own backyard whenever possible.
Please spread the word via e-mail, Facebook, Twitter, lunch, dinner and general conversation and make "A Greater Falls" go Great Falls Viral.