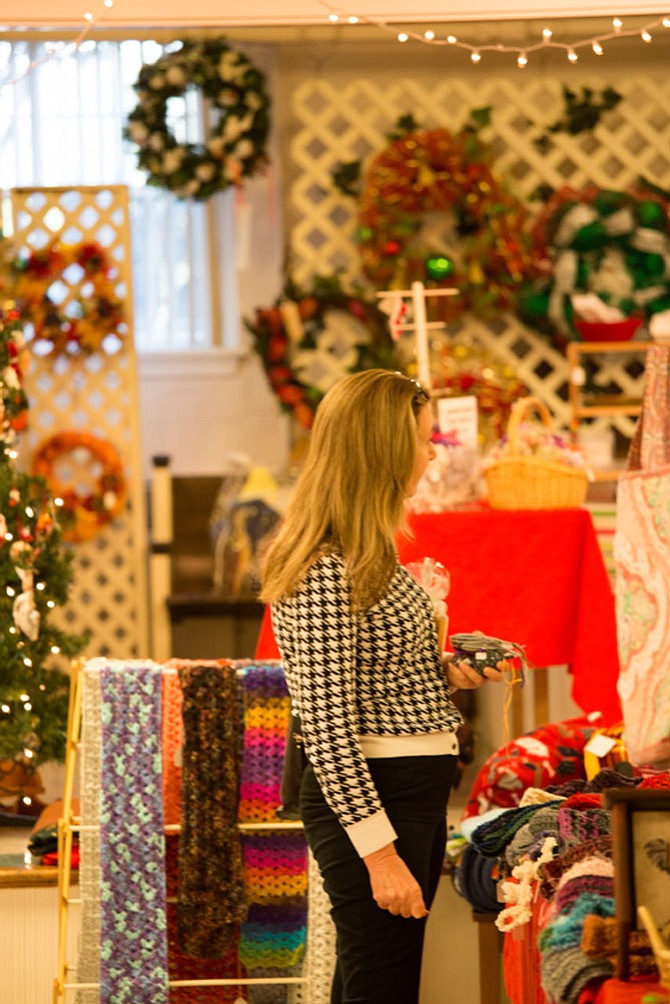 Vienna — Thursday to Saturday, Nov. 16-18, was the Christmas Craft Show at the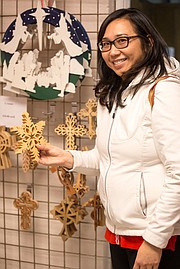 Oakton Church of the Brethren in Vienna. Handmade holiday arts and crafts lined the tables, and the kitchen counter was filled with freshly baked homemade pies, vegetable soup and other baked goods.
The church held its 24th annual craft show and offered a chance for local residents to complete some early Christmas shopping or just pick up a freshly made pie from the church kitchen.
"I was so tired from baking, and my feet hurt, and I was driving home the other day and I saw a rainbow. I said, 'thank you God,'" said Mary Ellen Judd of Prince William County, a deacon and member of the Oakton Church of the Brethren since 1965. "It's such a great benefit to the community. I make everything from scratch, and volunteers help by peeling apples for the pies," she said.
Pat Reed, from Philmont, leader of the women's fellowship group at the church was in charge of the event. "We make it all by hand. A lot of people help out by chopping and peeling the vegetables for the soup. Another best seller are the beef salad sandwiches. A woman just came in here and tried to buy 50!" she said.
In addition to the food, as a holiday destination for shoppers, the church offered bargains that could not be matched anywhere else in town.
"People come here because our prices are reasonable. We have a lot of repeat customers year after year who come with new ideas. Our craft supply room offers materials for the artists to use as well, and the prices there you just can't beat," said Reed.
Shoppers Friday were enjoying the food and browsing the tables for the perfect gift or ornament to adorn their tree this year. Anna Bledsoe, of Chantilly, a mother and crocheter was surprised by the selection.
"The artistry will surprise you, and it will leave you with a lot of joy," said Bledsoe. "I had the apple pie and it was magnificent!" she said.
One of the artists who was selling products at the event was Stuart Allison Hindle. She utilizes the materials from the church and sells item in the craft sale. "It's an intimate community, promoting traditional crafts, which are going the way of the dodo," she said.
Hindle and her daughter come to participate in the event year after year, making bookmarks, cards, sachets, and table covers. "My daughter is raising money for the World Wildlife Fund, but this year the money will probably go to help all of the animals from the floods across the country," she said.