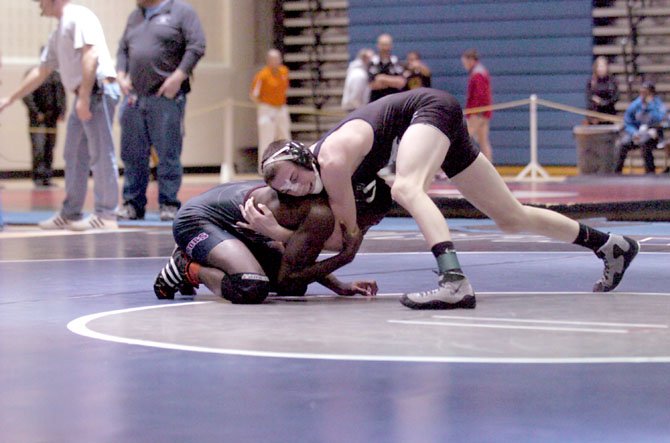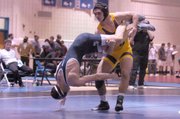 Fairfax — With the bridge of his nose bloodied and bandaged, South County wrestler Hunter Manley found himself locked in a 3-3 tie in the third period of a tournament championship match on Dec. 8.
Last season, Manley won the Northern Region title in the 106-pound weight class. Now a junior, Manley was competing in the 120-pound division at the 2012 FinalAutoPrice.com NOVA Classic at Fairfax High School. While moving up two weight classes presents challenges, Manley managed to take care of business during this event.
Manley scored a late takedown against Mount Vernon's Bill Adusei, propelling the South County grappler to a tournament title via 5-3 decision.
"It was a little bit of a challenge," Manley said of moving up two weight classes. "Luckily, I jumped up pretty early right after the season last year, so I had enough time to regain my strength up to that point. The kids are strong, but I feel fine, technically. You can't muscle people around when you make that kind of jump, you have to really rely on technical skills. I can't really force moves."
What led to the two-weight-class jump?
"I got tall," said Manley, who grew from 5 foot 7 as a sophomore to 5 foot 9 this year.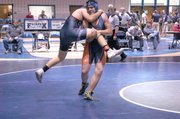 Manley helped South County score 105 points and finish in a 10th-place tie with Edison. Battlefield finished atop the team standings with 194.5 points. Centreville and Fauquier finished in a second-place tie with 180. Paul VI was fourth with 154.5 points, followed by Lake Braddock (151.5), Mount Vernon (135), Annandale (131.5), McLean (115.5) and T.C. Williams (111.5).
West Springfield (81) finished 19th, Fairfax (62) was 22nd and Lee (55) was 24th.
Lake Braddock's Rory Renzi won his second-consecutive NOVA Classic championship. After winning the 145-pound title last year, Renzi defeated Stone Bridge's Josh Toal via 22-9 major decision on Saturday to capture the 152-pound crown.
Renzi, a two-time Patriot District champion, said he had a goal of 40 takedowns during the NOVA Classic, but finished with 39.
"I've always thought of myself [as] not a pinner," Renzi said. "I've always tried to tech-fall a kid all on my feet. My strong point is on my feet."
Thomas Jefferson grappler and Burke resident Patrick O'Connor won his second consecutive 195-pound title at the NOVA Classic, beating Centreville's Joey Steinbach via decision with a late takedown.
"You've got to trust yourself and when you see it open up, you've just got to go for it," O'Connor said. "If you wrestle tentatively, you're not going to get it anyway."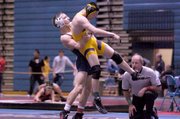 Edison junior Brock Jacobson won the 138-pound title with a 5-4 decision against Lake Braddock's Sean Haskett. Jacobson has his sights set on a National District title and regional success now that Wakefield standout Henry Majano, who finished state runner-up in Jacobson's weight class the last two years, has graduated.
"Now that he's gone, I know that I have the opportunity to win districts," Jacobson said. "He was my main target. For regionals, I've got Sean Haskett, [Robinson's] Dallas Smith [and Westfield's] Derek Arnold. But after beating Sean, I know I can take that next step to get to Dallas Smith. If I stay strong all season, keep on working hard, stay healthy, I know I can get him."
West Springfield's Austin Flanagan won the 220-pound title with a 4-3 decision against Mount Vernon's Nate Haro. Flanagan finished seventh at the NOVA Classic last year, his first year in the United States after living in Italy.
"[Winning] definitely helps my confidence," Flanagan said. "Last year, I came in seventh and even that—coming [in] seventh out of 32—made me boost for the early part of the season. . . . Coming in first this year really means a lot to me."
Lake Braddock's Ryan Haskett won the 113-pound title with a 13-6 decision against Annandale's Anour Sakta.