Looking for inspiration for decking the halls this season? Three local home design experts offer doable tips for capturing the magic of the holidays.
Courtney Thomas, of The Picket Fence in Burke, believes that the secret to a beautiful Christmas tree is layering: "If using a garland, put that on first," she said. "You can get creative with [garland]. Besides the traditional ribbon, we've used newspaper chains, twig garlands, felt shapes strung together and burlap. Nestle large ornaments deeper in the tree to fill in any holes. Then use smaller decorations on the outer branches."
Consider forgoing store-bought ornaments. "Take old holiday cards and repurpose them as thoughtful ornaments," said designer Allie Mann of Arlington. "Change the tree topper this year. It doesn't have to be a traditional star or angel. Go for something different like a monogrammed letter for your family."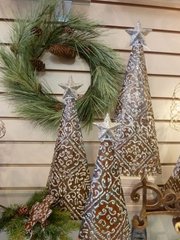 Incorporate tradition into holiday decorations. "Use ornaments handmade by your children through the years, the nativity set that has been in the family for generations or a new treasure that's on its way to becoming a family heirloom. [These] are just as beautiful as anything in the decor magazines and will definitely be more meaningful to your family," said Thomas. "It's always fun to unwrap those special pieces year after year."
When it comes to holiday décor, Angela Phelps, owner of Le Village Marché in Arlington says that mercury glass is popular this year. "The good thing about mercury glass is that you can use it at other times of the year too, especially for New Years," she said.
Thomas adds, "Mercury glass also blends well with many decorating styles. Whether your decor is traditional or contemporary, a few mercury glass pieces will add some shine."
"If you like red and green, mixing in some burgundy or lime green will add another dimension to your decor."
—Courtney Thomas, of The Picket Fence in Burke
Greenery can be used during the holiday season and beyond. "A lot of boxwood topiaries and wreaths can be used throughout the year," said Phelps. "You can prolong the life by just changing out the ribbon and using them in the spring."
For those on a budget, Phelps suggests "going out and find[ing] greenery in your own yard or the woods. You can do a lot with red ribbon."
Combine old and new. "Place a tabletop tree in a vintage urn," said Thomas. "Fill a wooden tool caddy with some greenery and vintage ornaments to make a unique centerpiece. "
Think beyond red and green. "There is no rule that says you can't use other colors in your holiday decorating," said Thomas. "You'll also get a richer look by adding various shades of colors. If you like red and green, mixing in some burgundy or lime green will add another dimension to your decor. But don't mix too many different colors. It will look more cohesive if you stick to a couple dominant colors in varying tones."