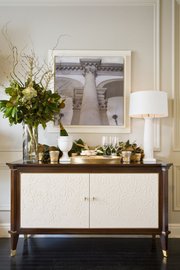 'Tis the season for decking the halls. Whether your style is traditional and colorful, muted and demure or metallic and glittery, three local designers offer distinct holiday decorating ideas to spark your creativity.
Victoria Sanchez, who opened Victoria at Home, a home furnishings boutique and interior design studio on King Street in Old Town Alexandria earlier this month, said the décor begins with an aroma.
"Holiday scented candles immediately say 'holiday,'" said Sanchez. "Fresh greens tucked behind artwork and intertwined into tablescapes add a wonderful scent."
She recommends filling bowls with colorful holiday ornaments and displaying holiday cards to add a touch of nostalgia. "What I love most about the holidays is [that] each ornament and every tradition evokes memories of family, friends and childhood," said Sanchez.
Designer Sharon Kleinman of Transitions by Sharon Kleinman in Potomac, said Christmas is no time for minimalism. "The Christmas season is the perfect time to go all out decorating the main areas of your home," she said. "I love the smell of fresh pine, so fill your home with it. Starting at the front entrance, hang a pine wreath on the door."
Kleinman recommends purchasing fresh wreaths. "Many local nurseries like American Plant and Benke's make some really beautiful ones," she said. "Local florists are also a good source."
There are a multitude of uses for fresh winter foliage. "Place pine boughs, candles of varying heights and decorative accessories such as painted wooden toys [like] trains, toy soldiers, blocks or colored balls among the pine branches," added Kleinman.
Another idea, says Kleinman, is to wrap small boxes in colorful paper, top them with brightly colored bows and place them on the mantel. "Decorative stockings hung on the mantel are traditional and a must in my book," she said. "Stair rails can be wrapped in pine boughs, ribbon and/or tinsel."
To add splashes of festive Christmas red to a home, Kleinman recommends "Placing pots of poinsettias throughout the house. Personalize your Christmas tree with homemade ornaments, sentimental items, colored bows and lots of tinsel."
When it comes to holiday tablescapes, Kelley Proxmire and Emily Wallace of Kelley Interior Design suggest adding a touch of shimmer. "Try breaking out of a set color scheme of red, white and green," said Wallace. "Try popular metallic finishes that could be used in fabric for pillows, gold accessories for the table [like] tiny vases [or] salt and pepper shakers and napkin rings with 'bling' metallic finishes."
Mix decorative objects with foliage to create a warm and inviting table. "Incorporate 'organic' items of the season, like greens from pine trees, magnolias, pine cones, and some fruit," said Proxmire.
Unconventional items can be used as vessels for a wintery, holiday centerpiece. Wallace and Proxmire found a "tortoise shell-like urn … for next to nothing at a consignment store" and used it to hold a centerpiece. "You could buy a new vase or container, but it certainly could also be a vintage find and not necessarily brand new," said Proxmire.
"Use lots of little LED lights in votive holders, either clear votives or ones with a metallic tone finish," said Wallace. "This is a case where more is better."