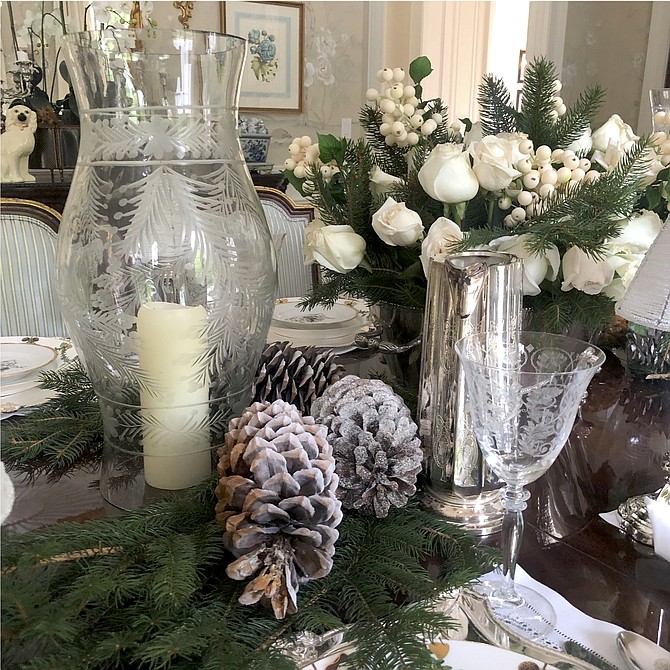 As with many traditions, the pandemic is altering celebrations. Whether extravagant and lavish, minimalist and understated or somewhere in between, inspiration for holiday décor abounds. A group of tastemakers are offering an array of design ideas to make any home merry and bright this season.
Ease and Simplicity
"You can go casual and let yourself off the hook this year," said Amy Rutherford, owner of Red Barn Mercantile in Old Town Alexandria. "Just iron your tablecloth and linen napkins, forage for greenery to put in a vase and call it a day."
Understated décor is one of the themes that Sustainable Designer, Zelda Elisco of Abigail-Elise Design Studio, is encouraging this season. "Decorate your mantel with a garland of greenery and wooden beads for the perfect minimalist look," she said. "Arrange the perfect holly bouquet in a large glass vase."
"If there's one thing we've learned from the pandemic, it's to simplify," added Anne Walker of Anne Walker Design and Farm & Feast in Potomac, Maryland. "Focus on what's really important. This principle applies to design as much as it does to life."
A stunning tablescape doesn't have to mean lavish and fussy, says Walker, whose designs often incorporate reindeer antler candle holders and laser-cut wood Christmas trees in soft shades of beige. "The lack of embellishment allows each element to have a huge impact. A beautiful dining table is so restful in its simplicity [and] invites you to linger in peaceful, elegant spaces she said.
Find inspiration in nature
While a daylong shopping spree in search of the most festive dining accessories might not be feasible this year, creating a tablescape with natural elements allows for simplicity while maintaining elegance.
"Grab a magnolia leaf and write a name on it for a place card and attach it to your napkins with twine. Simple twine is always a fun way to wrap napkins," said Rutherford. "When you get your Christmas tree they have extra branches lying around. Pick up some of those and line them down the table. Sprinkle in candles, and fresh fruit like pomegranates, apples or oranges with cloves, which smell nice and are really pretty."
"Evergreen is a beautiful smelling green and lasts a long time," added designer Tina Yaraghi of The Enchanted Home. "I love mixing it in with fresh cut boxwood and eucalyptus. Keep a spray bottle with tap water on hand to spray every few days."
Natural elements can also be used to add color. "Try adding a vase filled with cranberries or hurricane candle holders to a tablescape, suggests Yaraghi. "You can place it in the center of a festive wreath. I also add fresh greenery in a little mint julep next to each place setting, which is such a beautiful and elegant touch."
"Votive candles add understated elegance and are a must have for any holiday table," she continued. "There nothing like the glow of candlelight [mixed] with greenery is always a beautiful look and I will often add faux white berries for a little something extra."
A Twist on Traditional Accessories
Dining tables aren't the only spots to add Christmas cheer. "Fill your mantel with different styles of bottle brush trees in varying heights and put a wreath above it" said Courtney Thomas of The Picket Fence in Burke, Virginia. "Bottle brush trees, which, as the name suggests, are made of the brushes that you use to clean bottles. They're popular this year. They were big in the 1950s, so they're kind of retro. You can also display them in groups of three or five and make a forest."
"Christmas villages have been really popular this year," continued Thomas. "Those are fun, but for a side table, console or on a shelf."
There's Nothing Wrong with Extravagance
Even using decorations that you already own, simple doesn't mean lackluster. "Even if you normally go full tilt with glitter and glamour during the holidays, try something new this year," said Walker.
"For table settings, I say go big or go home," said Yaraghi. "I love bringing out all my silver, china, crystal. The more the merrier and if not for the holidays, then when?"
"Get a beautiful centerpiece and line the table with pretty candles," said Rutherford. "Embrace the moment, embrace it even though it might be your immediate family and not the 30 people you usually host. Go all out. Just because it's the four or six of you doesn't mean you can't go all out."