As its residents get ready for cold weather and potential snow, Arlington's community and cultural centers also prepare for winter.
Susan Kalish, director of marketing for the Arlington County Department Parks and Recreation, said all the community centers of Arlington plan special events specific to the season. From indoor playgrounds to skating nights on Fridays, she said the Department of Parks and Recreation knows the Arlington community will be looking for indoor activities, both ongoing and special occasion events.

"People go so stir crazy in the winter," Kalish said. "So there are indoor playgrounds at Lubber Run and Barcroft community centers. This allows parents a couple hours out of the day to let the little ones go crazy.
"The biggest things on [the Department of Arts and Recreation's] radar right now, on Feb. 25, is a Field Heritage Festival at Langston-Brown [Community Center]," Kalish said. "This is Arlington's tribute to African American heritage."
She said after the Civil War freed slaves lived in one of four villages in Arlington.
"We will talk about everything from the Civil War to desegregation to everything happening now," Kalish said. "It will be a family event with amazing soul food and really great music."
Jim Byers, of Arlington Cultural Affairs, said that there is much going on in Arlington's art world. Namely, he said, Arlington's biggest event will be Artisphere's Frida Kahlo exhibit.
"One of the major initiatives for the winter will be the U.S. exclusive exhibit of the private photos of Frida Kahlo, the legendary Mexican artist," Byers said. "This will be the only showing in the U.S."
He added that all of Kahlo's work was sealed after the death of her husband, Diego Rivera, in 1954 and that it was opened just recently.
"This is the big thing of the winter," Byers said.
Hundreds of Kahlo's photos will be on view from Feb. 23 through March 25, according to Artisphere's website. The free public opening reception will be from 7 - 10 p.m. at Rosslyn's Terrace Gallery.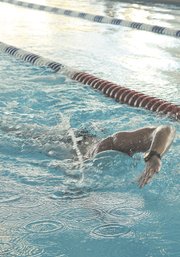 ONGOING ACTIVITIES through the winter are also important to the Arlington Department of Parks and Recreation.
"We absolutely see an increase in fitness memberships," Kalish said. "Coming up we're having a sale on our fitness memberships at Thomas Jefferson Community Center. Arlington residents will receive free passes to one of our classes if they sign up for a fitness membership."
President of the Arlington Masters Swim Club Alison Mathey said, through the winter, her Masters team swims at one of Arlington's three indoor public pools, at Washington-Lee High School.
"The facilities in Arlington are great," Mathey said. "Washington-Lee has the best pool in the whole county."
As a Masters coach, Mathey said that fitness in the winter is important.
"Arlington has the best deal in Masters Swimming in Potomac Valley because Arlington County subsidizes a lot of our team," she said. "In other counties, it is much more expensive."
She said there is an increase in participation throughout winter months, especially people training for spring triathlons.
By Ashley Simpson
The Connection