Herndon — As May approaches, more people are throwing their hat in the ring for mayor of Herndon, as well as position on the town's six-member council. Current councilmember Bill Tirrell announced Jan. 26 that he will be running for mayor in the May 1 election.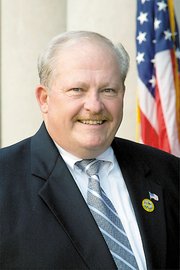 A 34-year resident of Herndon, Tirrell has served eight terms on the Town Council and on the town's Planning Commission in the 1980s and from 2002 to 2006. He has also served on the town's Architecture Review Board and Board of Zoning Appeals.
"My experience as the councilman and planner will let me team with the residents and next council to plan our future while remembering our heritage," Tirrell said in a statement. "The last train serving Herndon came through in 1968, our next train on the Metro will pull into the new Herndon station in 2016. We need to be ready for it and the future it will bring, ensuing that we maintain our status as an oasis in the midst of the truly intense development that surrounds us."
Tirrell was first elected to the council in 1990. He served as a Naval officer from 1968 to 1988. He and his wife Jan have two children.
Dave Webster, a lawyer and Herndon resident for seven years, has announced his candidacy for Town Council. He served as in-house counsel for Jack Kent Cooke and was directly involved in negotiations in building a new stadium for the Redskins.
Webster said he will oppose any new major spending initiatives, favoring development that will attract jobs, but maintaining the town's atmosphere.
"My legal background and my experience negotiating large-scale government and private business partnerships will benefit the town, especially when we respond to development opportunities presented by the Herndon-Monroe Metro Station," he said. "I am also qualified to assess statutory and regulatory requirements affecting the town, such as compliance with the Chesapeake Bay Preservation Act and other matters."
Webster said he believes in "open and transparent government," and he is the first official candidate to file a publicly available campaign finance disclosure report with the state Board of Elections.
He also pledged to "refuse to accept any PAC donations to my campaign."