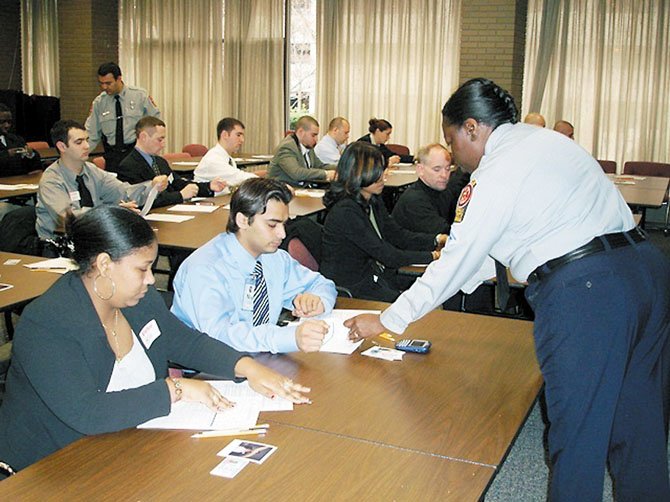 As the youngest daughter of a preacher in Oak Hill, W. Va., Annie Mack-Evans said she knew growing up that her life's calling was to "Do all you can do and leave the outcome to God."

But she had no idea that she would become a teacher, mentor and inspiration to other women of color as a detective and master police officer with the Fairfax County Police Department.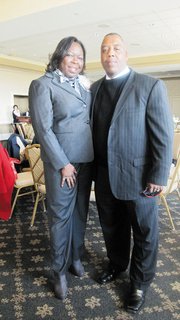 "Even though I am only the first black woman to retire from the agency, my legacy I leave behind shows there will be many others to follow," said Mack-Evans. "In addition to so many others; the first Korean, Vietnamese and Middle Eastern officers will follow me."
More than 200 family, friends and co-workers gathered at the Springfield Golf & Country Club on Saturday, Jan. 28, to celebrate the career and retirement of Mack-Evans, the first African-American female officer to retire from the Fairfax County Police Department.

"She is an inspiration to everyone she meets. She brings so much energy and enthusiasm to everything she does. She is the definition of a 'giver,'" said Yolanda Newman, a longtime friend who served as mistress of ceremonies for the event.


COLLEAGUE Dwight Bower, Director of Recruiting and Testing at the Fairfax County Police Academy, said working with Mack-Evans for the past nine years has been an enriching experience.

He said that he and Mack-Evans come from very different backgrounds, but both believe in the importance of the need to develop, encourage and mentor young officers and applicants who represent diverse minority cultures.
"She's from a large family, and grew up in a coal-mining town. I'm the only child of a Philadelphia Main Line family, but we're both stubborn and we both have the same core values," Bower said. "She strongly values her religious convictions and she believes in challenging herself and others."
Mack-Evans joined the Fairfax County Police Department in 1984, after graduating from Fairmont State College. She said she recognized early that her future should be shaped around her essential core values: teaching, coaching, mentoring and helping others.
As a "teacher" within the FCPD, she taught First Aid, Defensive Tactics, Rape Aggression Defense and a host of other courses. She has worked in traffic safety education, served as a school resource officer, instructed school safety patrols across the county, and been a squad leader and recruit training instructor at the Fairfax County Criminal Justice Academy.

Her last stop with the FCPD began in 2002 and lasted until 2012 in Human Resources Recruitment, where she drew aspiring police officers to the agency and taught them about what made her department special.
She nurtured partnerships with the nine criminal justice academies housed within the Fairfax County Public Schools, recognizing that these students were the hope and future of the FCPD.


CURRENTLY, the FCPD has 1,315 officers. Of those, black females make up just 1.21 percent.

"We've still got a long way to go to help build minority candidate interest in the FCPD. We have top quality personnel but we are always on the lookout for more," she said. "For someone who is looking for a career where they can truly impact the lives of others and want to feel like they've made a difference, there's no better place than the FCPD."
"Annie has made a difference in the lives of every person she meets," said friend Felicia Penn. "She inspires me to do better. We are here to celebrate Annie, and show her the love and support she's always shown us."