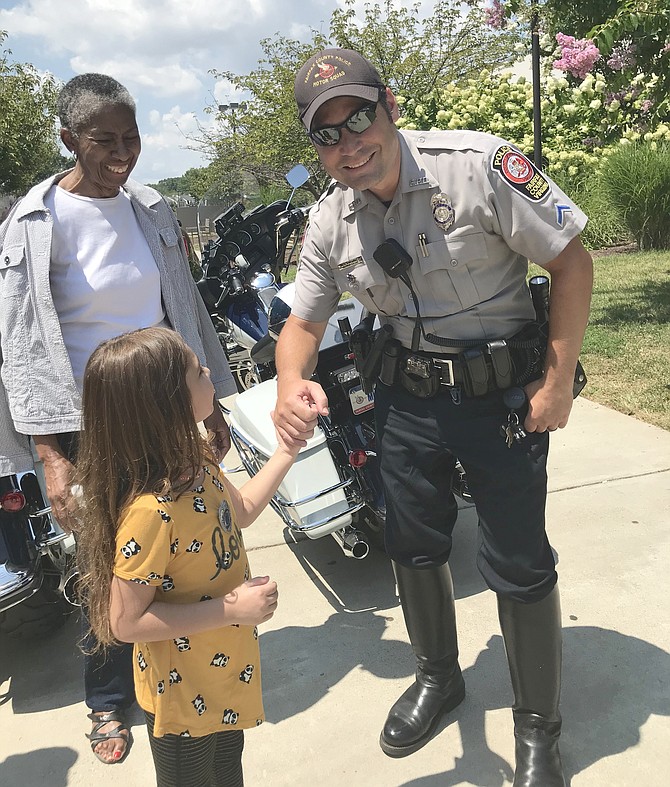 "Safe communities must be partners in public safety," said Supervisor Cathy Hudgins (D-Hunter Mill) at the National Night Out 2019 celebration held on the Hunters Woods Plaza in Reston on Tuesday, Aug. 6. "We work together; we accomplish."
Hunters Woods Neighborhood Coalition and Cornerstones partnered to host a picnic celebration for National Night Out from noon to 2 p.m. that day. Reston residents, including children, got the chance to get up close and personal with members of the Fairfax County Police Department. Hudgins, officers and recruits from the Fairfax County Police Department mingled with members of the community and played games with the children.
Out on the Plaza, Officer W. Coulter lent a hand to chalk artist Katie O'Brien, 8, of Reston as she created an original work on the sidewalk. "I've never done art with a police officer before," Katie said. Joel Hahn, 11, of Reston and FCPD Recruit Christopher M. Albuquerque played corn hole, a lawn game throwing beanbags. "The really generous and helpful people become police officers I think," said Joel.
"It's great to be out here and see the kids enjoy National Night Out with Fairfax County Police and connect with them," said Private First Class Kalf of the FCPD. The afternoon celebration was in line with FCPD's definition of Community Policing: "a proactive and cooperative partnership between the Fairfax County Police Department and the community" and the department's stated goal to "strengthen community partnerships."
Meanwhile, Pastor Phil Carl of Christ the Servant Lutheran Church served guests pizza slices, hot dogs, drinks and more, items donated by local merchants. "This is a good opportunity for the community to see what a wonderful, safe and secure Hunters Woods Plaza is," he said
Before members of FCPD departed for their next National Night Out site, Amirah Khattak, 5, of Reston hurried up the sidewalk. She wanted to meet Officer R. B. Kitchens of the FCPD Motor Squad who stood with Supervisor Hudgins. Khattak shyly shook Officer Kitchens' hand and smiled. Afterward, Khattak said, "I liked the police officer. Police officers are not so scary."
National Association of Town Watch Incorporated (NATW) introduced National Night Out in 1984. At that time, the event involved a reported 2.5 million neighbors in 400 communities in 23 states. NATW announced that this year's celebration attracted 38 million neighbors in 16,000 communities across all 50 states as well as many U.S. territories and military bases worldwide.
According to FCPD, citizens can follow police news on road closures, events, and incidents at @FairfaxCountyPD on Twitter. They can also follow FCPD on Facebook www.facebook.com/fairfaxcountyPD/ and Instagram at Fairfax County Police @fairfaxcountypd. Citizens can connect with FCPD online at https://fcpdnews.wordpress.com/. The Reston District Police Station is located at 1801 Cameron Glen Drive, Reston; the non-emergency number is 703-691-2131.