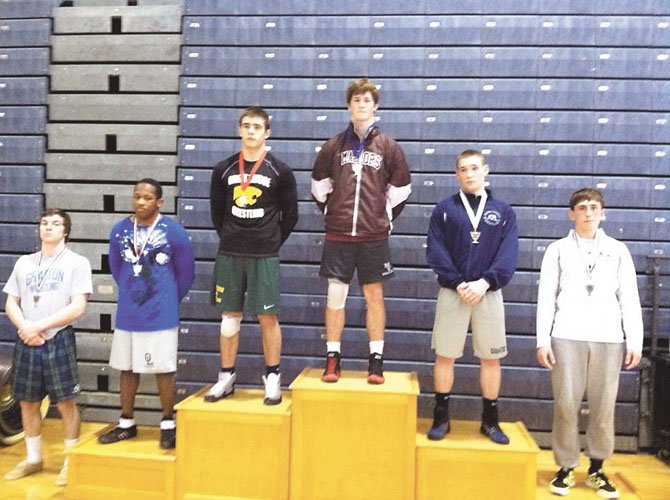 Senior wrestler Dusty Floyd became Mount Vernon's all-time leader in victories when he earned win No. 148 at home on senior night Jan. 25. The 170-pound Floyd surpassed Tony Martinez's record of 147, set in 2003.
The Majors defeated Thomas Jefferson 56-12 and T.C. Williams 54-15 on senior night before completing their regular season Jan. 27-28 at the Ocean Lakes Invitational. Mount Vernon placed three wrestlers in the finals: Cody Marino (126 pounds), Floyd and Nathan Haro (220). Floyd defeated a wrestler from Great Bridge, 7-5, in the finals to improve to 48-0 on the season. Marino and Haro each placed second in their respective weight classes.
Mount Vernon will compete in the National District tournament on Saturday, Feb. 4 at Stuart.
MVHS Gymnastics Places Fourth at Districts
The Mount Vernon gymnastics team placed fourth at the National District gymnastics meet on Jan. 26 at MVHS.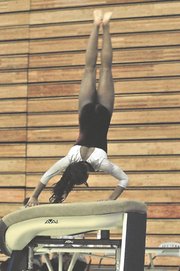 The Majors posted a score of 104.975, finishing behind Washington-Lee (142.6), Yorktown (125.85) and Falls Church (109.825). The top two teams earned a berth in the Northern Region meet.
Mount Vernon's Kyla Watson earned a trip to regionals as an individual with a top-eight performance on floor. Watson placed sixth with a score of 8.75.
Mount Vernon Swim Teams Compete at Districts
The Mount Vernon girls' swim team placed fourth and the boys' finished seventh at the National District meet Jan. 26-28 at Yorktown Aquatic Center.
The girls totaled a score of 159, finishing behind Yorktown (673.5), Washington-Lee (374) and Falls Church (317.5). The boys posted a score of 173.
Ethan Lane-Singletary placed second in the 100Y freestyle for Mount Vernon with a time of 51.01.
Underwood Sets WPHS Record in 1600
Facing elite competition, West Potomac senior Sara Jane Underwood placed ninth in the high school girls' mile at the U.S. Open held at Madison Square Garden on Jan. 28, according to the school's Web site. Underwood's time of 5:03.65 was a personal best for a full mile. Her 1600M time of 5:01.89 broke the previous West Potomac record of 5:07.04, set by Heather Murray in 1995.