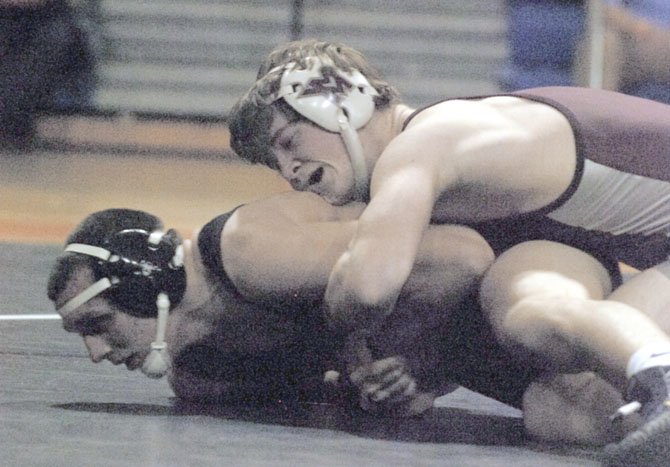 Last season, Dusty Floyd did what was necessary to earn the distinction of being the top 171-pound wrestler in the Northern Region. He worked hard to reach the tournament finals at Fairfax High School for his shot at being No. 1. But when it came time for the Mount Vernon grappler to test his skills in a pressure-packed matchup for the title, Floyd received a free pass to a championship as his opponent was unable to compete due to injury.
Now a senior, Floyd entered the 2012 Northern Region championships with an undefeated record and the drive to win a second title. Except this time, Centreville's Ryan Sepulveda, the Concorde District champion and owner of a 36-1 record, was there to greet him in the 170-pound final.
Sepulveda challenged Floyd and held a 1-0 lead midway through the third period. But Floyd would not be denied as he tied the score with an escape and produced the winning points with a takedown in the final minute. Fans on both sides of the gym at Hayfield Secondary School chanted "Let's go Dusty!" as Floyd won a 3-1 decision on Feb. 11.
Victory in the championship match certainly didn't come as easily for Floyd as it did the previous year — which is exactly why the Majors' all-time leader in wins enjoyed this one even more.
"It means a lot," Floyd said. "It was really cool to be able to [compete] and win. It feels better than last year. Last year, I had a good match in the semis against a tough kid, but it was great to do it in the finals here."
Three of Floyd's four victories at regionals came against opponents from the Concorde District, arguably the toughest in the region. The Concorde produced three of the top eight teams at the tournament, including champion Westfield and runner-up Robinson.
"He wanted an exclamation point on his career in the regionals," Mount Vernon head coach Anthony McDuffie said about Floyd. "He wrestled a really good kid [Sepulveda], too. We're really glad that it came to that."
Floyd's performance helped Mount Vernon finish fourth in the team standings with a score of 126.5, three points behind third-place Annandale. Westfield totaled 193 points, followed by Robinson's 174.5. The Majors finished more than 90 points ahead of the nearest National District competitors, Edison and Yorktown, which finished tied for 18th with a score of 36.
Mount Vernon's Cody Marino placed second in the 126-pound bracket, falling to Annandale's Dane Harlowe in the final. Nathan Haro finished runner-up to Annandale's Ali Ali Musa in the 220-pound division, and 182-pounder Xavier Craig qualified for states with a fourth-place finish.
The state championships will be held Friday and Saturday, Feb. 17-18 at Robinson Secondary School. Floyd finished fifth last season and said he enters states this year with a different outlook.
"Last year I was unranked going into states. I felt like I was underrated and I was going there with something to prove," Floyd said. "I feel like now people know who I am more and people are going to be
going hard after me. … Last year I was hoping to place. This year I'm planning to win."