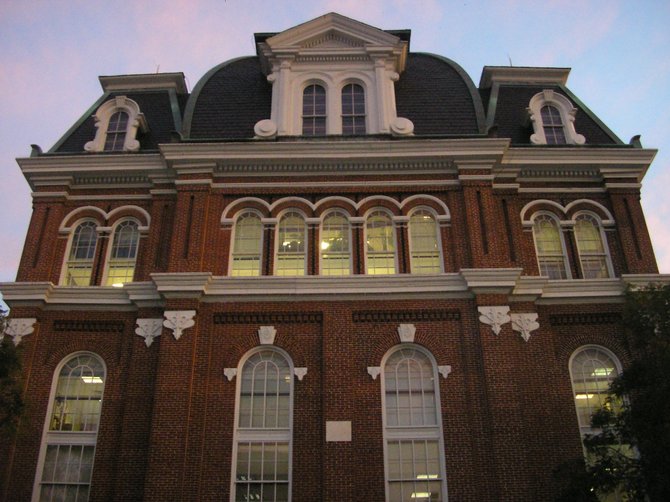 Place
301 King Street, Alexandria, VA
Alexandria City Hall
Here's a paradox for the digital age: When members of the Alexandria City Council were presented with the Digital Cities Award from Government Technology Magazine last week, members of the public who were in attendance would have had a difficult time sending an email about it or update their Facebook status. That's because City Hall does not offer publicly accessible wireless Internet service.
At least not yet.
Part of the application for the Digital Cities Award included a passage vowing to extend the city's wireless access to include guest access "at certain locations" to non-city employees for business purposes in 2011. Chief Information Officer Tom Trobridge says City Hall was not on the list of locations, at least until the presentation of the award drew attention to the lack of publicly accessible Wi-Fi in the council chambers. Since that time, Trobridge has launched a feasibility study to find out what would be involved Internet access at City Hall.
"We do not have the kind of wireless access in the city that I think we should have," said Trobridge. "There are plans to expand to City Hall, and this is a project I'm getting ready to intensely manage."
The feasibility study will explore how much access should be granted to the public and when it should be available. Part of the concern is that city officials want to avoid transforming City Hall into a wireless café, where members of the general public could show up and set up camp in the Vola Lawson Lobby to surf the Internet. On the other hand, officials now recognize the need to provide access during City Council meetings and public hearings. But officials haven't yet figured out if they want to offer access during meetings of the Traffic and Parking Board or the Planning Commission.
"Technically, I can have wireless access in there," said Trobridge. "How we use it is and when we use it are questions that we have to work out within the city."
THIS IS NOT the first time that Alexandria has dipped its toe in the world of wireless access, although a previous attempt floundered into a state of disrepair. Back in August 2005, city officials launched a pilot project known as Wireless Alexandria. Four wireless access points were set up along King Street, and the city opened up publicly accessible outdoor Internet access from Washington Street to the city marina. It was considered such a success that the city put out bids for a franchise agreement to create a citywide wireless network that was eventually awarded to Atlanta-based EarthLink in late 2006.
"The CEO of EarthLink died about two weeks after council awarded the franchise," said Craig Fifer, deputy director of communications for the city government. "They decided that the cost of settling the franchise agreements and walking away from them would be cheaper than the cost of actually fulfilling them."
In many respects, it was a deal that was literally too good to be true: Alexandria was going to get something for nothing. City residents would receive $13 million worth of services over an eight-year period without contributing a dime. For simply allowing EarthLink access to the city's infrastructure, taxpayers would gain hundreds of wireless accounts and 24 public hotspots. When EarthLink walked away from the municipal market, other providers became reluctant and the city was unable to create another franchise agreement. That left Alexandria with a six-block pilot project that offered publicly accessible wireless Internet from Washington Street to the waterfront.
"It's fallen into what you might call a state of disrepair, and it needs to be reconfigured and some of the equipment replaced because it's been sitting outside now for six of seven years," said Fifer. "We have the equipment to do that that we actually received through the settlement with EarthLink, but we've not had the staff time and other resources to finish deploying it."
IN THE COMING YEAR, Alexandria residents might expanded access. Trobridge said he's identified $40,000 to find some kind of wireless solution at City Hall, and Fifer said installing the hardware from EarthLink is on the work plan for this year. By this time next year, Old Town might finally have the kind of publicly accessible wireless access that's been talked about for years.